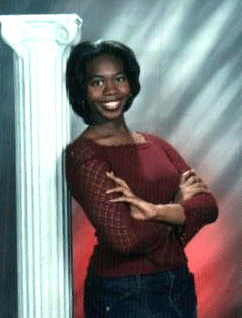 Sankan Worhwinn Nyanseor
Ms. Sankan Worhwinn Nyanseor, youngest daughter of Mr. Siahyonkron Nyanseor, Chairman of the Liberian Democratic Future, publisher of The Perspective, has been named Valedictorian of the Class of 2004 of Tri-Cities High School in East Point, Georgia. Tri-Cities High School Principal, Mrs. Amelia "Mimi" Davis made the announcement April 1 during the school's Sixth Annual Honor's Day Program held on campus.
Sankan, 18, is also a national merits scholar, and is one of 22 high school students in the State of Georgia to receive the coveted "Star Recognition Award" for 2004. The STAR Award is sponsored each year by the Professional Association of Georgia Educators (PAGE) Foundation, the Professional Association of Georgia Educators (PAGE), the Georgia Department of Education, and the Georgia Chamber of Commerce.
To obtain the STAR nomination, each student must have the highest score in one sitting on the Scholastic Assessment Test (SAT) taken through the November test date of their senior year and each student must also be in the top 10 percent in their class. Regional STAR winners and their STAR teachers are then invited to Atlanta each year for the STAR awards ceremony. This year's STAR Award ceremony was held at the Midtown Atlanta Rotary Club.
Sankan is also a recipient of Tri-Cities High School "Super Honor Roll Award" for her academic excellence. Also, she was awarded a certificate in Language Arts for her performance as the department's outstanding student. Sankan's graduation date is set for May 21, 2004, and she has been accepted for admission to Emory University and Georgia Tech in Atlanta, Georgia, and Duke University in Durham, North Carolina.