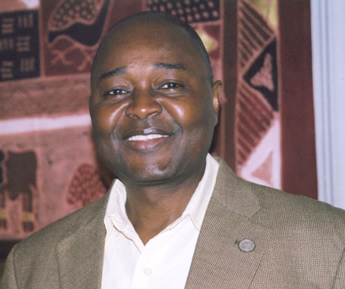 Dr. Al-Hassan Conteh

In a letter dated August 17, 2004, the Chairman of the National Transitional Government of Liberia, Mr. C. Gyude Bryant informed Dr. Al-Hassan Conteh that he had appointed him President of the University of Liberia. In his letter, copy of which was received by The Perspective, Chairman Bryant writes that Dr. Conteh's election was effective immediately and followed "extensive consultations with a wide range of professionals and practitioners in the field of academics" in keeping with laws and regulations of the University of Liberia.
Dr. Conteh replaces Dr. Ben Roberts who was forced out of the position by students and faculty members in January 2004.
A former student of the University of Liberia, Dr. Al-Hassan Conteh is currently a Research Fellow at the University of Pennsylvania and Adjunct Professor at the Geography and Urban Studies Department at Temple University. His professional experience includes managing projects on higher education, conflict transformation, demography and development. He has worked on a number of grants and research projects with crosscutting issues in human security, including conflict prevention, forced migration, refugees and education in emergency situations. In this respect, he recently undertook a European Commission evaluation mission on the reintegration of returnees and displaced people in Liberia.
Dr. Conteh is well aware of the difficulties facing his alma mater in post-war Liberia, having served as Vice President for Academic Affairs from 1995 to 2000. As many Liberians, he was forced to seek refuge outside of Liberia because of the political climate.
Past president of the Liberian Studies, an academic association focusing on Liberian issues, he is current editor of the Liberian Studies Journal produced at the University of Pennsylvania and Interim Chairman of the Liberia Institute for Peace, Democracy and Good Governance, a think-tank organized by Liberian academics in the United States.
Although away from home, Dr. Conteh never ceased to be concerned about crucial issues affecting the nation and the educational system. Among other things, while in Liberia, he brought together a group of civil society organizations in a discussion of peace and gender sensitization for developing skills that would empower their members to promote gender equality, equity and post-war conflict resolution in national programs in the framework of the Convention for the Elimination of Forms of Discrimination Against Women (CEDAW) and the Beijing Platform of Action
As a student at the UL, Conteh was a middle distance runner on the university track team. He represented the University of Liberia in the 800 and 1500 meters at the First All African University Games in Accra, Ghana in 1974. He was a founding member of the Mano River Students Association aimed at promoting understanding among the youths of Liberia, Sierra Leone and Guinea.
In letter of congratulation to the new UL president, Mr. Charles A. Minor, Ambassador of Liberia to the United States wrote, "We are proud of you, Dr. Conteh, and have the honor and pleasure to extend to you on [my] own behalf and on behalf of [my] colleagues at the Embassy hearty congratulations on your preferment... We hope your professionalism and integrity will enable the University to move forward and overcome the difficulties it has encountered in the recent past."
Born in Saclepea, Nimba County, Dr. Conteh is married to Amy Warrity and they have four children. The new UL president says that his hobbies include long distance running, tennis, African music, and classic rock.
After his undergraduate degree in Demography at the University of Liberia, Dr. Conteh studied at the United Nations-Cairo Demographic Center in Egypt and at the University of Pennsylvania among other places.