Liberia's foreign Minister Confirms Sale of Embassy's Property Under Pressure

By Josephus Moses Gray
Monrovia, Liberia


The Perspective
Atlanta, Georgia

August 9, 2004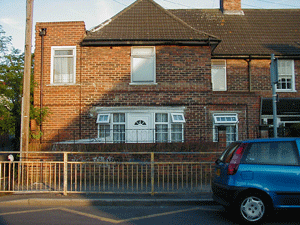 Liberian Ambassador's Residence at 52 Whatley Avenue
In the wake of an investigative article published by
The Perspective
newsmagazine on the sale of the Liberian embassy property in London (
Liberian Officials sell Ambassador's Residence at 52 Whatley Avenue, London SW20
), the United Kingdom, by some identified individuals within the ranks and files of the two-year transitional government, the Minister of foreign Affairs, Thomas Yaya Nimley has confirmed the sale of the mission property in London.
Minister Nimley who is also the chairman of the Movement for democracy in Liberia (MODEL) rebel group in Liberia, made the confirmation under pressure during his recent news conference held in Monrovia when he addressed himself to The Perspective news article.
A week before the Minister Nimley"s conference, members of the National transitional Legislative Assembly (NTLA) met in plenary and deliberated on the sale of the embassy property in London. During the deliberations, the body printed a hard copy of The Perspective story and read the entire article to the disbelief of that first Branch of Government.
Members of that body who were present were shocked and moved by details contained in the article, with some members of the House calling for a " motion", which was sustained and subsequently a committee was set up to probe all those connected to the sale of the embassy's property.
In his justification for the sale of the embassy, Minister Nimley alleged that the property was in a dilapidated condition and as such the government was constrained to put the property on the market. He also alleged that the dilapidated nature of the property violated ordinance of the neighborhood where the mission's property was located.
According to him, the government was constrained to sale the mission property for 2.1 million-pound but he felt short to give the name of the buyer, the date the transaction took place and all those involved in the deal.
The proceeds from the "deal", Minister Nimley alleged were used to purchase another building located at 23 Fitzroy Square in Central London. He put the cost of the new building to 1.8 million pound. However, Minley is yet to reveal the name of the family or company that sold the new property to the Liberian government.
Speaking further, Minister Nimley said the 1.2 million pound profit from the sale of the mission property would be used to give the new building a good facelift.
Meanwhile, the committee set up by the House to probe the sale of the property is yet to come up with its finding.