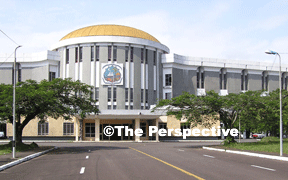 The Capitol
Members of the National Transitional Legislative Assembly (NTLA) have finally passed the Electoral Reform Bill that meets international standard. The bill is aimed at the holding of free, fair and transparent elections come October 15, 2005. The passage of the Electoral Reform Bill comes in the wake of intense diplomatic pressure from representatives of foreign missions and regional bodies, as well as heads of United Nations Mission in Liberia and international organizations.
Following months of delay in passing the Electoral Reform Bill, the NTLA recently adopted a modified form of the bill that does set aside the constitutional provision that calls for a census before elections. The Assembly's action had prompted a public out-cry, with heads of diplomatic missions urging the NTLA to pass the bill that meets international standard. Prominent figures among those in the diplomatic corridor that have been mounting intense pressure on the NTLA for the passing of the compromised Electoral Reform Bill include the United States Ambassador to Liberia, John W. Blarney, UN Secretary-General Special Representative to Liberia, Ambassador Jacques Paul Klein and the Secretary General of ECOWAS, Dr. Iben Chambas.
But in an apparent reaction to their public statements, the NTLA said it does not operate under threats or duress, and as such wanted the United Nations to know that despite the war in Liberia, the sovereignty of the country still stands supreme.
The statement furthered that following the submission of the Elections Reform Bill, the NTLA did a careful review and conducted hearings after which it was sent in the committee room of the relevant standing committee of that body.
According to the NTLA, a cross section of Liberians including lawyers, civil society organizations, pro-democracy organizations, youth representatives, as well as, political parties were invited to give informed opinions on the task that the bill sought to achieve, with subsequent meetings held with the NEC, the International Community and the executive branch of government in an attempt to derive a workable and peaceful approach to the 2005 General and Presidential Elections.
Meanwhile, the head of the transitional government this week communicated with the NTLA requesting the body to re-consider the electoral reform law by making all necessary revisions in the bill earlier passed by the body.