This morning, December 11, 2004, it's like making the same early morning trip to the fish trap , but this time finding that you've caught the biggest fish yet! Christmas could not come so early to the Liberian people. What's all that excitement about? A radio for every hut! Maybe not quite that far, but talk about a step in the "righteous direction:", that's what this tiding is on this day! Fishing for news about Liberia, I finally caught a big one! Don't hold me down in my jubilation, I'll tell you why a little later. But first, there's some thanking to do.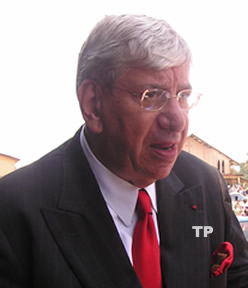 Jacques P. Klein
Our thanks to you, Mr. Jacques Paul Klein, for your "Radio-in-Every-Hut" Project, and to the Oneness - Hearts, Tears and Smiles NGO for the donation of wind-up radios sets. With your endeavors, you are in essence bridging the COMMUNICATION DIVIDE. You are leveling the playing field; you are leaving no Liberian behind; you are making the rebuilding efforts all inclusive. During this Christmas Season, when the line, "Peace to Men of Goodwill" is preached at the pulpit, or when it is sounded in any carol, stand tall and raise your head to be counted.
Now, let's dig into the ramifications of this news piece.
"This is community empowerment. This is real recovery for the future," says Mr. Klein. (please see link below) He should have "gone for broke" to call it a "national empowerment". Issues and their answers will now reach all corners of the nation. Remember the Voice Of America (VOA)? If the news is broadcast in "Special English," and whenever possible, translated into local dialects, we would undoubtedly see the emergence of a well informed public. Forget the high rate of illiteracy that "they" keep reminding us about.
The "print media" has served well, but regrettably, it has a far too limited audience. All the issues it has dealt with has reached a few only. This deficiency was elaborately covered in The Perspective article, Radio Broadcast: Best Medium Of The Times. Please revisit. Obviously there are numerous benefits from a nationwide radio service to a broad base audience. But I will confine the rest of this article to a single benefit., the role that the air waves will play in the coming Elections Campaign, especially on the presidency.
With a successful Radio-in-Every-Hut campaign, we would have the perfect medium to air out the pros and cons of the current, heavily charged, discussion on "What Makes A Good Leader". The issue would then move from a "bar-room" debate to a national forum, where the entire public gets involved.
Let's call on all sides of the debate to continue to hold their stance. The only change is that we will now take it to the air waves with the same arguments. Each pundit will be required to summarize his/her position, make an audio tape, and we will call on Mr. Klein to have them played over the radio. "We will record your messages and they will be on the air so that people can hear your messages," says Mr. Klein. (please see link below ). This is an offer we should not refuse.
The opportunity is there now to tell ALL the Liberian people: