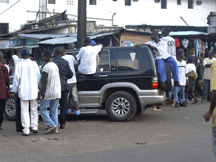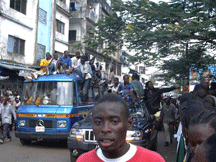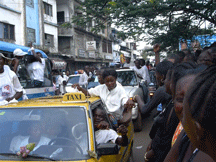 Weah Returned Home
Background, Framework and Key Issues

Anecdotal evidence suggests that, contrary to the initial impression that some may have developed from recent events, Mr. George Weah will find that the Liberian presidency is not available to be delivered to him on a silver platter. Yet he has some key strengths and opportunities in his favor that should not be discounted. Regarding the potential implications of his presidency (were he to ever get elected) for a sustainable future, the evidence supports the concerns of many that he is not adequately endowed with the qualities that are needed to meet the enormous challenges that Liberia faces after many years of war and destruction. What follows is a careful analysis of the seemingly complex web that attends the easy announcement of Mr. Weah's bid for the presidency of the Republic of Liberia, Africa's oldest republic that is seeking a track out of failure.
For several weeks now there have been discussions in many segments of the Liberian political community regarding the plans of the nation's modern soccer legend, Mr. George Manneh Weah, to join the ever-growing list of aspirants for the October 2005 Liberian presidential election. The reports of Mr. Weah's November 23, 2004 arrival into Monrovia have raised the interest in this candidate. Yet the announcement of his intentions has received mixed reactions because of Mr. Weah's means and popularity, which are key factors in politics, and the many possible implications that could be associated with his decision to contest for the Liberian presidency at this time.
Permit me to give a brief profile of Mr. Weah, for the sake of those who may not know much about him and to lay a foundation for the rest of this series. Mr. George Manneh Osman Weah, alias Oppong after a Ghanaian soccer star, was born on October 1, 1966 into a modest Liberian family. He was raised by his grandmother, with little said and known about his parents, especially his father. He attended a number of evening schools in Monrovia, including G. W. Gibson and Ellen Mills Scarborough before ending his schooling in the 11th grade at the Wells-Hairston High School after discovering that he had a better future in soccer.
Following appearances for Survivor, Bong Range, Invincible Eleven and the Liberia national team, he won a contract with Tonnerre Football Club in Yaoundé, Cameroon in 1987. His performance in Yaoundé impressed then FIFA instructor Claude le Roy and won him a contract with the Monaco FC of France in 1988. Four years later, he moved to Paris Saint Germain of France until 1995 when he joined the AC Milan football club of Italy, where he struck gold. At AC Milan his maturity, by then, combined with other great talents such as Marco Simone to propel him to soccer legendary status. For two consecutive years, 1994 and 1995, he won the African Player of the Year Award as he had done in 1989, and in the third year of his African title he won the World Soccer Player of the Year Award, becoming the first African to ever win such title. He got a second nomination for the world title, but took the silver medal, perhaps, because of an incident in which he head-butted another player for racist comments against him. Mr. Weah also won other prestigious awards in Europe.
On his steady decline from top form on the soccer field, he played for other teams in England, without the kind of success recorded in the French and Italian fields, before ending his professional career with club Al-Jazira in the United Arab Emirates.
As Mr. Weah prospered enormously from his skills and fame, his country was spiraling downward from its reputation and means, due to years of senseless war. He rose to the occasion by providing his personal resources to help the national soccer team, his relatives and friends, and other Liberians whom he came across and could reach out to. In this way his personal fame as an athlete and his generosity endeared him to many as a pride of a broken nation. He has received much recognition for his talent and contributions, including a UNICEF Goodwill Ambassador.
His wife is said to be a Jamiacan-born American and he is known to have converted to the Islamic faith in the early 1990's, with the Muslim name Osman, before converting to Christianity again.
It is with such high profile that he comes on the political scene after many denials by him that he would not join politics at this time. But when the euphoria of his recent arrival has settled, as it did with other candidates before his time, he will begin a most difficult journey of his life as he moves from a national figure of admiration and love to an opponent and, at times, an enemy of some. My interest here is to analyze how Mr. Weah's political journey could play out for him and for the nation as a whole.
This series will seek to address two issues: the first is whether Mr. Weah has a great chance to win the Liberian presidential elections and the second issue is whether he can win the most difficult match of putting Liberia on a path to sustainable progress, assuming he won the elections.
In investigating Mr. Weah's prospects in a competitive presidential race, I begin by listing the key factors that will determine the chances of a candidate in the next presidential elections. I then proceed by identifying the strengths and weaknesses of Mr. Weah and matching them firstly with each of the key factors and than with the threats and opportunities that will be brought to bear by his competitors. My study of the second issue also follows the same method used in looking at his chances. I outline the scope of the problems that Liberia faces in reversing a trend that has led to years of destruction and economic decline, compare the condition of the Liberian nation with countries like Ghana and Nigeria and match the strengths and weaknesses of Weah against these needs to determine if he has what will be demanded to win the progress.
Conclusion
As the Liberian peace process makes progress and the race for the presidency begins to gain momentum, the long list of aspirants is about to consolidate into a few viable choices. Mr. George Weah's potential bid has generated a debate that seems to rate his chances based on his popularity, financial leverage, and the expected mindset of the voters. A careful analysis that matches his strengths and opportunities against the challenges and threats in such a race may be helpful in understanding the likelihood of a Weah victory.
Others have focused more on the implications of a Weah victory for Liberia's future, apparently because they are deeply concerned that his victory could be the beginning of Liberia's final march to permanent failure and degradation. A look at the potential implications is therefore helpful to the entire debate about his ambition. The questions raised here cannot be answered in a few sentences, no matter how excellent – and mine may not fall among the greatest of the answers. However, through this debate we can learn more about this candidate, the task that lies ahead of our nation and hopefully make the decisions that will rescue us from among the perishing.
In my next article, I will look at five factors that may affect a candidate's prospects and match Weah's strengths and weaknesses against each factor. I will also discuss Mr. Weah's financial capacity and estimate his net worth.
---
About the Author
: Dickson Togba, Jr. is a Liberian who lives in Virginia, USA with his family. He can be reached at dcmtogba@yahoo.com or (571) 223 – 2570.