Why Damateh Wants Bryant Removed
By Abdoulaye W. Dukulé
Adukule@theperspective.org



The Perspective
Atlanta, Georgia

February 2, 2004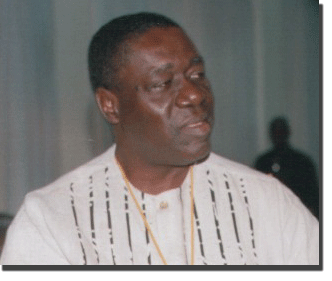 Gyude Bryant
On his 100th day in power, Chairman Gyude C. Bryant held a tête-à-tête with editors of Liberian newspapers on the back porch of the Executive Mansion. The discussion, facilitated by the Minister-designate of Information, Culture and Tourism, Dr. C. William Allen, was candid and was followed by an off-record session. During this latter part of the discussion, journalists exchanged with Chairman Bryant ideas regarding some thorny issues. Although I had been in Monrovia for close to two weeks, it was my first encounter with the new Liberian president. I came from the session with the impression that Bryant took his job seriously and that he also expected the warring factions to be honorable and carry on their part of the deal.
During the first part of the meeting, a journalist asked him why he had not yet deployed superintends in counties yet to be taken over by the UN Mission in Liberia (UNMIL). His response was that those areas were not considered safe for him and since he couldn't be safe in those areas, he was not about to appoint anyone. This writer followed up with another question that included a comment: where we tried to remind the Chairman of the tactics of the warring factions in the 1990s.
From 1993 to 1997, warring factions hijacked Liberian economy and politics. They entered government by the back door, with their big guns, appointed in many instances low-level and obedient followers to the government and maintained their grip on areas under their control. While exerting control on the government through their surrogates at the Executive Mansion, they maintained their positions as warlords in Gbarnga, Bomi and Bassa as warlords. They enriched themselves beyond anyone's imagination. They sold their allotted cabinet positions to desperate politicos hungry for recognition and when convenient, accused the government of being ineffective and demanded new peace talks to usher in new administrations. David Kpomakpor, Wilton Sankawulo and Ruth Perry were all pawns they used to get rich and create a political space. When the biggest gun of all – Charles Taylor – got tired of the game, ECOWAS under the rule of Sani Abacha organized a charade and handed him power. The rest is history.
Fast forward to January 2004. The new warring factions have much less space than their predecessors. It is no longer Sani Abacha who makes the decisions in Monrovia but the UN Security Council, with three of its strongest members involved in the Liberian peace process. Great Britain, France and the US are all parties to the Liberian peace process. Great Britain does not want its great work and success story in Sierra Leone to go awash. France wants to make sure that its once stable and prosperous former-colony and regional powerhouse Côte d'Ivoire does not slide to the level of Liberia.
Under these circumstances, one would expect that the warring factions would understand that they no longer control the game, even if, for minor issues such as jobs and cars, the international community may give them what they want to achieve peace.
The call to remove Chairman Bryant came from Sekou Damateh Conneh. Damateh is playing the oldest game in politics: when one is losing control, the best thing to do is to create a distraction. Not only is he losing control of Liberians United for Reconciliation and democracy (LURD), but Damateh also sees himself as the biggest loser of the peace process. At one point, he was the only person in charge of LURD in Guinea. He had managed to sideline the founders of the movement because of his wife's close relationship with President Lansanah Conte of Guinea. For two years, he reigned supreme in LURD, Guinea and Lofa, with his ragtag army of "generals" in the bush around Voinjama. But when the time came to push Taylor out and go to peace talks in Accra, Damateh could not come up with people capable of representing the movement. ECOWAS, through the Sierra Leonean government, thus brought in people like Joe Wylie, Lavela Suppuwood, Kabineh Janeh and Dr. Vamba Kaneh, the founders f LURD who were all living either in Sierra Leone or the US.
According to a plan concocted by some ECOWAS operatives, Damateh was to be named as one of two vice-presidents that would work with Charles Taylor in a two-year transitional government. This was ECOWAS' solution to the crisis going into Accra. However, things took another turn with the unsealing of Taylor's indictment and the call from US President George Bush demanding his resignation.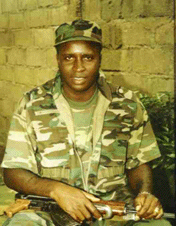 Sekou Damate Conneh
Taylor leaves power. A new government is put into place and those brought in for negotiations in Accra take up jobs. According to a clause in the peace accord, no leader of warring faction could lead the new government. Damateh gets nothing out of Accra. However, being the man in control in Guinea, he continues to pull the strings and approves appointments in slots allocated to LURD, sometimes though qui-pro-quo. Then he runs into problems with President Lansanah Conte and his wife. But he still maintains some control over the ragtag generals who stayed with him. No longer welcomed in Guinea, he returns to Monrovia after spending three months in Dakar. Upon his return to Monrovia, he mixes calls for peace and the removal of Bryant. It is a political stunt that could have worked few years ago.
When the call for the removal of Chairman Bryant hit the newspaper in Monrovia, few people stopped to even think about it. The real issue then in the city was, who controlled LURD (Damateh Conneh or his wife Aisha Conneh)? The group that attended the Accra talks and is now in the government wants to remove Damateh. Damateh's estranged wife, who was the real conduit to President Conteh and who therefore secured all the arms and logistics that allowed LURD to carry out its warfare, wants to play a role in deciding who makes appointments in the government. Having lost his position in Guinea and with no real job in sight, Damateh is using disgruntled members of MODEL to mount a campaign against Bryant, not only to camouflage his lost of control of LURD but also to extract jobs that he could put on the market.
Damateh was able to create this confusion with the help of Mr. George Dweh, the erratic speaker of the transitional assembly who has taken up on himself to run the executive branch of government from his office on Capitol Hill. Mr. George Dweh sees himself as a reincarnation of the late Samuel K. Doe and stops at nothing to call attention to his person. With no clear understanding of his role and that of the institution he heads, the speaker seems to have taken up the role once held by former warlord Roosevelt Johnson, now a walking shadow in Monrovia begging his way from office to office: he wants to redeem an era that every Liberian wants to forget. With his new stature in the Krahn community, Dweh is capable of reaching out to other members of MODEL to say or do anything he wants. The speaker and Damateh do not seem to understand the fragility of the current situation in Liberia, nor do they grasp the historicity of their own position in the peace process.
This is where the call for Bryant's removal came from. In Monrovia, anyone with a few bucks can purchase a headline in any number of newspapers. Philip Wesseh, the managing editor of The Inquirer, certainly one of the most credible newspapers in Monrovia, told us that no publication in Monrovia could sell even close to 1000 copies a-day. In their scramble to make ends meet, these newspapers become easy mouthpieces to disgruntled and fading warlords or self-serving politicos whose only agenda is self-aggrandizement.
It is a pity that the call for the removal of Chairman Bryant made headlines at the time when the country is seeking international goodwill. But as we spoke to leaders of both LURD and MODEL, we knew that the call was nothing but a veiled blackmail for new jobs and material incentives. The next job slots at assistant ministers level are what all the fight is about. Whatever the case may be, Sekou Damateh may be holding to an illusion of power, because in a month or two, he would have no territory or men under his control. Then he would have to look for a real job, or perhaps prepare to run for president in 2005.
The fact that France, this past Friday, has dispatched Foreign Minister Dominique De Villepin to the Donors Conference is an indication that in the international community, not many pay attention to the ranting of Damateh. Liberians at home are now putting their lives back together and are far from taking their cues from George Dweh and Sekou Damateh. MOEDL has denied being party to the call to remove Bryant and as far as the former GOL is concerned, the Secretary General of the National Patriotic Party (NPP), Mr. John Whitfield said that they are committed to the success of this transitional government.
---