Fashioning Ourselves into a People for Significant Interdependence
Liberia's 157th Independence Day Oration delivered by

Sister Mary Laurene Browne, OSF
President, Don Bosco Polytechnic

at the Barclay Training Center
Monrovia, Liberia
On Monday, July 26, 2004




The Perspective
Atlanta, Georgia

July 28, 2004
Sister Mary Laurene Browne, OSF
President, Don Bosco Polytechnic
A kindergartener, four years old, seeing the Liberian flag displayed in her classroom asks the teacher, "Why does our flag have three colors, one star and all those stripes?".
Gobah, an ageing woman receives a letter from her only child studying abroad. In the letter she is told to go to Western Union. Gobah is illiterate.

Oldman Sumo is really struggling to support his family. He makes very delicious kala. Today he has received a huge order from an International Non-Governmental Organization (INGO. But there's a catch. The Liberian negotiator must get his cut, a non-negotiable 50%.
Fanta is arrested, beaten and thrown in a prison cell with male inmates for days. The superintendent's wife has accused her of stealing a bag of rice from her overstuffed warehouse and orders her arrest, flogging and imprisonment.
Mahmoud and Annie are friends. Mahmoud invites Annie to worship with him at the mosque on Friday and she invites him to Church on Sunday. Annie's parents shout at her "Be not yoked with unbelievers" Mahmoud's parents warn, 'There are many Muslim girls around here."
General Flomo received his ranking during the civil war. He fought with several factions. The war over, he returns home to his village which he thought was untouched deep within the Belleh Forest. Flomo's young mother once a very hard-working farmer is now a double amputee. Fingers point towards the recruits from a neighboring village - Flomo's very own boyhood friends.

YOUR EXCELLENCY CHARLES GYUDE BRYANT
CHAIRMAN OF THE NATIONAL TRANSITIONAL GOVERNMENT OF THE REPUBLIC OF LIBERIA
MR. VICE CHAIRMAN OF THE NATIONAL TRANSITIONAL GOVERNMENT OF LIBERIA
YOUR EXCELLENCY TEJAN KABA
PRESIDENT OF THE REPUBLIC OF SIERRA LEONE
HONORABLE SPEAKER AND MEMBERS OF THE NATIONAL TRANSITIONAL LEGISLATIVE ASSEMBLY
YOUR HONOR, THE CHIEF JUSTICE AND ASSOCIATE JUSTICE OF THE SUPREME COURT AND MEMBERS OF THE JUDICIARY
DISTINGUISHED FOREIGN GUESTS
FORMER PRESIDENT AND MRS. MOSES BLAH
MRS. JEWEL HOWARD TAYLOR
YOUR EXCELLENCIES, THE DOYEN AND HEADS OF DIPLOMATIC
MISSIONS AND INTERNATIONAL ORGANIZATIONS
MEMBERS OF THE CONSULAR CORPS
OFFICIALS OF GOVERNMENT
CHIEFS, ELDERS OF GOVERNMENT
OFFICIALS OF THE UNITED NATIONS MISSION IN LIBERIA (UNMIL)
PRELATES AND CLERICS OF RELIGIOUS INSTITUTIONS
REPRESENTATIVES OF INGO'S AND LOCAL NGO'S
HEADS OF INDEPENDENT COMMISSIONS
REPRESENTATIVES OF PRIVATE VOLUNTARY ORGANIZATIONS

REPRESENTATIVES OF THE BUSINESS COMMUNITY AND ECONOMIC OPERATORS
REPRESENTATIVES OF POLITICAL PARTIES
FELLOW CITIZENS AND RESIDENTS OF THE REPUBLIC OF LIBERIA.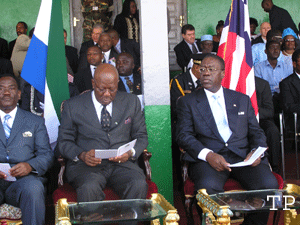 Gyude Bryant (R), Tejan Kaba (center)
We wish to thank Your Excellency, Chairman Bryant and all who have given us the privilege to serve as National Orator on this our 157th Independence Day Anniversary. We have chosen the theme:
Fashioning Ourselves Into A People ForSignificant Interdependence
Independence denotes sovereignty. A sovereign nation is self-governed. However, with all the factors that guarantee statehood, no nation can stand tall or sink low all by itself. Independence connotes interdependence.

In our one world, there is a visible line between developed nations and developing nations. In the developing nations, the line of demarcation is stark between the minority rich and the majority poor; between the few literates, the numerous half literates and the too many illiterates. And let us all be reminded that whenever the majority of people anywhere remain systematically disadvantaged, that nation self-destructs morally. Consciences die. Tyrants emerge and seemingly prosper. Human beings are manipulated by them often with wanton cruelty. The powers of the day at various levels become consistent tramplers of the God-given rights of the majority and the voices of these latter are reduced to grunts and groans in the privacy of their shacks. But publicly the song must be sung and the tyrant and cohorts are fooled into thinking that all is well; that they have the reins and can crack the whip at will.

Selective interdependence is the way forward for our global community and for this developing nation of ours. Good partnerships created out of mutual respect accelerate qualitative developments simultaneously. Now is the time for Liberia to choose appropriately. The world markets are laden with goods; but the reflective, the focused buyer is not confused.

Despite our recent sordid history, Liberia still does have very much to offer her partners. All negotiations must target the People first! The People Now! The People always. Then all other aspects of progressive development will fall into place. In justice our leaders owe us no less. For the sake of human dignity we owe it to ourselves.

Before the salutations, we created six scenarios. In the first one, a child on the very threshold of formal education, challenges the professionalism, the warmth and patriotism of her teacher by inviting her to lift the veil of ignorance and to instill foremost the value of gratitude for the men and women whose collective wisdom and calculated efforts brought into existence this nation, Liberia.
In the color red, the symbolism of bravery stands out. The child must be taught that mistakes were made, mistakes with far-reaching effects but that there was bravery nonetheless on the part of the settlers to decide to make their home in a strange land, and bravery equally on the part of the natives to accept people who looked like them but did not think like them.

The white should remind every Liberian of the purity of heart and mind with which to seek the nation's eternal welfare in the small things as well as in the great ones.

Blue stands for loyalty. Liberians, especially during this last decade and a half turned themselves into brutes thereby forcing compatriots into unwanted exile, refugee and displaced camps. Liberians vilified their country to qualify for seemingly greener pastures. Liberians destroyed and pillaged the land of their birth. And Liberians stood up, spoke out, made sacrifices, risked death to keep their country whole. God has given us this nation in trust. What God gives, God blesses. One should not denigrate a gift.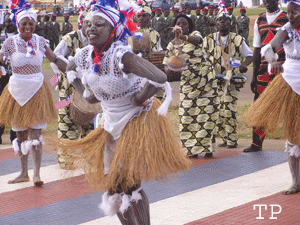 The National Cultural Troupe
That white star tells us first and then the world that we are one people - that Liberia belongs equally to every Liberian; that race, ethnicity, sex are accidents of birth. Dreams, visions, determination are not circumscribed by them.
Can you see the child listening keenly to these explanations brought to its level? Can you hear the child say, "Thank God I'm Liberian. I am glad I belong here. Whether my name is William, Saa, Lucy, Jallah, Moussa, Kou, Wede, Tugbe or Fatumata, I belong here. Whether I call our Common Creator, God, Nyeswoh, Allah or Glipoh, I still belong here. And this should become the continuous lesson for each Liberian of every age:
LOVE your country!
It is God-given
You have a RIGHT to live in peace in it.
You have an obligation to ensure that others find peace and
prosperity within its boundaries
Ladies and Gentlemen, we hail the power of the student to challenge the expertise of the teacher! The power of the teacher in helping to create a different, a more positive mindset for this generation and the next., and the next. What magnificent, sublime interdependence.

In the 2nd scenario we see Gobah deprived of the privacy between mother and child. We also sense her vulnerability and pity her condition of unenlightenment.

Illiteracy is the scourge of any nation, and sadly very sadly indeed, Gobah represents the largest percentage of the Liberian population.

Therefore to the 1000 and one candidates declared and undeclared (pleased forgive the hyperbole) who are exercising their constitutional right in seeking our nation's highest office, let us say to the lucky one; prioritize education at all levels, but particularly at the foundation level. Prioritize education with all the necessary implications. We are tired of teacher strikes and go slow actions to get what is justly theirs. We are tired of the corrupt practices in our schools used by too many unscrupulous teachers and parents to deprive our children of their sense of worth, of their ability to unearth their talents and perform according to standards. We are tired of the violence which has become a common tool of coercion. If you Mr. Or madame Successful Candidate prioritize education, we can assure you that you will easily win a second term. But that 3rd consecutive term will elude you because you will not be able to tamper with the constitution so easily to suit you and your cronies. The voters would have become informed voters. A lot can happen within twelve years.

Our Liberian people are craving exemplary leadership. Mahatma Ghandi refused a shirt inasmuch as the donor was unwilling to cover the body of every poor Indian with a similar gift. We need leaders who will say I cannot enjoy my pay or demand per diem for un-purposeful travels when those I govern or represent have not been paid for months. If we need exemplary leaders then we need even more urgently a thinking people, a doing people, not consummate beggars. Then together we can exercise a crucial significant interdependence.

Subsistence farming! Waiter market! Room renters! No school or poor school for the children! These are the lot of too many Oldman Sumos and their families for several generations now. Empowerment of the people is a sure sign of progress and sustained development. It most certainly augurs stability. To the negotiating sharks we warn that no nation needs to spend time sitting on powder kegs. And absolutely no one will love Liberians more than they love themselves. It is imperative that we learn to help one another so as to be able to live in dignity, in an appreciable co-existence. Moral principles do not exist in a vacuum; neither do just laws. They are there to be observed, to be respected by every citizen and resident because people thrive best under functional legal and social systems guided by these laws and principles. Might would not make right, and positions of trust even if held by unconscionable individuals would not be used to determine the guilt or innocence of anyone.
When the Fantas of Liberia are forced to exist under circumstances according to the caprice of anyone in position of power or influence then such situations gradually become landmines waiting to be stepped on.

Human rights are just that - rights which belong to each human person by virtue of her being member of the human family. And any Government worthy of its name will ensure that the citizens understand their rights and that these rights are protected.
In the 5th Scenario, we see parents depriving their children of a broader experience. Religion is an integral part of a person's being. How one acts; how one thinks; how one speaks about issues are all permeated by what one believes. If you value your own beliefs your own faith, you will come to respect that of another. You will come to understand that to co-exist peacefully, is a very rational, very wise decision. And you will most certainly realize that in matters of faith you are not the final judge. Faith is in a realm not subject to man's willing it.

Tribalism reared its ugly head in our national psyche during these last 2 ½ decades. Let us be careful to keep the monster of religious intolerance at bay. Liberia is too small a country for another internecine war, a war with no winners only people left battered and embittered, poorer, frustrated, traumatized and dehumanized.

Young General Flomo to a large extent is an example of empty slogans, insatiable greed and power grabbing disguised as nationalism.

Lured as a child to participate fully in a very ugly debasing drama, he is now forced to stare the evilness of war full in the face in a personal way.

Firstly, General Flomo has to learn to forgive himself for his own participation in the war; then to try to forgive those who taught him how to be trigger happy especially so when their own children the same age as Flomo were safely very, very far away from the dust of ammunition. Thirdly, Flomo has to consider forgiving his boyhood friends who have created a psychological, an economic and a physical burden for him and his family. And very importantly Flomo must be able to say, " I'm sorry for my own actions during this war, and because I'm sorry I will try to make up for what I have done in whatever way I can". The process, however slow must come full circle to be effective and lasting.

Reconciliation" is the catchword in our society today; forgiveness" is close behind. To what extent we understand the meanings of these words, it is hard to tell. Sometimes one hears, let us forgive and forget". But George Santayana an American Philosopher of the early 1900's says "Those who cannot remember the past are condemned to repeat it." We must remember not so much to be consumed by anger and revenge, we must remember so as to deliberately, conscientiously avoid the depth of decadence, of degradation to which our human nature can plunge while in the process making us to appear as mere brutes.

The process of forgiveness begins with contrite sorrow expressed. It concludes with reparation which can be easily detected in one's attitude. This process must therefore begin in earnest for the sake of our own inner healing, for the sake of our country, for the sake of our sub-region ,and in gratitude for the diligent efforts of all who work for us to be whole.
Independence connotes interdependence!

We are deeply grateful to the International Community especially the United States of America for their concern and welcomed generosity in helping us rebuild our country.

A year ago, we were running, starving, crying, killing and dying. We salute those individuals, organizations - particularly ECOWAS - media establishments and journalists who brought our plight to the world, and ECOWAS who took the initiative to send peace keepers on the ground. To the men and women of UNMIL, and of INGO's whose presence here has brought us great psychological relief from ourselves, from the throes of violence, we say grateful and immense thanks first to Dr. Kofi Annan, the entire UN family and to your very good selves.

You and we no doubt understand that ultimately the success of your mandate, your involvement will rest on how well the screws, nuts and bolts will remain in place long after you are gone. To this end Liberians must therefore be fully involved in the processes that affect them directly and indirectly. If you see that we shy away from accountability, then please model it for us. If you see in us corruption as a way of life, then do show us that transparency keeps your own institutions running efficiently. If you find us to be beggars, a real nuisance in fact, then would you please challenge us to develop requisite skills and put them towards self-sufficiency. If you find us incapable, understand that we can acquire capability.

Interdependence. Conscious and significant!

We need your expertise, your support. You need us to show an excellent report card to the world.

Patriotism
Education
Human Rights
Empowerment
Religious tolerance
Reconciliation

These are the themes we've touched on in this oration. We feel strongly that they are all interrelated, and if Liberia is to survive as a nation, a people capable of contributing significantly to the peace and prosperity of Africa and of the world then Liberians must learn to love their country and not to bleed it dry then cry foul when foreigners do the same. When people love one another they respect one another, they empower one another, they educate one another, they reconcile and they co-exist peacefully.

Liberians everywhere must join together and begin to create a better, lasting refreshing face for Liberia. All is never lost!

We must fashion ourselves into a people bent on the pursuit of peace made possible primarily by justice
We must fashion ourselves into a people made sapient by suffering
We must fashion ourselves into a people capable of distinguishing the vultures, the opportunists from the doves or the patriots.
We must fashion ourselves into a people unburdened by prejudice and ethnicity and reclaiming wasted energies cast to the wind of shame.
We must fashion ourselves into a people who demand and support good governance, and are challenged to participate in it.

Together with people of good will in this our one world we must fashion ourselves into a people who easily recognize a brother, a sister in another human being regardless of origin.

Together we must embrace the child representing every child - this vessel so full and long yet to reveal its contents to this nation and to the world.

And God, who sees our motives, our every effort will truly bless us all.
I THANK YOU!