As in the past, those who sell these properties do not account for anything and why Liberians cry foul about human rights abuses (as important as this is), many seem mute on the sale of government properties by unscrupulous Liberians officials. According to our sources, the building at 52 Whatley Avenue, Merton Park, London SW20 was sold to its Arab Neighbour. The figure for which this property was sold remains undisclosed but it is estimated that a 5-bed room property in this area costs no less than £300,000 (roughly $550,000).
From reliable sources, the property was sold after high-ranking officials of the government convened a meeting with staff of the embassy in London. Representing the government of Liberia, according to the sources, were Messrs. Ervin Coleman, Minister of Public Works, Republic of Liberia, Richard Divine, Secretary General of the Movement for Democracy in Liberia (MODEL) and a close friend of the Liberian Foreign Minister Thomas Yahya Nimley, Harris Tarr Freeman, Inspector General of the Liberian Foreign Service. The Liberian Embassy in London is currently staffed by Jeff Dowana – Charge d'Affaires to the UK and effective head of mission, Rudolph von Balmoos – First Secretary to the UK mission and deputy head of mission, and Philip Gbadyu – Press Secretary to the mission. From all indications, even if Gbadyu was not aware of this deal because of his role as Press Secretary who is responsible more to the Ministry of Information than the Foreign Ministry, there is no way that Jeff and Rudolph can deny that they were not aware. Efforts made by The Perspective to contact Mr. Dowana via his office and cell phone numbers were not successful.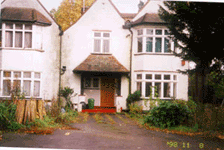 Liberian Ambassador's residence sold in 1997
Another fact is that the residence could have only been sold on the advice of the staff, particularly the head and deputy head of mission in London. The argument is that the property has been in serious disrepair for some time now. If this is the case, then why did not the government repair the property because it is a valuable asset? Before he departed for the US to take up appointment as Liberia's Ambassador, William V.S. Bull lived in this house. It could have certainly been repaired for a relatively small amount. After selling the residence in New Malden, it was Gerard Cooper who bought this property cash down. Thus, the government is not mortgaging it; on the contrary, the government owns it as an asset. There are many African governments today that own properties in other countries. This includes oil-rich countries like Nigeria, which invested in properties in New York, Zimbabwe and other countries. In the long run, these will inevitably benefit the country but our officials are only interested in personally benefiting from the sale of government properties abroad.
Certain questions must be answered about this ugly practice of selling government properties with impunity. For example, what is the money generated from this property used for? Who are the beneficiaries and who authorized the sale of the property? Many observers believe strongly that the property could not have been sold without the full authority of Chairman Gyude Bryant, Foreign Minister Thomas Yahya Nimley and other members of the Interim Government. Further, Vice Chair Wesley Johnson, Blamo Nelson ('former' confidante of Mr. Charles Taylor) were in London in recent times but we are not sure whether they are aware of this deal or even benefited from it. What about the National Transitional Legislative Assembly (NTLA), to what extent was the NTLA aware of this deal? Maybe Speaker, George Dweh should speak out on this matter? One reason why we ask these questions is that the people who attended the London meeting are close associates of the biggest names in the current interim set up. One example is Divine, who as we indicated earlier is close to the Chair of MODEL and Foreign Minister of Liberia, Nimley. What knowledge does the Finance Minister, Luseni Kamara or his ministry have about this deal?
Liberia now has roughly five properties in London alone and these assets could worth around a combined total of $6 million dollars or even more because of the rising housing prices in the city. The embassy building itself at 2 Pembridge Place, Nottinghill Gate is very expensive by even London standards because of where it is situated. There are growing fears that this property could be next in the queue for sale. If this happens, it will be utterly criminal and silly on the part of the government and thus, Bryant and his team should not even attempt to sell it.
As we mentioned earlier, Willie Givens sold the Princess Gate property during the Doe era with officials of the government allegedly benefiting immensely from the sale. Willie Givens is one person who may find it difficult to deny benefiting from this practice. He is now resident in the US and maybe he should explain to the Liberian people one day what he knows about the sale of the property. Now his successors at the embassy have the audacity to carry out similar practice by selling another property. It is very important that Jeff Dowana, Rudolph von Balmoos (who was in the embassy when the Princess Gate property was sold) and Philip Gbadyu clear the air about their roles and what they know about this. This must be in writing so that our readers can be aware of what is actually happening. Bryant and Nimley should also explain what they know about the sale of this property.
Bryant was recently in America to lobby for the UN to lift the ban on timber, gold and diamond. Knowing that they have little time left before they can leave office, many conclude Bryant and friends really want to use this "window of opportunity" to drain the resources of the country as fast as possible. But the international community realized ruse and so the ban has not been lifted.
Liberia is coming out of 14 years of war and so one would have thought that we Liberians would have learned some lessons as to why we have lost more than 250,000 of our compatriots in the past wars. But it looks like those in power have 'business as usual' as Liberians would say it. Currently, Liberians are catching hell both in the country and abroad but as usual, it is only few people who seem to be enjoying again.
The situation in Liberia is so bad that Liberians are saying that the NTGL means 'Nothing To Give Liberians'. This means that within a relatively short period of time, the people have begun to lose confidence in this interim arrangement. This is where Speaker George Dweh (if he was not aware of this deal) and his colleagues at the NTLA need to exert their power without being collectively dictatorial in order to bring some sort of sanity to the country. It is imperative that an independent commission of credible Liberians be established to investigate this deal so that this bad practice can be brought to a halt. One person who has disqualified himself from serving on this Commission is the Inspector General of Foreign Service, Harry Tarr Freeman.