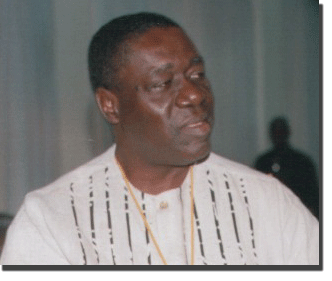 Gyude Bryant
In the face of the nation's ailing economy coupled with the suffering of the Liberian people, the National Transitional Government of Liberia (NTGL) chaired by Charles Gyude Bryant spent over 3 million United States dollars on vehicles between the period of October 14, 2003, to March 2004.
According to communications from Chairman Bryant office and signed by the Finance Minister Lusinee Kamara to the Central Bank Governor, Saleeby, published by local dailies, on January 29, the Chairman paid US$625,674 to the Beirut-Lebanon account of Mr. Haddad, a prominent Lebanese business tycoon for the purchase of 76 vehicles for members of the National Transitional Legislative Assembly (NTLA).
Mr. Haddad has charged the government US$2,649,243.70 for the 76 Cherokee jeeps but the government so far paid US$625,674.00.
According to the documents, Bryant-led transitional government has also allocated another US$1,562,668.50 for the purchasing of all Chrysler Vehicles from the Alliance Motor Corporation run by the same Lebanese businessman, Mr. Haddad.
Besides, the government has also purchased ten Grand Cherokee Limited Vehicles for US$375,750.00, while another 66 Cherokee Laredo Vehicles are being purchased for US$2,273,498.70.
The documents also revealed that the government is again purchasing another 41 Neon Se Chrysler Cars for US$655,323.50 with each costing US$15,985.50 from the same Alliance Motor Corporation. The government also intends to purchase another 50 Neon Lx Chrysler vehicles (US$18,146.90 for each) with the total cost of US$907,345.00.
Besides, the documents said Chairman Bryant on January 15 mandated the Finance Minister to pay over one hundred thousand United States dollars towards national security, while US$88,225 was instructed to be paid to the National Security Agency (NSA).
He also ordered the Finance Minister to pay US$22,000 for an un-named National Security Advisor to attend matters relative to the advisor office, the documents indicated. Again, he ordered the payment of additional US$16,000 to his communications Advisor, Lamini Warity, to facilitate media relations and press coverage for Chairman Bryant recent trip to the US.
Meanwhile, Chairman has turned over US$23,4000 to the Ministry of Finance as excess funds for his recent trip to Libya where he attended the recent African Union (AU) Conference.
Chairman Bryant said officials of the Foreign Travel Division at the Ministry had estimated the cost of air tickets for him and his entourage to Libya at nearly US$101,000, but purchased the same tickets in Abidjan for US$29,200.00 saying that the Foreign Travel Division has over-estimated the cost of the trip by US$70,000.00.
The Chairman has threatened to clean up the Finance Ministry if the Minister fails to do so, saying "heads will roll".