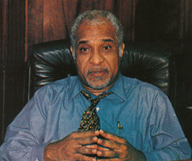 Elie E. Saleeby, Governor of CBL and Chairman of CBL Board
One of the most controversial persons of the transitional government, Mr. Elie E. Sealeeby, the Governor of the Central Bank has finally exited the political scene by abruptly resigning on May 11, 2004. Since the induction of the Bryant administration and
the publication of documents
by
The Perspective
highlighting corruption at the bank, many have been calling for the resignation of the Governor. Mr. Bryant resisted, arguing that not only the Accra Accord did not cover the Central Bank but also that the Governor had a business contract with the government. Responding to a related question at a meeting with editors on his 100th day in office, Chairman Bryant said that he did not want to "politicize" the financial sector. Some observers opine that in addition to the corruption allegations made against Mr. Saleeby and the members of the Board of Directors of the bank, the pending audit of government's agencies may have something to do with his resignation. It was reported just few days ago that the Central Bank recently printed US$47 million dollars, but the amount disappeared overnight.
A source close to Bryant said there was no reason given for Mr. Sealeeby's resignation. Our source who spoke on conditions of anonymity added: "Pressure has been mounting for months calling for his dismissal and many people, including the legislature and other stakeholders raised questions about his retention. This man was known as Mr. Taylor's financier and keeping him on was not politically wise." Mr. Charles Greene, a member of the Board of Directors and former governor of the National Bank was appointed to replace Mr. Sealeeby. Members of the Board of Director of the bank include: Mr. Willie Belleh, Dr. Charles A. Clarke, Mr. Charles A. Greene and Mr. Nathaniel Barnes (Nathaniel Barnes replaced Hillary A. Dennis who was paid US$45,000 as severance pay after he decided to step down from the Board.) It is believed that Mr. Saleeby will be paid thousands of dollars based on CBL Board's severance pay package.
Another issue of great magnitude facing the Chairman concerns the Minister of Finance. The faction that nominated him is now asking for the removal of Mr. Losenee Kamara and his replacement with Mr. Soko Sacko, Director of the Cabinet. LURD leaders, including Sekou Damateh and Speaker George Dweh are said to be putting pressure on the Minister to resign.
If LURD were to succeed in removing the Minister, other factions may be tempted to do the same with officials they nominated to positions in the government.

Related Articles:
Opposition leaders in Taylor's Ring of Corruption?
Corruption at the Central Bank of Liberia
All the President's Men: A Case of Massive Corruption?
War Against Corruption: A Big Job for the General Accounting Office (GAO)
Willie Belleh Must Resign from Interim Government