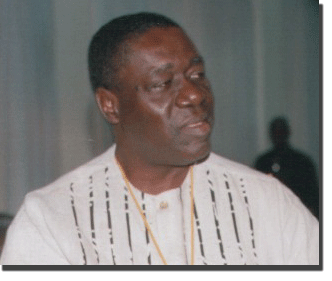 Gyude Bryant
Back in January 2004, we published an article about LURD leader Sekou Damateh Conneh and a few supporters trying to remove LNTG Chairman Gyude Bryant from power. The main reason was that they "felt left-out" in a government where they control the Ministries of Justice, Finance and the Office of Speaker. The rebel movement was divided in the attempt, with the line clearly drawn between those who followed Aisha and those behind Sekou, the couple at the head of LURD. The attempt died because many in LURD thought that it was not a realistic goal to even consider.
Now, LURD is up in arms again, this time calling for the removal of one of their ministers from the government. A group of LURD "leaders", mostly followers of Aisha Conneh, asked Bryant to "dismiss" Lusenee Kamara, the Minister of Finance and to replace him with Soko Sako, the Director General of the Cabinet. They claim that Minister Kamara does not protect their "interests", that he pays more attention to others than to LURD members. The issue has been brewing for months. In January 2004, a prominent member of LURD said that they would remove Kamara, "no matter what," adding that they could force him to resign. The various means of pressure having failed, LURD finally issue a statement, last week, giving Chairman Bryant 24 Hours to fire Kamara "or else." The 24 hours expired and LURD decided on Friday evening to "stop cooperation with the government." Bryant issued a statement on Sunday evening saying that he could not dismiss a government official simply to please a group of people. His position was backed by ECOWAS who argued in a letter to LNTG Chairman that allowing factions to recall their nominees from government without apparent reasons could set a precedent and open a "Pandora box" with dire consequences for the peace process. Bryant wrote to LURD leaders and conveyed the content of the message he received from ECOWAS.
A member of the group seeking the removal Kamara told us in a phone conversation that nothing in the CPA forbids them from recalling one of their nominees in the government. Says the member who spoke on the condition of anonymity: "We appointed the man, he represents our movement and if he no longer follows our policy direction, we have the right to recall him." Asked what would happen if other factions were to embark on the same scheme because they fell out with of their nominees, he said, "we cannot speculate on that. We want this man removed and we are going to get him out of the government." The person could not give us any specific reason to why some LURD members wanted to get the Minister fired.
On Monday, May 17, it was well apparent that Bryant was standing firm in his decision not to remove the Minister of Finance. LURD itself was further divided on the issue. Mr. Lavela Suppuwood, Minister of Labor, Dr. Vamba Kaneh, Minister of Transport and others as well as a group of fighters added their voices to that of LURD Sekou Damateh for condemning the move. They added that they have no intention of being part of any actions that could derail the fragile peace process. On the other end, Speaker George Dweh and C. Farley, Director of GSA are leading the recall movement.
A group of LURD members are said to have left Monrovia for consultations in Conakry on Monday morning. With Conneh attending a conference in London, it is not sure whom they were going to consult in Guinea. It remains to be seen if President Conteh would get involved in such internal quarrels as the replacement of a minister. Meanwhile, life goes on as normal in Monrovia and the "non-cooperation" of LURD seems to have very little effect on the government. Fighters are said to continue to disarm and there has been no indication that LURD leaders demanding the dismissal of the Ministry have tried to influence the disarmament process.
According to an advisor to Chairman Bryant who prefers to remain unnamed, "what is at stake is the whole principle of government of inclusion. Once a Minister is confirmed in his or her job, she ceases to be function as member of a faction. This is a unitary government and it is rather unfortunate that some people think they can run a government inside of the government. " If the Minister remains in his post, and this is very likely, the attempt would deal a serious blow to the shaky cohesion of LURD leadership as well as other attempts by factions to control the government. Says the advisor, "after all, maybe this crisis was what we needed, it will put everyone in their place. This is not child play and we cannot allow personal interests to hold the nation hostage. We have gone through that many a times and people need to learn to respect institutions.'