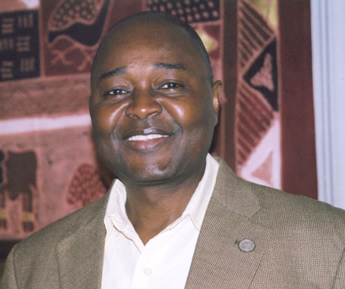 Dr. Al-Hassan Conteh

The crisis at the University of Liberia (UL) over the appointment of Dr. Al Hassan Conteh as President if the nation's highest institution of learning by the Visitor to the University, Charles Gyude Bryant, chairman of the two years power sharing transitional government of Liberia, has deepened, to the extend that solution remains elusive.
The University of Liberia Faculty Association (ULFA) has vowed to continue their rejection to Dr. Conteh's appointment. The association has accused Chairman Bryant of imposing Dr. Conteh on them. They accused the Visitor to the University of disrespect, saying that chairman Bryant walked out in a meeting with them held at the executive Mansion.
Speaking to journalists upon arrival in Monrovia, Dr. Conteh denied the allegations against him and said that he will work with the faculty in addressing their concern. He said all was well at the university and that he will be taking office. He called on the
university family to put aside their individual differences and work in the interest of the students and the school.
They want Dr. James Kollie, the acting president of the university, who came fifth out of the final five persons listed from the 14 applicants that applied for the position. After the final interview, Dr. Kollie came third while Dr. Conteh came first with a score of 96% and Dr. Kollie scored 73%.
The association said there are qualified, competent, dedicated and commitment individuals within the university who have rendered sacrificial services, noting that if any attempt is made to induct Dr. Conteh into office, member of the association will lay down their chalks.
For his part, the acting President, Dr. Kollie this week told The Perspective in Monrovia that he has been mandated by the UL Board of trustees to put into place appropriate program befitting transition to Dr. Conteh. He also promised to issue a major press statement after turning over to Dr. Conteh. There is growing tension on the campus today due to the presence of Dr. Conteh.
Meanwhile, the Vice President for Administration, Dr. Solomon Russell is dead. He died on August 31 at the St. Joseph's Catholic Hospital in Monrovia as a result of illness. He also served as head for the graduate program in education and professor of mathematics at the university. He once served as dean at the William V.S. Tubman college of Technology in Harper, Maryland County, Liberia, prior to the civil war in Liberia.