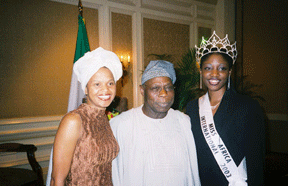 Ms. Ellen Dunbar, President Obassanjo & Miss Africa International
Beauty pageant is more than just parading a long line of young women – or men – on a stage. It is a business and it takes the same dedication, sense of organization and investment of many resources as any money making venture. Ms. Ellen Dunbar found that out the hard way when she first set herself to organize a beauty pageant, with young African women in the US. First was the issue of coining a name for the event. "This was not to be a one time thing, I wanted to do something that would go on for a long time and that would grow into different areas, as any business, so we had to look for a name." Every imaginable name she could think of was already copyrighted. Finally, she got Miss Africa International and finding a name proved to be the easiest part.
Ms. Dunbar is a young Liberian woman who, like hundreds of her compatriots fled the war in her native land to settle in the United States. A collector of African arts and a fashion designer, she worked as insurance broker – to pay the bill - and on her spare time, designed as well as sewed clothes for friends and relatives, mostly from material she imported from Africa.
In 2001, she finally decided to do something with her lifelong ambition where she would combine fashion, art and … beauty. And so came the idea of launching Miss Africa International.

But anyone who has attempted to start a new business venture in this great land of opportunity where every imaginable idea has been turned into some kind of money making exercise, knows the great challenges s/he must face. Ms. Dunbar was contemplating doing a lot more than an evening where friends would get together to show off their new dresses and make-ups. She wanted something that brought the whole continent of Africa into the play, and she also wanted to run it as a business.
From her Gaithersburg, MD, residence, every day after work, she spent countless hours on the Internet, searching, cutting and pasting up information. "I had to do everything. People would promise things but I knew the first investor would have to be me and I worked sometimes all night." The challenges were more than one.
"I wanted to do something that would celebrate our culture, something that would bring Africans together besides funerals and weddings. Because in our diversity, we have so much in common throughout the continent and there is a microcosm of Africa in the Diaspora," says Ms. Dunbar. She adds, "Africa has so much culture to offer to the world, we have great musicians, great designers and many other talents that the world has yet to discover and if we don't expose those talents, who would?"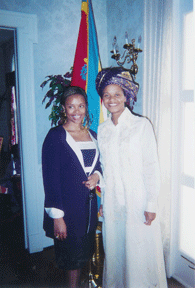 Ellen with Queen of Swaziland
The first edition of Miss Africa International was a success beyond her expectations. Nothing of the sort had happened before. There are small African pageants in many parts of the US but these are mostly community-oriented events but bringing all Africa together in one such event was a novelty. Seventeen young women took part in the contest that was held at the Washington DC Convention Center.
The success of the first edition of November 2003 allowed Ms. Dunbar to leave her insurance job and focus on running her new business venture. It took almost the entire year to setup the second edition, which was held in November 2004 where 40 young women represented their respective countries. Now she is looking down the road to add another dimension: "Our next step would be to have a contest where all women of African origin, from everywhere in the world would participate. These two first editions were limited in their scope but we are opening up to others."
Once the process was launched, Ms. Dunbar received support and sponsorship from unsuspected corners, from African embassies to corporate sponsors and African governments, "the response has been tremendous. It makes us wonder what other aspect of our culture is out there untamed and that could be turned into a successful business."