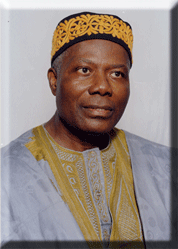 Dr. Togba-Nah Tipoteh
The Perspective contacted Dr. Togba Nah Tipoteh to inquire about a story carried by the Analyst, a Monrovia-based newspaper. According to the story, which was published in the December 27, 2004 issue, the paper claimed that the "Liberian Chapter of the Union of Liberian Associations in the Americas (ULAA) had honored Dr. Tipoteh for being the only Presidential Candidate who stayed with fellow Liberians throughout the civil strife". Was it true that such an organization did honor him, we inquired?
No. According to Dr. Tipoteh, he was honored by an organization named the Union of Liberian Associations. According to him, the organization has no connection to ULAA, and does not purport to have such.
Our desire to contact Dr. Tipoteh was prompted by the apparent controversy generated by the story upon its publication. Many had asked: Is it necessary for ULAA to have a local chapter in Liberia? When was this chapter formed? Who runs it? Is it another attempt for the leaders of ULAA to boost their own egos? Is it legal to form a chapter without letting the public know? In short, many smelled foul play in the making. Given the general level of distrust and suspicion people associate with the ULAA leadership, the reactions seemed justified.
To ULAA's credit, it moved quickly to disassociate itself from any organization in Monrovia purporting to be a local chapter. ULAA categorically denied it had a Liberian-based chapter and sent an immediate press release to the Analyst to correct the published story; it asked for a retraction.
In our conversation with Dr. Tipoteh, he expressed disbelief that such a story had been carried – it came as news to him, literally. He volunteered to immediately call the paper to have them print a retraction or a correction, as the case may be. Well, as Shakespeare said, "All's well that ends well", we hope.