Josephus Moses Gray, the Liberia correspondent of The Perspective is in the Senegalese capital, Dakar, toparticipate in a five-day international conference on "Audience Research in Community Radio".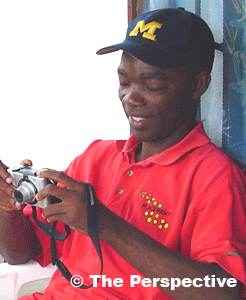 Josepus Moses Gray
The conference runs from January 10-15, 2005. The venue of the conference is at the AMARC-Africa Central West Africa Regional office in Dakar, Senegal.
AMARC International Secretariat is located in Canada while its regional offices are based in Latin America, Europe and Africa. The Africa office is located in South Africa.
Journalist Gray is among 12 other colleagues from English speaking West African countries including Nigeria, Liberia, Sierra Leone, Ghana and the Gambia. Liberia and Nigeria are represented by one journalist each while the rest of the other countries have two to four representatives.
Meanwhile, the objectives of the conference is to capacitate participants on audience research, teach participants audience research methodologies, highlight the importance of audience research among community radio in Africa and to enhance participants in practical aspects of conducting audience research.
AMARC is an international non-profit organization, which supports and serves community radio broadcasters and individuals journalists around the world. The organization's aims is to promote the fundamental rights, communication, and to support development by encouraging cooperation and exchange among its members.
Also, the organization contributes to the expression of different social, cultural and political movements in all their diversity by working to promote all initiatives that encourage peace, friendship, democracy and development among people around the world.
In another development, Mr. Josephus Moses Gray has been named "Journalist of the Year 2004 for Liberia". The honor has been bestowed on Mr. Gray by the Management of a local Liberian daily, The tribute, one of the newspapers in Monrovia.
According to the Tribute Management, the selection of journalist Gray comes not as any surprise for Mr. Gray has been in the vanguard of assisting his fellow journalists in the country, and that his work over the years has made an impact in the society. "Mr. Gray is on record for being a true advocate of press freedom, free speech and social justice:, the paper noted. He is accredited for raising US$54,000 grant from Open Society Initiative for West Africa (OSIWA) based in Senegal that benefited Liberian journalists after the 2003 fighting in Monrovia.
He is also on record for seeking scholarships for over 400 students of the University of Liberia Press Club. He is currently a student of the IBB Graduate School of International studies at the University of Liberia.