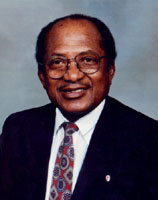 Bishop Bennie D. Warner
I recently spoke to the former Vice President of Liberia, Bishop Bennie D. Warner and other Liberians in the United States about various issues concerning Liberia including the persistent reports of corruption by Liberian government officials, and the former vice president's recent endorsement of Dr. Woah-Tee for the presidency of Liberia on the ticket of the Liberia Unification Party (LUP). Bishop Bennie D. Warner, the Bishop of the United Methodist Conference of Liberia, was selected by William Richard Toltert, Jr. to serve as Vice President of Liberia in 1977 after the death of Vice President James Edward Greene. Bishop Warner served as Vice President of Liberia until the Tolbert government was overthrown in 1980 by a group of enlisted men led by master Sergeant Samuel K, Doe. Below are excepts of Bishop Warner and others.
Bishop Bennie Warner, Former Vice President, Republic of Liberia, Oklahoma City, Oklahoma: The level of corruption in Liberia is disappointing. The Tolbert government was overthrown in 1980 because of alleged corruption. However, Liberia has experienced epidemic corrupt practices by our so-called leaders during the past 20 years. Our so-called leaders have used the people's money to purchase homes, cars and other items. The level of corruption in Liberia must cease. Liberia will not develop if our so-called leaders continue to steal from the Liberian people.
I simply wish 2005 would bring peace, harmony and order, unity and prosperity for the Liberian people. For any meaningful social economic development programs to be initiated in Liberia, there must exist peace and security first. Therefore, all Liberians must work toward peace, law and order in Liberia.
I recently endorsed Dr. Woah-Tee because I looked at the list of candidates contesting the presidency of Liberia in 2005 and I came to the conclusion that he has the vision and passion to unite Liberia. In addition, none of the presidential contenders recognize me as an elderly statesman to seek my advice, except Dr. Woah-Tee. I personally know most of the presidential contenders including Ellen Johnson-Sirleaf, David Farhat, Shad Tubman, Nat Barnes, Dr. Togba-Nah Tipoteh, Varney Sherman, Alhaji Kromah who once served as my press secretary, and Winston Tubman.
I do not plan to run for any office in Liberia. I will work to ensure peace and unity in Liberia. However, as an elderly statesman, I would seek to advise anybody who desires my advice.
Judy Farngalo-Mendoubor, Pittsburgh, Pennsylvania: In 2005, I want the government of Liberia to put the interest of the Liberian people first. The corruption and greed must stop. If the government that emerges as the result of the general and presidential elections in 2005 is corrupt, I want the international community to withhold development assistance to Liberia until we get our act together. It does not make any sense to help a country if the money will end up in the pockets of a few greedy government officials and their supporters. I wish Liberia peace and prosperity in 2005. I hope the 2005 elections would be peaceful.
Cllr. Ambrose Taplah, LLM Candidate, Corporate Law, Widener University, Wilmington, Delaware: For a government to function properly, those holding public offices must declare their assets before and after public service. Our partners in progress should not allow these officials to use their banking and financial systems to divert public funds.
It is against public law and trust to take and use public money under dubious scheme. This position needs to be re-echoed by the sanction committee of the United Nations and the State Department of the United States government on behalf of the Liberian people because we do not have the means to police the behavior of our officials. The looting must stop for the sake of the public good.
Victoria K. Bernard, Philadelphia, Pennsylvania: Liberian government officials must put Liberia first. Liberians must use the resources of Liberia to develop Liberia. The corruption and greed in Liberia must stop. Government officials must use the resources of Liberia to develop the country. Liberians need to recognize that the citizens of a country are responsible for its development.
I wish peace and prosperity for Liberia in 2005. I hope Liberians will conduct a free, fair and peaceful election, free of violence and intimidation.
Arabella A. Greaves, Health Policy Expert, Owing Mills, Maryland: I would like to read the UN panel of expert's report before I form any opinion on it.
I wish peace and security for Liberia in 2005. I hope that the elections will be held free of coercion. Liberians must put their personal differences aside and come together as one people. I wish all Liberians goodwill and reconciliation in 2005.
If Liberians want to develop Liberia, we have to distribute our competencies in both the government and private sector. Almost everyone seems to be concentrating on working for the Liberian government. We have to develop a Liberian entrepreneur class. No nation develops without the participation of its citizens in the development of a vibrant private sector.
P. Nathaniel Boe, Corporate Lawyer, Chicago, Illinois: I have no comment on the corruption charges from Liberia. I will leave that to the politicians to address.
Hopefully, Liberians will elect individuals in 2005 who will transform Liberia while ethically governing it. The individuals governing Liberia need to run it professionally. Only with such a mindset, would Liberians govern Liberia with integrity, honestly and the desire to make it succeed. Liberians must build a new foundation for a democratic society based on equity, justice and the rule of law. All Liberians must possess an equitable interest in Liberia if Liberia is to succeed.

The expressions by Liberians of diverse socio-economic backgrounds show that Liberians are disenchanted with the bad governance in Liberia. Liberian rulers have the responsibility to listen to the Liberian people. Their failure to be responsive to the needs of the Liberian people is detrimental to the creation of a democratic Liberia. Good leaders are those who listen to their people and take their concerns into consideration. The Liberian people need peace, transparency, security and the rule of law. Let 2005 be the year in which Liberians from all walks of life hold our rulers accountable. Accountability is critical to good governance.
May Liberians elect the candidate of the most ethical integrity in 2005; the candidate who has a genuine desire to bring about peace, security, the rule of law, good governance and initiate rapid economic development in Liberia.
Finally, may the soul of Dr. Harry Moniba who could not participate in this discussion due to his untimely death, rest in perpetual peace.