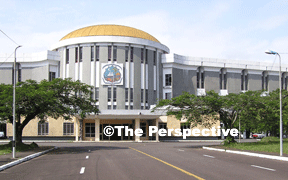 Capitol - the Seat of The Assembly
The leadership of the Liberian parliament (the National Transitional Legislative Assembly - NTLA) has been suspended for time indefinite and all their immunities as lawmakers seized. The action was administered to them on Monday, March 14, during the special session of the Plenary, the highest decision making arm of the first Branch of Government.
The leaders suspended for rampant corruption include: Speaker George Dweh, Deputy Speaker Eddington Varmah, Rules and Orders Chairman Edward Kpulun, and Ways, Means and Finance Chairman Tapple Doe. The four are facing charges of rampant corruption including administrative and financial mal-practices.
Speaker Dweh and deputy Varmah represent the disbanded LURD rebel faction and the failed regime of former President Charles Taylor respectively. The two men were elected unopposed. The leadership of the house is being investigated for corruption, which allegedly permeates the parliament to the extent that members of the body have taken this action against the leadership of the body. They are of the opinion that the action will serve as a deterrent to others.
The leadership of the National Transitional Government of Liberia, UNMIL and ECOWAS on Friday, met behind closed door to intervene, but report from the meeting said the members have remained resolute to passing a vote of no confidence in their leadership.