Remembering April 6, I996: The Enormity of Evil and Human Rights Tragedies that Consumed Monrovia

By James Torh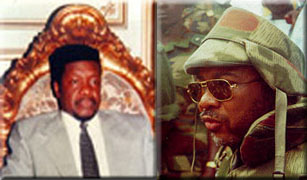 Warlords Kromah & Taylor
On April 6, 1996 in the heart of Monrovia, Liberia's capital city a bloody event unfolded. April 6, 2015 is the 19 anniversary of the so-called liberation of Monrovia from the hands of a late warlord-certain General Roosevelt Johnson by other two evil characters and warlords-Alhaji Kromah and Charles Taylor who were in cahoots with each other trying to conquer Johnson and his followers.

April 6 was wrong, wrong from the very beginning to deploy it, and however much, in whatever sense it was been used since to dismiss, scorn and reduce Monrovia and its traumatized citizens who were held hostage. The well coordinated and armed campaign was indeed a spectacular misreading that shattered Monrovia by random gun rampage. It was about massive evil.   

We are now looking back and reflecting on one of the most infamous beyond infamy of the Liberia's decade of terror of torment and death. It was here in Monrovia ''blood-dimmed tide'' unleashed by Taylor and Kromah reached it most swollen where thousands of Monrovians, our dearest citizens and compatriots went in unspeakable humiliation and pain to their end. Anniversaries, perhaps especially those of the grimmest event, provoke recollection, and in the case of the April 6 terror in particular are meant to reinforce memories. "Lest we forget" is not an idle injunction. Some things have to be remembered.

The attempted capture for the elimination of the late General Johnson and his followers who were seen as potential threat to the other two warlords and the famous guns battle at the United States Embassy near Monrovia was perhaps the real of what evil human kind can do. The April 6, 1996, the ''boring'' presentation by the two evil men(Taylor and Kromah) for the ruthless pursue,  arrest and capture of the late General Johnson  gave birth to a terrible shorthand description of that period in its subtitle: violent, boiling and wounded Monrovia, a West African country bloodiest war on the Banality of Evil. That one phrase, "the banality of evil," has at that time become a commonplace, a near-signature designation for events so much larger than the words it encompasses.

It was grotesquely inadequate, utterly wrong. The scale and depth of horrors of the extermination machine and the destruction of a then chaotic Monrovia, invented by Kromah and his estranged ''god father'' and buddy Taylor, set in motion, and kept demonically in exercise the entire period. We were rage and yearning to understand as the moment was feeling unbearable.

Taylor and Kromah have had their local police, filthy militias, thugs and mass murderers led by the late Joe Tate and Abraham Kromah who is now servicing as deputy Police Director for Operation in this Government were heavily armed to the teeth with guns, weapons and charms and participated in the blood-spattered event; an event that put mini-arsenal of weapons close to the hands of fragile child soldiers and volatile young men- other people precious children.  
                 
The April 6, 1996 evil reached nearly unscalable dimensions, possessed an inverted, perverted sublimity-a negative sublime for which of all words in all languages ''banality'' is the last and least it suggested. As we remembered and reflect on the horror of April 6, it speaks cardinally and disaster. It was the word of judgment far more than measure.

Exhaustive reporting from both dauntless local and foreign journalists armed with note books, pens and cameras fanned around the city doing and telling exclusive story; just to tell the world of the criminal aggression and horror that was consuming Monrovia. Liberia and its capital was news worthy.       
  
To date, most of us do not have ready or adequate words for its scene- and even in the highest poetry it is difficult to find worthy correlatives, though Milton's words on Hell are, singularly, very close:
No light; but rather darkness visible
Served only to discover sights of woe,
Regions of sorrow, doleful shades, where peace
And rest can never dwell, hope never comes
That comes to all, but torture and evil without end …
Nineteen years on from Monrovia in the face of evil, tears, pains and horror that seized the mind of the world, we can say there is amazing grace, Liberia.  
---
---