A 10 Year Old Liberian Boy Missing: Law Enforcement Pledges USD$12,000 Reward


By: Duannah Siryon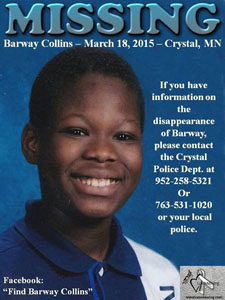 On March 18, around 4:00pm Central Standard Time, Barway Edward Collins, a 10 years old Liberian boy when missing immediately after his school bus dropped him off at his apartment complex in Crystal, Minnesota. According to family sources, Barway Collins migrated to the United States in 2011 and has since been residing in Minnesota.

Since March 18, a statewide search conducted by Federal Bureau of Investigation (FBI), local law enforcement agencies and community members has been ongoing and there is no sign of the 10 years old. On March 24th, the Crystal police department announced Pierre Collins, Barway father, also a Liberian, as a primary suspect in the disappearance of his son. However, Pierre Collin has consistently maintained his innocence to his son's disappearance. "I will never do that to my son; I want the public to know that I love my son."Pierre lamented to community members. "In helping to find my son, I have been working with them (law enforcement) every day and night; even in the middle of the night, I would wake up and get whatever information they want from me." Pierre concluded.

On March 23rd, a joint vigil service organized by the Organization of Liberian in Minnesota (OLM), in collaboration with the Liberian Ministers Association (LMA), the Crystal police department and the FBI at the Cedarwood apartment complex in Crystal where little Barway was dropped off after school.

According to Law enforcement officials, Pierre Collins was last seeing on the Mississippi River the day of his son missing and has directed most of their search around the river in anticipation of finding little Barway. Additionally, local law enforcement officials is awarding USD$12,000 (Twelve Thousand dollars) to anyone providing information that will lead to the arrest and conviction of the person responsible for the 4thgrader disappearance and such person may choose to remind anonymous. Anyone with information is asked to call 911 or the Hennepin County Dispatch at 952-258-5321.
As it stands and despite their search efforts, the Crystal Police department has continually insisted that the missing 4th grader case is yet to warrant Amber Alert. According to the U.S. Department of Justice website, activation for an Amber Alert of a missing child depends on several factors:

There must be a reasonable belief by law enforcement that an abduction has occurred; The law enforcement agency believes that the child is in imminent danger of serious bodily injury or death; There must be enough descriptive information about the victim and the abduction for law enforcement to issue an AMBER Alert to assist in the recovery of the child; The abduction is of a child aged 17 years or younger and the child's name and other critical data elements, including the Child Abduction flag, have been entered into the National Crime Information Center (NCIC) system.
As this story goes to press, the search for little Barway Edward Collins still continues.
---
---