"Super Monsters"-In Profile: What A Thought!
(Creations of "Roaring" Corruption, Inc.)
By Bai M. Gbala, Sr.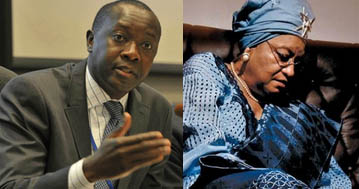 Minister Konneh and President Sirleaf
Introduction
We picked up a copy of the In Profile Daily forApril 28, 2015 and were greeted with a bold-faced, front-page headline in bright red, datelined Lansdowne, suburban Philadelphia, Pennsylvania, USA: "Amara Konneh (Liberia's current, Super Minister of the Super Ministry of Finance & Development Planning) foresees, Bloodbath? 'This has to stop, Minister Konneh cautioned on how the Sirleaf government expends revenue generated and warned if revenue generated is not equitably expended across the population, he foresees another April 14th Rice Riot-style incident in Liberia'".
This "cold water, from the alligator's mouth" about alleged financial shenanigans, sent shock waves throughout the financial community with spine-chilling impact on the critical problem of security. The Minister of National Defense went, immediately, on national radio and told the nation not to give credence to the Finance Minister's statement and that the security of the nation is fully protected.
Trying, mentally, to decipher who is telling the truth about matters on financial management/public dishonesty by the nation's guru and national security by the nation's head huncho, while going through the paper, we were greeted, again on page 10, by this whopper, "corruption is creating . . . Super Monsters . . . conflict Insight", with photographs of the Honorables Binyah Kesselly, CEO, Liberia Maritime Authority; T. Nelson Williams, Jr., dismissed Managing Director, LPRC; Mrs. Matilda Parker, recently suspended Managing Director, NPA; and Amara M. Konneh, the National Money Manager & Development Planner whose bombshell is now on the lips of the other Super Monsters  in offices, barbershops, salons and bow-tied lunches at fashionable Hotels and Restaurants; and the Liberian rank and file in "Fufu & Soup, Rice & Palm Butter Cook Shops and side-walk "debates".
The nation is now reeling under the weight, domination and  control by the instant-wealthy "Super Monsters" – ministers & deputes; agency heads & deputies; managing directors/presidents & deputies/vice presidents of state enterprises; heads & deputies of special committees/commissions; boards of directors & chairpersons; and just any former Joe Blow who has become Super Monster with "connections" – socio-cultural, economic, political, etc., etc., and easy access through the doors of state corridors of power with patronage appointmentsand card-carrying membership in the Liberian "roaring", not, any longer, "rampant" corruption, Inc.
The problem of Super Monsters is not a new phenomenon on the Liberian, political scene, only a change of nomenclature ("Been-Tos, Civilized, etc."); for, Super Monsters characterized administrative, economic and political history of our country. They work less and earn more than the average, government employee; they did not go to office on Fridays, the day to go on the farm (remember Tubman's Totota and the others?)
Super Monsters surround themselves by cronies – relatives, friends (socio-economic), political party associates, concubines, etc. They organize/operate personal businesses – real estate, homes, mansions, etc. with stolen state resources and collect rent from the state for the very same real estate developed with stolen, state resources. They are rewarded with promotions, etc., not prosecuted, because the enterprises are regarded as "developments". Young people, perhaps, some of the Super Monsters of today, emulated the Super Monsters of the recent past. For example, almost, every managing director of the NPA, LPRC, FDA, LPMC, etc., built, at least, a mansion and owns several businesses, including the super gurus, former Ministers of Finance and related functionaries. Super Monsters were and are made, based on what we described elsewhere and below as:
The Incessant Desire for "Lucrative" Positions in Government
Indeed, there had been and is the Desire for top management positions in the Liberian Government. Over time, this desire has increased and is increasing, exponentially, in correlation to education, training and experience. This desire, apparently, is one of the basic motivations for the dual citizenship proposal by educated, trained and experienced Liberians in the Diaspora. The desire, in general, is a reasonable expectation.
However, this incessant desire or, in fact, demand for top management and related positions in government described in local, Liberian provincial parlance as "Lucrative & profitable", having excellent opportunities for acquisition of wealth – meaning public dishonesty, stealing and corruption.
Although these positions, perceived as such, are found in and across the entire spectrum of government agencies, but there are specific ministries, state enterprise corporations, agencies of government and board rooms in which these "excellent opportunities to steal", traditionally abound. Some of the many "wealthy and business tycoons" of today's Monrovia are those who were given (perhaps, the terms "awarded" or "patronized" are appropriate) the opportunity to steal from the state due to appointments characterized by patronage - socio-cultural, socio-economic, family, and political considerations. Because I am quite sure that, almost, all Liberians know the identities of the ministries and agencies of government in which these "excellent opportunities" exist as tradition, there is no need for me to name names, but will, if challenged.
While engaged in the composition of this article, my newspaper vender delivered a copy of the New Democrat (New Democrat, December 19, 2013) with this headline, "Government Loses Millions in 'Bad Deals' at the National Port Authority (NPA)". According to the newspaper, "A report by the General Auditing Commission (GAC) . . . accused the management of NPA of signing bad lease agreements with business houses causing the government to lose nearly six million US dollars in revenue. Details of the report covering the fiscal years 2006, 2007 and 2008 . . . submitted (by the NPA) to the Public Accounts Committee of the National Legislature were not given; but . . . accused the Liberia Petroleum Refining Company (LPRC) of owing the NPA over eight million US dollars in lease agreements . . . According to the NPA . . . 150 (of such) agreements have been signed between the NPA and . . . business companies using the facilities of the port".
This question, then, arises, who benefits from non-payment of this huge, eight million-dollar lease agreement, due and payable into the public treasury? Of course, the well chosen, well-connected and well-placed individuals deeply consumed by the desire/demand for appointments to the "lucrative and profitable" positions, who have, hereby, achieved that desire/demand. This includes salary/wage allowances in US dollars, electric generators, gasoline, fuel, service, transport, rent, etc., etc.!!!
Also, on today, the vender delivered a copy of the New Dawn newspaper with a banner headline "Patronage stalls Governance" (New Dawn, December 20, 2013) and reports that Dr. Amos C. Sawyer, Chairman of the national Governance Commission, a think tank on national policy reforms, celebrated guru of Liberia's scholars and one of academic/intellectual, political theorists  of the current government,  says that:
"President Ellen Johnson-Sirleaf must seriously kick against patronage. If President Sirleaf was serious in her quest for governance reforms in Liberia, she must ensure that such unprofessional practice (patronage appointments) be aborted quickly. The cardinal requirements of appointments . . . qualification and competence are . . . overlooked in the nomination process (in favor of patronage), creating room for low productivity (and graft, greed, theft and corruption) and the current precedence (of patronage over qualification and competence) was (or is) wrong and . . . it creates huge setback in the reform process . . . the National Policy on Decentralization & Local Governance, the draft Local Governance Act of 2013 and reforms in Liberia . . .  campaigns about (the) ongoing decentralization reforms . . .".
To this an, apparent, example of this condition – the incessant desire for "lucrative, Profitable" positions in government - from personal experience will provide clarity.
During mid-1980s, I visited a ULAA friend and co-worker who lived in an apartment complex in Lower Mamba Point, Monrovia, in which several, other young women lived. During one of such visits on a Thursday evening, we (my ULAA friend and I) were invited to a birthday party in honor of one of the young ladies in her apartment, in the complex. There were drinks – several and variety - Johnny Walker, Jack Daniels, Black Label, London Dry, Cognac, Irish Cream, etc. etc, you name it, it was there. The food – Liberian, American and Lebanese - was catered in from restaurants, and the party went on to the late, wee hours. On Friday, the next day, the party continued with music, dancing, drinks, food and etc. catered in, as usual, from outside restaurants. My friend and I popped into the apartment, again invited.  
On Saturday, a non-working day, I went to the apartment complex to visit my friend as usual. There was music blaring from the young woman's apartment, with dancing and merry-making. But there was a truck parked in front with workers unloading and delivering household furniture, including icebox, rugs, TV sets, air conditioners, landline telephone equipment, radio, etc., etc. into the young woman's apartment, where the music and dancing were still going on.
Curious, I turned to my friend and asked, who is this young woman and what does she do for job? "Well", my friend answered, "the young lady, a friend, is an unemployed student at the University of Liberia; but her boy-friend is an employee of the Ministry of Finance as Tax Collector".
This was in the mid 1980s!!
---