President Sirleaf's Angry Remarks Propelled Bodyguards To Brutalize Student Protesters In Sinoe
By Martin K. N. Kollie
Youth Activist

President Ellen Johnson Sirleaf
Our unwavering agenda for a new Liberia of inclusion, equality, justice, and freedom is tied to a famous quotation by Martin Luther King, Jr., which says "our lives begin to end the day we become silent about things that matter." Our conviction is driven by an irreversible spirit of patriotism and loyalty to our fellow countrymen. The change we are yearning for today in Liberia is possible, but only through honest and frank engagements with higher-ups.
After campaigning for three (3) weeks, justifying why it was meaningless for Liberians across the fifteen political subdivisions and beyond to celebrate the 168th Independence Day of Liberia, a team of loyal militants and national patriots was dispatched by the ever-potent Vanguard Student Unification Party (SUP) to Greenville, Sinoe County on July 25, 2015.
Our mission to Southeastern Liberia, specifically Sinoe County was to reinforce our clarion call for Liberians to boycott programs marking this year's Independence Day festival. Surely, we did accomplish this mission. As a team of loyal patriots whose ultimate interest is to promote inclusive change, we had two principal objectives, namely:
To distribute hundreds of releases from SUP, outlining genuine reasons why it was worthless to celebrate Liberia's 168th birth anniversary.
To institute a peaceful protest action by sending out a clear message to those in authority that Liberians have had enough and it was time for paradigm shift.
Nothing could easily bewilder our determination and moisten our courage from accomplishing these two paramount objectives. The comrades knew very well that there can be no change without genuine action. As a result of this, they became increasingly zealous and passionate about pushing a common agenda for a new Liberia.
The journey from Monrovia through Grand Bassa and River Cess to Sinoe County was really a though one, but we had a national mandate to carry out. The bumpy roads, horrifying forest, narrow bridges, and gloomy weather could not easily prevent us from reaching our final destination.  As we embarked on this worthy expedition, we knew this mission would have never been an easy one.
The motherland was on our heart; as a result, risking our lives through perilous paths did not really matter. Certainly, we had a duty to discharge for the common good of our people, especially those who have been subjected to all forms of inhumane treatments since 2006. The urgency for a new beginning in Liberia became our source of inspiration as we gallantly proceed to Sinoe County.
While we cautiously drove through Grand Bassa and River Cess Counties, we kept reflecting on one question "What has our Nation achieved since 1847?" Scenes from these two counties were too chilling and scaring to comprehend. After 168 years of sovereign existence, nothing has really changed. Instead of moving forward, Liberians are moving backward.  Vast majority of our people still live in shacks and drink from creeks.
Life in Southeastern Liberia is no different from life in hell. Our people are really living in serious torment as their leaders continue to embezzle millions. Access to quality education, safe drinking water, electricity, good roads, transportation, better housing, employment, improved sanitation, commerce, health care, social security, and other basic services are far from reaching Southeasterners. Hardship is the order of the day!
Hunting, fishing, farming, motorbike riding, hard labor, mining, petit trading, etc. are compelling ventures in Southeastern Liberia. When will our people condition improve? As we approached Sinoe County, these sickening views and existing realities even provoked our resolve to march on with our plan. We were convinced that it was time to say TRUTH to POWER. The longstanding suffering of people rekindled our audacity to challenge the POWER that BE.
On Sunday morning, July 26, 2015, we finally arrived in Greenville City, Sinoe County in a sleepy, but yet exciting mood. We were welcomed by comrades of like minds and some citizens who were also thirsty for a just and equal Liberia. It will interest you to know that we did not even pay a cent for food and hotel bills until our departure from Sinoe County. We were well taken care of by citizens of Sinoe and Grand Kru Counties for almost three (3) days. This shows how desperate our people are for a new Liberia.
Upon our arrival, we were invited to speak to citizens, especially the young people of Sinoe County at the Intellectual Forum. Even though some of them knew our mission in Sinoe, but most of them did not know. As a leader of the planned protest, I was able to convince most of them to join us the next day. I spoke to them as though that day was my last day of speaking on earth. While recounting the failures of President Sirleaf and past regimes, I did provide twenty-three (23) genuine reasons why it was useless to celebrate Liberia's 168th Independence Day. Momentarily, I could see the reawakening of their spirit to act.
During this interval, I spoke to Alpha D. Senkpeni of Frontpage Africa and other Journalists in Sinoe County about the meaningless nature of celebrating Independence Day under a corrupt and cruel government. After this brief interview, I got an invitation from the Acting Station Manager of Voice of Sinoe 88.3FM to further justify our call for a boycott. The radio program was to be held at 7:30pm.
When time came for me to appear, I was told by the Acting Station Manager that President Sirleaf was about to speak to the people of Sinoe County. This was a smart attempt by the Press Office of Madam Sirleaf to prevent us from spreading our campaign. We could not blame the Station Manager because we knew his action was driven by big-shots. This abrupt and unjust adjustment even made us more courageous to hold series of consultations with opinion leaders and citizens in Sinoe County before Monday, July 27, 2015. 
The momentum of celebrating Independence Day in Sinoe County was very poor. Our message for citizens to boycott was spreading very fast.  On one occasion, I heard an elderly man saying "there is nothing to celebrate." Loyal militants of SUP and progressive forces were dogmatic about sending a clear message to dishonest public trustees. We told our people never to celebrate with those subjecting them to socio-economic misery and acute hardship.
As the hour approached for revolutionaries and ideologues of SUP to stand up in the faces of oppressive characters, we knew there would have been resistance from economic migrants and elite elements. Our conviction was deeply entrenched in a better future for all Liberians. One thing we knew very well was that change will never come if someone does not act. There is nothing more costly than keeping quiet in the face of injustice and inequality.
As the clock ticks towards the main day of the celebration, protesters were already in full readiness to express their dissatisfaction through peaceful means. While preparing for the protest action on Monday, July 27, 2015, two questions kept flowing through my mind:
What can we do to ensure a new Liberia of equality and justice for ALL?
When will we put an end to poverty, illiteracy, ignorance and disease in Liberia?
The day finally came for us to accomplish our mandate. Since the official program was to begin at 11:00am, we made it our duty to arrive at the City Hall by 7:30am in order to bypass stringent security protocols. We (Peaceful Protestors) enthusiastically stood with our placards/poster sheets in front of the J. Dominic Bing City Hall. As prominent citizens, government officials, international guests, journalists, and civil society actors were arriving, our hands were high up with our placards calling for equal opportunities for ALL. Some of the inscriptions on the placards were:
Liberians are dying from Poverty
Corruption is a vampire
When will change come?
Education is a mess
Stop taking our land by force
They lied to us and abused us
When will 'PAPA' come?
Twelve (12) wasted years
Equal Citizenship, Equal Opportunities, etc.
While protesting, we were distributing hundreds of releases from SUP to citizens and onlookers. These releases were meant to further justify our action by informing Liberians about how meaningless it was to celebrate Independence Day under a corrupt and self-seeking hegemony. Few minutes after, some aggrieved workers of Golden Veroleum and few students from Sinoe County joined us to protest as well. While standing with our placards, the presidential convoy passed without stopping. During this interval, two (2) police vehicles with ERU officers were directly packing opposite us. They could not resist us, because our action was in harmony with the law.
When President Sirleaf knew the protest was gaining momentum, she came back to meet with us. The President knew deep down within herself that what we were portraying on those placards were nothing, but the truth. President Sirleaf said "why are you guys protesting?" As the leader of the protest, I told Madam President in her face that we are protesting because her government has failed the Liberian people. My response to President Sirleaf was very respectful. My mood was moderate. These were my words to Madam President on Monday, July 27, 2015 in front of the J. Dominic Bing City Hall. It may not be verbatim.
"Madam President, we are protesting as a means of expressing our dissatisfaction about the manner and form you are leading our country. Liberians are disappointed in you. Your government has failed the Liberian people. When we went to the polls in 2005 to elect you Madam President, we did so with a conviction to ensure Liberia becomes a better society. We saw you as an emblem of hope. Sadly, after almost 10 years under your leadership, vast majority of our people still live in abject poverty. Corruption is on the increase. The rate of unemployment is high. Education is a mess. You have misled our people into a path of socio-economic paralysis. Today, most Liberians lack access to basic social services such as safe drinking water, electricity, quality education, improved sanitation, better health care, housing, good roads, and empowerment opportunities."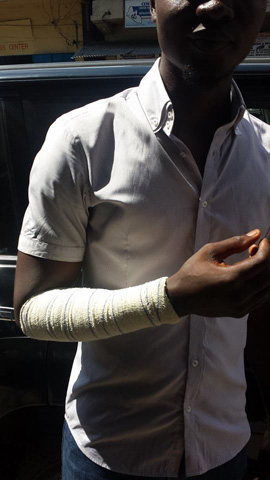 Student
When I told President Sirleaf in her face that her government has lost legitimacy in the eyes of the people due to rampant corruption, nepotism, injustice, and inequality, she reacted very sharply by calling me a 'STUPID and CRAZY' boy, even though I did not insult her. Truth really hurts! After President Sirleaf branded me in such faction, I was slapped twice by officers of the Executive Protection Service (EPS) without Madam Sirleaf saying a word. Officers from the elite Presidential Guard (EPS) flogged our comrades. Comrade Emmanuel Nagbe and other loyal protesters sustained injuries as a result of their vicious action.
In the process of tactically retreating, one of the EPS officers said CRUSH him; he is the same Martin Kollie who is always writing and speaking against the government. While I was trying to escape security brutality, my right hand was hit with a gun-butt by an officer of the EPS. The vexing statement of Madam President was a clear instruction to EPS officers to brutalize us, even though she did not order our flogging directly. We managed to seek refuge in the bush, by means of the swamp, after being chased by security operatives.  Is this the democracy we have been yearning for? I thought freedom of speech is a fundamental right. Does Liberia really have democracy or autocracy?
For those of you who are speculating that we were disrespectful to Madam President, you need to get a copy of the video from LBS Television Crew. Why are they refusing to play the tape? Moses Kollie Garzeawu of LBS, including other citizens witnessed this unfortunate episode. Stop disconnecting yourself from the reality, and dig deeper to unveil the truth. Our actions and utterances were in line with constitutional proviso and democratic due diligence. Let me restate that we only told President Sirleaf the truth and never disrespected her as insinuated in some quarters.
Our assembly as loyal militants of SUP and national patriots on July 27, 2015 was in accordance with Article 17 of the Liberian Constitution which states "All persons, at all times, in an orderly and peaceable manner, shall have the right to assemble and consult upon the common good, to instruct their representatives, to petition the Government or other functionaries for the redress of grievances and to associate fully with others or refuse to associate in political parties, trade unions and other organizations."
Our rights were trampled upon by EPS officers who intentionally ignored that Liberia is a country of law and not man. Regrettably, these gruesome gunmen had to walk in the atrocious footprints of the Executive Mansion Guards of Master Sergeant Doe and officers of the Special Security Service of ex-President Charles Taylor.  This is what happens when anti-democratic and despotic forces are recruited to serve as security guards under a democratic atmosphere. EPS officers are not above the law, and they must act within the scope of the law. I guess brutalizing peaceful citizens and unarmed civilians is far from the TOR and SOP of EPS officers. 
Let this message go forth that nothing can silent our voices, not even guns. You can crush us, but you cannot crush our ideas. You can chase us, but you cannot chase our courage for change. You can jail us, but you cannot jail our writings. We will remain relentless until Liberia becomes an equal and just society. The Student Unification Party (SUP) will never abandon its revolutionary mandate to always protect the interest of the masses. We will fight dictatorship and dictators. We will challenge autocracy and autocrats. We will struggle to put an end to elitism, nepotism, patronage, and inequality. We will combat despotism and despots. Our tone shall remain loud against all forms of societal vices. Until equal opportunities arrive for all Liberians, the struggle for inclusive change shall forever remain in motion.
About The Author: Martin K. N. Kollie is a Liberian youth activist, student leader, an emerging economist, and a young writer. He is currently a student at the University of Liberia reading Economics and a militant of the ever-potent Vanguard Student Unification Party (SUP). He can be reached at martinkerkula1989@yahoo.com
---