Selective and Baseless Discrimination: the Case of CBL's Governor Mills Jones

By: J. Nhinson Williams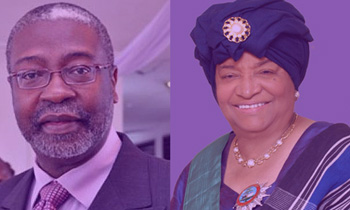 Bank Governor Mills Jones & President Sirleaf
Selective and baseless discrimination is dangerous for Liberia's prosperity.  If we as Liberians desire a society of lasting peace and prosperity then there should be no discrimination. No real change can come to Liberia if those who are discriminated against cannot stand up against such practices, and here is why: Discrimination has a lot of layers that makes it very difficult to overcome, but we must insist that it has no place in the new Liberia we want for our children and our children's children. It would be a great mistake, I believe, to pass discriminatory laws that are aimed at one man or one group. The law passed by the Liberian legislature, and signed by President Ellen Johnson-Sirleaf, that seeks to prevent anyone who serves as head of the Central Bank of Liberia (CBL) from contesting the Office of President of the Republic of Liberia is not only discriminatory; it is disgraceful, dishonest, misplaced and witch-hunting, at best. In addition, the proposition recommended at the Constitutional Review Committee suggesting that Liberia be solely a Christian state is also disgraceful and beneath the good in us all as a people and nation. The latter would make us no different from the Taliban in Afghanistan that forces everyone to conform to their beliefs.  
Having said that I absolutely disagree with Governor Mills Jones on his use of public funds for political gains and advantage, but that should have nothing to do with witch-hunting him or passing a frivolous law that serves no purpose other than discrimination.  Like any other Liberian, Governor Mills Jones has a constitutional right to seek the Liberian presidency. In fact, no natural born Liberian, no matter the circumstances, should be discriminated against in any form, manner or shape when it comes to contributing to the future of our nation in any form and at any level except if he or she has criminal records.  As a nation, we must ensure that such tricks and dirty politics have no place in our social and political culture. We must therefore challenge and defeat all forms of discrimination, whether it is based on race, sex, religion, social status, sexual orientation, tribe, or political affiliation. Any nation and people that fall prey to these kinds backward mentalities need to relocate to the stone-age or jungle.  Discrimination has no place in any civilian world.   
People who are opposed to Governor Jones' use of the CBL's loan program to showcase his political likability must voice out their disagreement and force their lawmakers to action on the issue.  Governor Mills Jones is not above the law neither does he own Liberia.  If the president of Liberia, Mrs. Ellen Johnson-Sirleaf disagrees with the Governor and accepts our position that the Governor is wrong, she has the right and authority as President of Liberia to request for his resignation. Likewise, the Liberian legislature can do the same.  And if Governor Mills Jones refuses to resign his position, he can be removed from office through a vote of no confidence.  However, how can this happen when we have a legislature that has many of its members who lack not only integrity, but the basic understanding of governance and the role and functions of a tripartite governing system? How can this occur when some lawmakers do not know better, or at best, are petit criminals engaged in unceasing level of corruption and bribery?
It is equally a mockery for the President and some in the national legislature to cry wolf about the Governor's action and stumble tendencies, as if Governor Mills Jones has monopoly over the country's central bank.  The devil is in details as to why no presidential or legislature removal cannot happen.  Removing a man who chooses to use an entire country's wealth and resources like his personal piggy bank for political advantage is fair and morally justifiable, and that is what we as Liberians expect from President Sirleaf and members of the Liberian national legislature.  On the other hand, setting up bogie traps and side-stepping around a real moral issue only to discriminate against someone just because we fear him or disagree with him or his policies is childish and insane. At best, it lacks all and every element of real leadership. This must stop and it must stop now!
The question is why can't Governor Jones be removed from office if he is doing a bad job?  Is there something he knows that threatens the people with the power and authority to remove him from the governorship? If the governor is forced to quit are we going to see, as the former CBL's former Board Chairman John G. Best put it:, " Those who intent to spoil the motivation of the central bank should be mindful that the central bank knows about every single transaction in this country.  Nothing can save you from us!"  Instead of taking a concrete leadership or legislative action to get this stumble governor from office for refusing to stop what everyone opposes and sees as a self-absorbed practice, this so-called CBL's law that prevents the  governor from being eligible to contest the Liberian presidency is sickening, ghetto and barbaric.  Just months ago, former Grand Bassa County's Senior Senator and former President Pro-temp Gbehzohngar M. Findley toiled with a similar self-serving type of discriminatory law when he tried to impose certain financial eligibility on anyone that wanted to run for a legislative position.  For Findley, the poor had no right to seek elected office if the country had followed his logic.  The essence of Findley's argument was self-serving; it was not intended to be in the interest of Liberia. And that is the problem we have in Liberia. Folks are not patriotic, they only look out for themselves.  But the good news is Liberians are tired with such games. And those who want to continue business as usual must take note.
Representative Edwin Snowe has been courageous enough to request for few changes in the way political business is done in Liberia.  Sadly, he has no support from most of his fellow lawmakers. I would hope others in the legislature will join him or follow his footsteps.  For example, Snowe opposed Speaker Alex Tyler from leading the House until his corruption allegation was clear, yet Tyler still runs the House today. Snowe again requested that the CBL be subjected to audits, again not many, if any lawmakers, are supportive. This happens simply because corruption has swallowed the dignity and authority of the power that be in our country.  The problems we have are not the making of President Sirleaf. If we had a decent legislature many of those problems would not subsist.  The legislature is a representation of the Liberian people and if the members are honest and also show more integrity, even President Sirleaf would have limits and be restrained.  But when lawmakers are dividing money, or apportioning an unthinkable amount of national resources to themselves through a budgetary appropriation process, they obviously lack the standing to take serious ethical action. 
No one knows what happened to the US$30,000 that each lawmaker received to sign a concession agreement a year ago.  To date, no one still knows what happened to the corruption allegation against the leader of the House and that ultimately led to the murder of Attorney Allison, the whistle-blower.  Our system is weak and morally paralyzed because it is infested with politically charged criminal activities. In such atmosphere, Governor Mills Jones, like other insiders that are familiar with such weaknesses, can challenge the authority of both the Legislature and Executive because he understands that there is no moral compass in the country. And I think Governor Mills Jones strongly believes that the power that-be has no moral standing to tell him what is right or wrong. Finally, Governor Mills Jones ought to know better and do the right thing. If he badly wants to be president, let him resign. This is where we are.
_______________________________________________________________
Jones Nhinson Williams is a Catholic educated Liberian philosopher, President and CEO of New Liberia Foundation, and head of the US-based Jewish Family Services International Refugee Program. He has also been aiding African immigrants around the world and highlighting the issues of hunger, economic migration, and the condition of the internally displaced in Africa. Since 2003, he has primarily focused on assessing conditions and working toward solutions that would allow all Liberian refugees in West African countries to return home. 
---