Mary Broh is, Perhaps, the Best Person in the Entire Administration of President Ellen Johnson-Sirleaf

By: Jones Nhinson Williams
Mary Broh with traditional dancers
I don't know Mary Broh and have never met her, but I strongly believe that she is, perhaps, the only serious and patriotic official in the current Liberian government. So instead of bringing her down as we always do with our decent and patriotic Liberian brothers and sisters who want substantive change from the past, we most celebrate her and her good works.
If the Sirleaf's administration had five Mary Brohs in that extensively corrupt Liberian administration our country would have been better. Mary Broh is the only person in that administration that I personally admire. She is patriotic and committed not just to her work, but in exposing the ills of the Liberian society and in ensuring that things are orderly. I just don't get it when people criticize her for doing a damn good job. Liberians don't like anyone who wants to fix things----things that the bulk of the useless politicians we have in that country want to stay the same.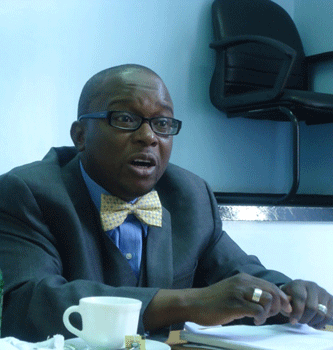 John S. Morlu, II
I also don't know John Morlu then and even now, but I stood by him, defending him online when he served as Auditor General of Liberia, a position in which he tried to correct the lack of accountability mess created by corruption and baseless spending spree. Then, people criticized John Morlu the same way they are doing Mary Broh today, arguing that as AG, Morlu should not have been in the business of putting government issues or mess in the media, even when things are terribly wrong and need fixing and when those who caused the damages want the situation to remain the same. Really people?
I understand the young girls caught in the sex prostitution ring during "General" Mary Broh's clean-up campaign are victims. However, Mary Broh's action in exposing the girls is to tell all Liberians and the outside world that this is wrong and that President Sirleaf and her administration must change their behavior and improve living conditions for all Liberians, particularly ordinary people, by creating jobs and wealth so that parents can be able to support their children.
These young girls, unfortunately, are forced as sex slaves under a government headed by woman and a Nobel Prize holder because their parents are unable to support them. Their parents are unable to support them because they have no jobs and income. Their parents have no jobs and incomes because apart from the fact that the Liberian government lacks bureaucrats with vision and the know-how, it is also very corrupt. All this is happening because Liberia has the most useless legislature in human history, both the Senate and House, especially the House of Representatives, which is headed by a guy who cannot even be a messenger in my office because he will most likely fail background checks. If the Speaker is allegedly very corrupt and does not know what he is doing, do we expect to have a serious legislature? Absolutely not.
If we had a serious group of people in the national legislature all the craziness going on in that country would not happen. Let us stop putting the blame on the President (and we should leave "general" Broh alone) because the last time I read about the form of government that Liberia has I did not see any thing about monarchy. President Sirleaf is not a "queen" or empress. As President, she is not immune to removal (impeachment) if the national legislature finds that she is not doing the right thing and that would be more appropriate especially if the lawmakers know that corruption is excessive under her watch and that the entire country is heading in the wrong direction. But how can the national legislature take such action when they lack the moral backbone to do so since, in fact, they are the leading agents of everything corrupt in Liberia. President Sirleaf is working with a bunch of people in an equal branch of government that she knows best, and she knows that they are corrupt, irresponsible, childish, unpatriotic and very foolish. In fact, many of them called the President "Oldma" in a phony attempt to seek financial and other favors.
I used to get angry with President Sirleaf because of the poor conditions and suffering in our country Liberia, but after my 10-year old daughter who is in primary school asked me one day about the system of government we have in Liberia and I told her we have a democratic system with three branches of government, the first thing she said was " daddy come on! Why put every blame on the President when the other people in the other branches of government are not doing their job"? My daughter then proceeded to hand me her civic lesson about similar form of governments, i.e how the Congress checks the U.S. president and how the U.S. courts checks both the U.S. president and the U.S. Congress. She stated further: "daddy, don't you have a similar system in Liberia"? I was dumbfounded. Since then I shift my attention to many of the crooks we have as lawmakers rather then blaming President Sirleaf for the sickness we have in Liberia. In the first place, keeping a very corrupt man as speaker undermines everything we want for our country. I just don't know why those guys in the House still keep this guy in that position. I don't dislike him as a person, I just can't stand the fact that he has immense the legislature into a mafia fellowship where everything is nothing but bribery when people are dying from poverty.
Instead of blaming "General" Mary Broh we should all congratulate this very decent woman for being truthful, honest and hardworking. This is a woman who denied Liberian police officers, without driver licenses, the right to drive government vehicles from the General Services Agency. This was a good example for folks who supposed to ensure that motorists have driver's licenses and they were going without licenses themselves. If Mary Broh was the President of Liberia there would have probably been no corruption in Liberia today because she give corrupt officials 100 lashes in the streets of Monrovia and that is what we need to change that mess in the country.
Mary Broh would make a good President or running mate for president of Liberia because she is honest, actionable and gets things done that she knows are right. She is a real Kru woman who acts like a Kru woman. No nonsense!
Unlike Mary Broh, there are people in high positions in the Liberian government who do nothing about anything and when they are questioned about the misery of the system they only provide excuses about how far back the country had been damaged and so it cannot be fixed in one day. That's not so with Mary Broh. We can fix Liberia if we have five more Mary Broh in that rotten system of government and the proofs are there: Mary Broh fixed the passport unit at the Ministry of Foreign Affairs; she curtailed the mess at Monrovia City Hall; she put GSA under control and is now trying to clean up Monrovia's garbage. CONGRATULATION MARY BROH, YOU DESERVE TO BE CALLED THE PEOPLE'S "GENERAL".
---
About the Author: Williams is a Catholic educated philosopher and an American trained public policy professional. He was instrumental in restoring Liberia from factional conflicts and corruptible wars to a normal functioning society and democratic governance. Since 2003, he has been working toward solutions that would enable all Liberian refugees throughout Africa and in the west to return home. He is head of the Jewish Family Services International Refugee Program and is an international advocate on forced migration, refugee flow, food insecurity, and the philosophy of governance.
---