Why Liberians Expect US To Do More Than Lifting Sanctions

By Frank Sainworla, Jr.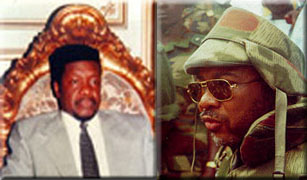 Warlords Kromah & Taylor
The United States is rapidly losing whatever moral authority it has left regarding the issue of justice for victims and accountability for warlords, in the aftermath of Liberia's 14 years brutal civil war, which claimed over 250,000 lives.

Just last week, the White House announced that President Barack Obama has lifted sanctions imposed on former Liberian President Charles Taylor and his close associates held in place since 2004, when it was first imposed by former President George Bush in 2004, a move widely welcomed.

"I, Barack Obama, President of the United States of America finds that the situation that gave rise to the declaration of a national emergency in Executive Order 13348 of July 22, 2004 with respect to the actions and policies of former Liberian President Charles Taylor and other persons, in particular their unlawful depletion of Liberian resources and their removal from Liberia and secreting of Liberian lands and property has been significantly altered by Liberia's significant advances to promote democracy and the orderly development of its political administration, and economic institutions, including presidential elections in 2005 and 2011, which were internationally recognized as freely and fairly held, the 2012  conviction of and 50-year  prison sentence of former Liberian President Charles Taylor and the affirmation on appeal of that conviction and sentence and the diminished ability of those connected to former Liberian President Charles Taylor to undermine Liberia's progress…," the US President said.
But Obama'a statement did not say that Taylor was convicted by the Sierra Leone Special Court for war crimes committed in neigbouring Sierra Leone; and not for war crimes committed in Liberia, where the number of killings, atrocities and crimes against humanity were four times more than that of Sierra Leone.

This was how veteran Western investigative writer Mark Huband described the Liberian carnage:

"Legal protection played absolutely no part in the Liberian conflict. No side considered establishing camps for holding prisoners of war. Instead, all perceived enemies, soldiers and civilians alike, were executed—many after having been tortured. Indeed, from the point of view of simple morality, not to mention international humanitarian law, the Liberian civil war of 1990–1997 was a horror story pure and simple, a conflict in which the law was ignored and every possible act of brutality was committed." See- http://www.crimesofwar.org.
What happens to the war crimes and mayhem Taylor and other rival warlords and war backers allegedly committed in Liberia? Like his predecessors, the Obama regime remains silent on bringing to book perpetrators of carnage during this country's war. This is something many historians and independent foreign and local political analysts say continues to undermine America's perceived "moral authority" on the issue of fair and equal justice.

Why the double standard? Whenever this question is raised, one can easily reflect on the historical involvement of US governments: First, it was in the fall of Liberia's first Republic with the Coup of the late Master Sergeant Samuel K. Doe in 1980 with the elimination of former President William R. Tolbert, Jr. That was followed by Taylor's 1990 rebel war against the very Doe plus General Prince Johnson's capturing and killing of Doe September 9, 1990.

Dr. George Klay Kieh, Jr. a Liberian Political Science Professor at Grand Valley State University, Michigan, USA published a book years ago on US support for Taylor and Prince Johnson titled, "The first Liberian civil war: the crisis of underdevelopment" Taylor was mysteriously spirited out of American jail to end up on the training base of Muammar Gadaffi at the height of the Cold War. More than that, he later mounted his rebel invasion through a Western satellite nation state of Ivory Coast.

"During the trip (to rebel territory) Assistant Secretary Cohen held discussions with both President Doe and warlord Taylor, the leader of the NPFL (Kieh 1992a: 133). President Doe refused to comply with the American call of the holding of "early presidential election". So amidst the scoring of one military victory after another by the NPFL and not wanting to alienate the militia, the United States withdrew its support for the Doe regime. Their shift of policy was reflected in the Bush administration's call for Doe to resign and go into exile."

Dr. Kieh further writes: "The United States promised to provide safe passage for President Doe, his immediate relatives and senior advisors. But again President Doe rejected the American proposition, opting as he put it "to fight to the last man." Having dispensed with its allies, the United States then engaged in the process of finding a new client to support. At that time, Washington had two major options. The first was to support Taylor and his NPFL. However the United States refused to pursue this option. Because Taylor's links to Libya and the attendant issue of unreliability of a client. The other option was to support Prince Johnson and his breakaway INPFL. In the end, the Bush administration chose this option. As a demonstration of the support for Johnson, its emerging client, American marines began to train the group's fighters and to deliver arms and other supplies to them (West Africa 1990:2330)…"

US officials have on various occasions downplayed the extent to which US governments had been hand-in glove with key Liberian war actors. They've also shown indifference to accounting for the carnage during the 14 years brutal civil war. Former Secretary of State Hilary Clinton literally brushed aside the issue of setting up a war crimes court for Liberia during a visit to Monrovia, when she told reporters 'it is up to Liberians' to decide.

There are also numerous other accounts of how US administration had been hands-in-gloves with anti-Doe rebels in 1990. "Firestone and the warlord—The untold story of Firestone, Charles Taylor and the tragedy of Liberia" was an investigation published by in the US on www.pbs.org on November 18, 2014.  Firestone is the US based multinational that has operated the largest rubber plantation in Liberia for many decades.

"Secret US diplomatic cable at the time captured Taylor's gratitude to Firestone," the report said.

"In written responses to question," www.pbs.org reported, "Firestone acknowledged the agreement with Taylor, but said it had never willingly assisted Taylor's insurrection."
Now, why the US took on a zealous posture about Sierra Leone and ambivalence towards Liberia's war accountability could just be explained in the old adage that it too had its "hands in the cookies jar," as seen in several historical settings. How Taylor was told to halt his rebel advance on the Executive Mansion presidential palace in the advance part of 1990; how he was visited in the jungle of Liberia's southeastern Nimba county; and the key role of the current Liberian President Ellen Johnson Sirleaf in Taylor's NPFL rebels invasion. As one political pundit puts it, "it's the Ellen darling girl factor," as the Liberian female leader is a close allie of the US.

The onus is on the US to come clean in the Liberian debacle and account for its role in the country's war past. Although the civil war formally ended in 2003, the scars of injustice meted out against the vulnerable majority remain fresh on the minds of the victims. If Uncle Sam can't take the stand that it should as Liberia's traditional friend on the side of the war victims amidst shielding of the warlords, then it must put up the millions of US green backs (US dollars) to cover a comprehensive reparation program.

I close with this quote of what former US Assistant Secretary of State for African Affairs Herman Cohen said in an interview, conducted by filmmaker Nancee Oku Bright in February 2000 about how US sees its relations with Liberia:

"Liberia was always the best friend of the United States. We could always count on their cooperation, their foreign policy issues – Cold War issues especially. And they were always willing to give us facilities in Liberia. For example, we had unlimited use of Robertsfield. We had two vast antennae stations there, one for diplomatic communications, one for Voice of America broadcasting. We had an Omega navigation station there run by the Coast Guard. So it was a perfect relationship for us. Internally, we did not worry too much about the situation there. It was always very stable."
As a strong believer in the libertarian and democratic values the United States was founded upon, this writer hopes the American government would shame the devil by replacing double standard with fair and equal justice in Liberia as it thought was good for Sierra Leone.
Lifting the sanctions alone is not enough.
---
---