ULAA Council of Eminent Persons (UCEP) Decries suspicious drowning deaths, ritualistic killings, muzzling of the freedoms of speech
A Press Release Issued By UCEP
The ULAA Council of Eminent Persons (UCEP), INC., composed of former presidents and former board chairpersons of the Union of Liberian Associations in the Americas (ULAA), the umbrella Diaspora organization, have over the years assumed the burden of applying acquired wisdom and experience to protect foundational principles for the benefit of ULAA, and for Liberians everywhere, especially the voiceless at home.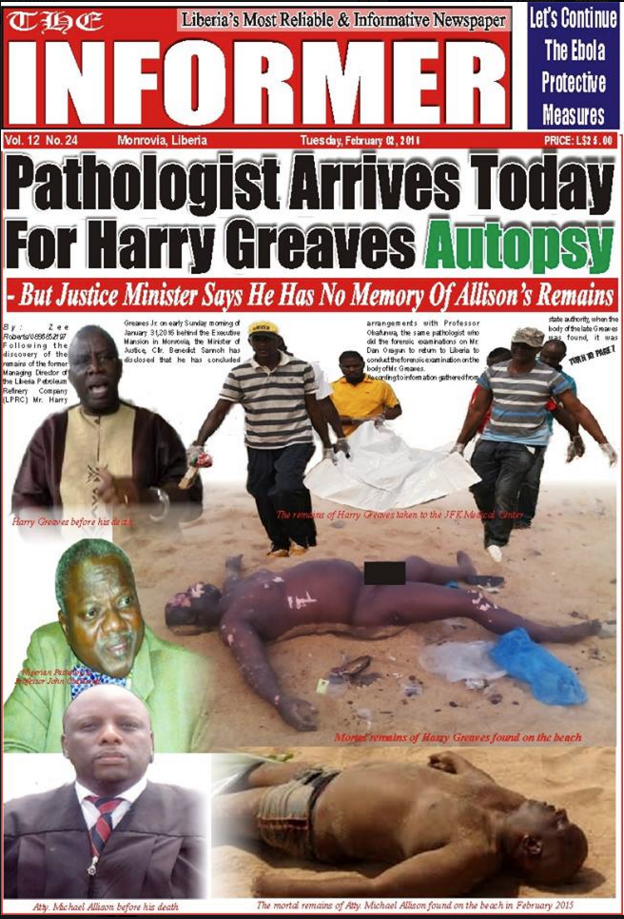 The gruesome remains of Harry Greaves
- Courtesy of the Informer
Thus mindful of its solemn responsibilities, and alarmed by news accounts about suspicious drowning deaths, missing persons, spikes in ritualistic killings, muzzling of the freedoms of speech and press through ancient sedition laws, confronting non – violent protests with militarized police units, terrorizing an opposition party leader, Mr. Simeon Freeman of the MPC, to flee the country for expressing contrarian views, and the fatal shooting of another unarmed demonstrator by a fawning security sector, UCEP dispatched two letters to two primary African organizations, the AU & ECOWAS in February of 2016. These communications were sent in response to these unacceptable behaviors by state actors, the gross violations of the human rights of a vast majority dying off from pervasive poverty as a result of rampart corruption, and our deep concern for the future of the country.

Given our desire for continuous peace and our commitment to ensure that Liberia does not fall back into war, UCEP has resolved to address additional letters in the coming weeks to the President of Liberia, H.E. Ellen Johnson Sirleaf, and to other principal governments and international institutions including the US State Department, the US Legislature, the UN Security Council, the EU, and to other regional groupings. Our appeal to these governments and institutions is to bring all efforts to bear to address the vexing issues in Liberia with the aim of preventing Liberia from reverting to the very conditions which led the country down the path of war. We are therefore calling on peace – loving people everywhere to speak up. Because it isn't whether (if things don't change) the country will explode, it is when.
Issued by the authority of the Eminent Council on this 30th day of March 2016 in the City of Jonesboro, the State of Georgia, USA.
Signed:


Siahyonkron J. K. Nyanseor
Chair, UCEP Secretariat
Contact #: (404) 468-2440
ucepinc@gmail.com
Attached Letters: ECOWAS/AUC

---
---