"The Government Has Failed," Says Mills Jones

By Jerry Wehtee Wion
Contributor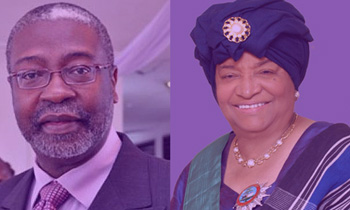 Former Bank Governor Mills Jones & President Sirleaf
"The government has failed," says another Presidential candidate, Mills Jones who also milked the system with his reported US $20,000.00 a month salary plus benefits as Governor of the Central Bank of Liberia. And as Governor of the Cental Bank, Mills Jones helped President Ellen Johnson Sirleaf to fuel the failure of the government by unlawfully and unconstitutionally diverting "over $10 million" of our money into Ellen's so-called private "development agenda account" at EcoBank.

Daniel Woart, the student leader blindly asserts: "Before we could make this decision (to endorse MillsJones for President), we had a consultation and we did background investigations on ALL of the (presidential) candidates and Dr. (MILLS) Jones is the best person for this job (of President of Liberia.)" Really? Mr. Woart needs political binoculars because he and his fellow students leaders probably were looking in the wrong places for any political sins on the former Governor of the Central Bank of Liberia.

Let me get right to it and not bore you with his one-man free "stimulus money" giveaway to market women that many now say amounted to campaigning. The exact amount is still debatable and the terms for repayment to the government a guessing game.

Now, in the great United States that literally invented economic "stimulus package" money giveaway, first, the Congress of the United States that is the legal custodian of the American people's money must and always is notified and then has to give the approval for any money. In Liberia, it is a one-man show, and the corrupt Board of Governors.

Well, first thing is Governor Jones printed thousands of T-shirts with his picture on the front that he gave away to potential voters/ market people. Next, Mills Jones himself is in the market places giving out money.

But what I wanted to bring to the attention of voters in Liberia is Governor Jones' role in 2009 when he revealed in the wake of the $1.1 million bank signature forgery scandal. 

Some low level and top officials at both Finance and the Central Bank were caught in a money scandal where some of the guys reportedly forged the signature of President Ellen Johnson Sirleaf and diverted for their own use "$1.1 million" of our tax money.

The investigation, led in part by the former no nonsense head of the General Auditing Commission of Liberia, Mr. John Morlu revealed that an illegal triangle or tripartite ring had been in existence involving President Sirleaf's office, the Ministry of Finance and its then Deputy Minister for Revenue, Ms. Eldreda Tamba-Stewart and the Central Bank former Deputy Governor Ethel David and Governor Mills Jones himself.

This illegal and unconstitutional triangle had already siphoned off over "$10 million", according to Governor Jones and deposited same into what became known as the "development agenda account" belonging to President Sirleaf at EcoBank. It was the copycat of said account that led to one Mr. Kollie and gang bejng busted after forging the signature of President Sirleaf in which Kollie and gang made away with the $1,1 million.

Kollie and gang were ordered by Deputy Governor Ethel David to deposit the $1.1 million that had come in from LPRC into Ellen's development agenda account at EcoBank. But the guys opened their own account under the name "E. Jee Sirleaf" using the same account number as the President's development agenda account. And the money was gone.

According to Governor Jones who was not in the country at the time Kollie and gang cleverly forged President Sirleaf's signature, Jones later told a news conference that the reason the bank authorities didn't question the authenticity of the forged letter and signature was " because the Central Bank had acted on similar directives from the President and had by then tansferred money from the Central Bank totalling over $10 million into President Sirleaf's private development agenda account at EcoBank" and I may add, without the prior knowledge, advice and consent of the Liberian Legislature.

President Sirleaf, Ethel David, Mills Jones and Eldreda Steward-Tamba all never saw inside a courtroom for this mother of all all crimes and it became business as usual but poor Kollie and his buddies went to jail.

Eldred a is now head of the equivalent of the US Internal Revenue Service (IRS) with a salary of US $109,000.00 a year while Ethel David was rewarded and is our Ambassador to Germany and Mills Jones stayed on as Governor until last year for his desire to run for the presidency. So much so for Jones ' "failed government." To add insult to injury, the government wasted yet another $80,000.00 on a former US FBI signature reading expert to compare the forged signature to Ellen's official signature. Like Jones, I am also from Sinoe County but Liberia is bigger than that. Da me say so.

---
About the Author: Jerry Wehtee Wion, Journalist and Political Commentator, Washington, DC, USA

---
---