Diamond Revenue: Sierra Leone Gets Less; Can Liberia Get More Diamond Revenue After The 2017 Elections?

By J. Yanqui Zaza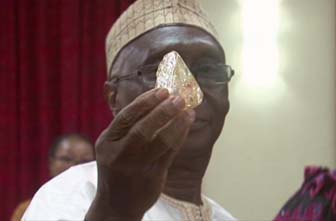 Diamond found by Rev. Emmanuel Momo
Liberians, once again, are hoping that a change in leadership after 2017 their country will address Liberia's issues: generate adequate revenue, finance electricity to entice good-paying-job investors, finance social programs, fight corruption, etc. Yet, the candidates are focusing on the issue of personality or ethnicity rather than the issue of adequate revenue, for example. Why does Liberia, with significant deposits of natural resources such as diamonds, continue to rely on excise taxes (i.e., money taken away from the pockets of citizens) to finance its budgetary documents?
Well, is it not too late for experts and politicians to research for reasons as to why Liberia continues to receive inadequate diamond revenue or search for an alternative economic policy that can put more diamond money into government coffers? In fact, the $50 million diamond revenue story of Sierra Leone could be a beginning. This is because the NY Times issue dated 3/26/2017 ran an article called "Miners Found a 706-Carat Diamond in Sierra Leone. Who Should Get the Profit" that also describes the diamond operation in Liberia. Public records indicate that Sierra Leone and Liberia, both neighboring countries, have diamonds, but do not receive a fair share of the diamond revenue.
In that same NY times article, Mr. James Yaya Bary explained how the current Sierra Leonean economic arrangement has created a favorable environment for private investors (i.e., predominantly, Lebanese, Guineans, Gambians or Malians) to accumulate huge revenue of the diamond industry at the expense of the government and miners. The Sierra Leonean-government does license miners such as Rev. Emmanuel Momo who discovered the $50 million 706-Carat diamond.
The miners, on the one hand, are not only poor and desperate for money, but also have limited knowledge of the diamond industry. On the other hand, dealers, who have gained vast experience in the diamond industry within Africa and else where, know the inner workings of the Sierra Leonean government. So, the dealers deliberately, but deceptively, encourage the miners to spirit the diamond out of the country, which has porous borders. By spiriting the diamonds out of the country, dealers are not only escaping government offices in order to pay minimal taxes, but are also avoiding independent diamond appraisers; thereby, allowing the dealers to pay very little money to the miners since the dealers' estimated value of the diamonds (i.e., usually lower estimated value of the diamonds), is at most times used to determine the miners' share of the diamond revenue.
So, is the spiriting of the diamonds out side of the country part of the reason why Sierra Leone gets 3% to 10% of the diamond revenue? Of course, the answer is yes. Botswana's diamond revenue provides about 50% of the country's national budget primarily because Botswana government and private investors, collectively, dictate the diamond policy and share the revenue reasonably. In Sierra Leone, however, private capitalists dictate the operational method, the kind of expenses, the profit margin, and tax avoidance and tax evasion strategies.
Remember, diamond dealers, like other privateers, usually do whatever it takes to make money, according to Miya Tokumitsu. In the NY Times article called "Why Social Justice and Capitalism Don't Mix," Tokumitsu stated a profiteer who does not exploit workers, wants to honor moral values, obeys government regulations and, or is not ruthless with his/her competitors, is deluding himself/herself. Alternatively, when a government partners with diamond investors, such an economic arrangement allows the government to build a diamond cutting factory, thereby, not only adding value to diamonds and increasing government revenue, but also providing more good-paying jobs. That is the economic system Botswana has instituted.
So, let us change the debate from the issue of personality (Native or Congo) to the issue of putting more diamond revenue into the Liberian government coffers. This is important because Liberia's primary source of revenue (i.e., excise taxes) would not be adequate to finance infrastructure, social programs, etc. More so, Liberians are now rejecting any new taxes as evidenced by the recent public demonstrations organized by Liberian entrepreneurs to denounce new taxes. Furthermore, now that Liberia is stable, our International Partners' assistance, excluding external debts, would not be around $500 million. The "Citizens Guide To The Budget…" stated "… in 2013/14, donors will contribute $649 million in project aid in addition…" to the $476 million UNMIL will spend in 2013/14. Note, donors' money is different and donors' money is not included within the Liberian National Budget.
Okay, I understand why indigenous advocates are focusing on ethnicity as a litmus test for the presidency and not focusing on the real issues such as the sharing of diamond revenue. This is because many past presidents, whether Congo origin or coopted Congo candidates continue to support policies that protect influential Liberians, especially real estate owners, diamonds and gold dealers, etc. In addition, influential citizens and private investors have and continue to prevent honest and less corrupt candidates from winning political offices of influence. Further, indigenous advocates believe that candidates of Congo origin are less likely to enforce regulatory policies against their kinsmen even if they were to discuss and provide diamond revenue policies, all because of money, etc.
Indigenous advocates also state that the imperial power of the Liberian presidency coupled with the internal working requirement of the Legislative Branch make it difficult for indigenous lawmakers, who are in large number, currently, to launch policies that the Presidency does not approved. It is true that the presidency in many countries uses arm-twisting, bribes, etc. to coerce lawmakers. However, in Liberia, President Sirleaf did expand the money-culture attitude. She is paying excessive allowances to her advisers and is bribing lawmakers, implying that bribery (i.e., her advisers refer to as lobbying) is good for Liberia. The money culture continues to supersede any real and good issues of development.
Nonetheless, indigenous advocates should focus on issues such as diamond revenue because investors have and will always use portion of the profits of lucrative assets, for example diamond, to coopt or lure candidates of any ethnicity to protect their interest at the expense of society. Let us debate these programs in order to change the practice and belief that "…profit motives and property rights are more important than the people…" as stated by Dr. Martin Luther King, Jr. at the Riverside Church in New York City. More so, the debate exercise might help candidates as well as voters to understand how and why the current economic system usually creates an environment conducive for private investors to accumulate more diamond revenue at the expense of society.
---
---