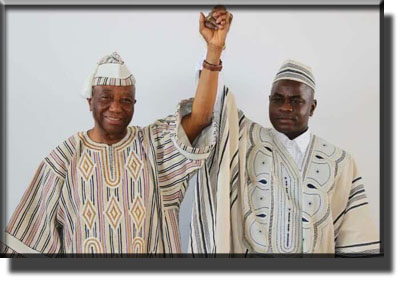 VP Boakai (L) & Speaker Nuquay (R)
Photo - Courtesy of FPA
That Ambassador Joseph Boakai's pick of Representative Emmanuel Nuquay as vice standard bearer made winners and losers an understatement. It's indisputable, even though it was much a crime in the view of some UPists for me to have pointed to it in Part One of the series. Of more than a dozen of calls received from friends and readers over the opinion piece, a few of them were crudely dissenting. From the perspective of the dissenters, the Boakai-Nuquay ticket is God-sent; it got no blemish, and the losers are rather the opposition and the winners are UPists. Losers and winners in Boakai's Nuguay pick, they contend, is a figment of critics' imagination.

But despite the few riotous reactions to the opinions in Part One, there is something crystal clear beneath the dark armpit of the UP architecture: Unity Party as it was before the Nuquay pick, along with all the euphoria for a Boakai presidency from within and without, is never going to be the same again. Crisis has set in. Disgruntlement never thought off is seething about. Harmony has shrunk and ongoing efforts to downplay the aftereffects of the Nuquay selection and to heal the resultant internal disquiet and instability will hardly return the party to status quo ante.

The point is, Vice President Boakai had raised so much expectation and it is unspeakably hurtful to betray expectation mostly in politics. It is needless to say that enormous expectation was built up as promises to various interest groups were rationed like nutritional foods in war time. Boakai made friends with and sought to unite politically heterogeneous groups, and each of the groups had believed deeply in him and the promise of proving his running mate. However heterogeneous the then pro-Boakai groups had been, they were all unanimous in the strategy of keeping a distance from the outgoing standard-bearer, President Ellen Johnson Sirleaf, not only because she leaves behinds a troubling legacy—colossally poor output on the domestic front—something that is highly unfavorable in a highly volatile campaign period—but also because not too many of the high profile persons in the interest groups have faith in the President's political games. Thus, keeping Sirleaf out of the UP as subtly as possible, even if it means pushing her on the Liberty Party, was a shrewd overture that newcomers and outsiders as well as the mainstream UP had seemingly consented to. Some of Boakai's public statements on questions of perceived or real relationship between him and his boss lady, President Sirleaf, provided solid though faint clues about the strategy to lift the outgoing standard bearer and her excess baggage off the back of UP. And I still believe the Nuquay pick is like a stab of two-edged sword not only in the back of new progressive forces that were being purportedly formed to take Boakai to the Executive Mansion but also is a disturbing wedge that prematurely exposes the 2017 UP standard bearer's untrustworthiness, something that is clearly damaging to the cohesion of the progressive post-Sirleaf forces.    
    
For the sake of politics, UPists would perpetually disagree with assertions in Part One of this series perhaps until they get a rude awakening in the eventualities of things in the next few weeks. Meanwhile there are several other troubles spilling over from the Nuquay pick that Ambassador Boakai and other UPists will be able to get from Part Two of the series. But it takes only a pragmatic heart and a sixth political sense to see and appreciate the hovering troubles.

To understand and appreciate some of the troubles, one first must ask: Who's the Emmanuel Nuquay? What has been his political trajectory in the last few years? If honest integrity test was performed on him, how would he fare? As a "young man"—his age purportedly being a factor in his pick, who's Nuquay's role model? Who are his pals? Or simply ask: Considering all those that Boakai really put into the vetting and due diligence process of picking his running mate in the last two or more years, did Nuquay stand out prominently and chiefly? And more importantly, does Old man Boakai feel politically secured and comfortable having the Gibi offspring and representative as his principal deputy to whom he owes an obligation to see and deal with at any moment?

There is a tickling but compelling feeling for a critical mind to give adequate time in pondering every single question above. No one is sure if standard bearer Boakai or his team does have that feeling, giving the clouds of complexity and uncertainty that hang over the integrity of his campaign and fears that loom over the stability of his regime were he to win the October polls.

Firstly, a very critical issue portending doom for the Boakai camp is the report which, I know, UP fanatics will battle fiercely. And this is about an invisible hand that shoved Nuquay in the throat of the Vice President and Standard Bearer along with his inner circles. Politics again will not allow them take this assertion seriously, but it is an open secret now that Nuquay was never even at the 10th place on Boakai's VSD choice list if the Margibi representative was ever a consideration initially. So, while the Vice President was grappling with the multiplicity of outstanding possible picks, shuffling his cards here and there, he was consistently pestered into considering a batch of recommendees from the Executive Mansion. This means while the UP base and its newfound "coalition of new forces" were plotting to silently divorce the outgoing standard bearer, Ellen Johnson Sirleaf, this "Messi of Liberian politics", was also counterplotting in a bid to entrench her claws deep in the flesh of her vice president of 12 years. Should he pick from the pool of new forces and get set for an all out war with politically shrewd Sirleaf who was already charged venomously for Boakai's gravitation toward "risky radicals" or should he sacrifice his UP base along with the "coalition of new forces" and make amends with them later?

Madam Sirleaf reportedly made threats, which she intensified particularly when Boakai and his team had already shot a couple of her recommendations down flat. The intensification of threats by Her Excellency Ellen Johnson Sirleaf, President of the Republic Liberia, a longtime international civil servant and activist, a Nobel Laureate, meant a lot to just a former Agriculture Minister and a mere Vice President under the madam, Joseph Nyumah Boakai. Ambassador Boakai, who has been a pal of the Madam for the last forty or more years, knows the color of threads she uses to sew garments. She is assumed to be very powerful. She is hugely connected. And others say she's vindictive. Ignoring her threats, shooting down her final recommendee would be an all out war—financial and material asphyxiation, political strangulation and international embarrassment—great weapons she has got at her ready disposal.

The proof of President Sirleaf's coercive hand in the Nuquay push is clear like the sky in the summer. The UP vice standard bearer said it. His acceptance speech which was largely a tribute to President Sirleaf says it. It's Madam Sirleaf who brought him into political limelight, he said. Secondly, during his first main press conference following his pick, Nuquay confessed he was never a factor in Amb. Boakai's VSB pick. In fact he said he had printed his campaign materials and paraphernalia in preparation for his representative showdown in Margibi County. Surely, VP Boakai's search for his VSB predated these campaign preparations by Nuquay. The Old-man began this whole thing many years back. So how did Nuquay get factored into all this?

Three things must be closely considered in finding answers to that question. Firstly, Nuquay has earned "mission possible" name or "mission man" portfolio for the Executive Mansion. As House Committee Chair on Ways, Means & Finance and subsequently Speaker of the House of Representatives, Nuquay was a perfect fit to complete presidential projects at the Lower House. From bending representative colleagues' hands behind their back to baffle LEC's US$42m scandal to plotting a 30-year duty free for Farmington Hotel, all of which reportedly had the shadows of the President hanging over them, constitute a bit of Nuquay's mission-possible deals for the Executive Mansion. Secondly, Nuquay reportedly did not envisage the headship of the Lower House, just as he didn't in the VSB pick. In the spirit of complimentarity, the Executive Mansion would prefer the likes of him in prestigious positions. So, while a lot of representatives sought the deposal of former Speaker Alex Tyler and to be replaced with Hans Barchue of Grand Bassa County, the powerful forces knew there was no better agent than Nuquay. So, in a near-mysterious way, Barchue was dumped by the way side for the least-expected but Executive Mansion-sanctioned Nuquay. The powers of bills in Ghana-must-go bags during a dawn-time negotiation got it all possible.

Thirdly, there is a strong ego and imperative for soft-landing after 12 years of presidency. And with colossal audit and media reports charging wanton loot and pillage of state coffers on the books, coupled with TRC's risky recommendations, any outgoing regime will definitely desire soft landing. The array of progressive forces, particularly of indigenous extraction appearing to be linchpin of Amb. Boakai's new political movement posed present and clear threat to the pursuit of soft landing. The mainstream Sherman-Paye faction of the Unity Party is also not a lesser threat at all. They all constitute dangerous antithesis to post-presidential comfort. They needed to be subverted. And the perfect fit was none else but "mission possible" Emmanuel Nuquay. Boakai and the UP had to risk all other considerations to have him as the VSB.

Essentially, therefore, formerly estranged forces headed by President Sirleaf are the winners. The Sherman-Paye UP extraction is a loser. It's needless to say the rise of heretofore these erstwhile estranged forces that has come in the form of "mission-possible" Nuquay is neither a win for Standard Bearer Boakai. In fact, what worries most pundits is that the Nuquay preference has left the Standard Bearer—and God for bade his presidency—with added responsibility. And that responsibility is for Boakai not only to consistently check out where his vice standard-bearer's loyalty lies, but also what deputy Nuquay will possibly be talking, plotting and scheming with his outside masters. This could take Boakai a lot of Tubman-style PROs. It's scaring and it will be an interesting match to watch.              
We are facing some technical difficulties with our comments scripts.  Please use the Facebook comments space provided below: