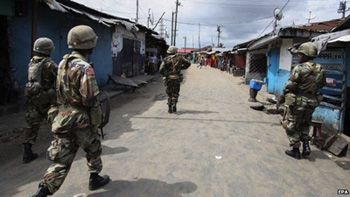 West Point, Liberia
After their dismal, historic 133-year failure to deliver the Republic of Liberia from the problem political under-development – poverty, illiteracy, hunger, healthcare deficiency, rampant corruption and national transport/communication (the Premier Multiplier Effect) for national economic development;  and after their historic civil war nightmare of Warlords, rebel war graduates of Looters, human rights Violators/Killers with impunity during their 12-year failure to deal, efficiently/effectively, with the problems of the nation's critical needs, including the-now roaring corruption, the dreaded True Whig Party Rulers now called "opposition politicians" turned to  "SLUM DEMOCRACY".
That is, that these so-called "opposition politicians" turn their "political" attention to the City of Monrovia and its suburbs or "Enclaves", over-populated and congested by rural-to-urban migrants and their born-here children (18 years and over) now the voting-age majority of the nation's population, teeming in these-Ghetto-Slum Enclaves.
But the socio-economic and political Condition of the hundreds of thousands of these young Liberians, the nation's future leaders, a condition well-known, but consciously and systematically avoided and neglected by these "over-night rags-to-riches", with stolen public resources by these "politicians".
They (the "politicians") know but ignore and do not care to attend to the plight of these young people - that they are unemployed, hungry, angry and often sick,  but without healthcare delivery service and drowning deeply in un-sanitary conditions without electricity, safe drinking water and police protection, because the "enclaves' are, in fact, convenient source of recruitment for drug-dealing, prostitution, substance abuse and high crime for individuals and their "street-smart", but un-informed, un-trained/in-experienced and uneducated "leaders".

To confirm, just take trip to the Enclaves - the Doe Community, West Point, New Georgia, Clara Town, New Kru Town, 72nd, etc.  One will find that the "attractive" opportunity for illegal income from drugs-dealing leads, eventually, to the nightmare of poverty, un-information, un-education and dangerous "Slum Democracy" which has compounded and rendered, continues to compound and renders the Monrovia City Government inefficient, ineffective economically, politically.
Today, it is estimated that more than 60% of the nation's population is congested and crammed in the City of Monrovia, the tiny peninsula land area of less than an estimated 5% of the nation's 43,000 square miles and the "Enclaves", due to un-controlled, irrationally-managed "rural-to-urban migration". All economic development is concentrated and executed in the Republic of Monrovia, Montserrado County, while there is little or nothing done in Rural Liberia where about 80% of the land and all, almost, natural resources, less oil and gas potential, are located.
No wonder Candidate for President, the Honorable Vice President Joseph Boakai, hit the nail on its head when he told the Debate audience that a President Boakai's political/economic development plans will reverse the prevailing, disastrous "Rural-to-Urban" plan to Urban-to-Rural. A major effort will be directed to get the economic migrants (before the civil war) and the political migrants (who fled the civil war murderous adventure to the City of Monrovia and enclaves (the-then only safe haven) – of doctors, nurses, economists, political leaders, bankers, educators, technocrats, investment bankers/promoters, lawyers, business managers, information technologists - back to their homes in Rural Liberia, including tourists, etc.
This approach is not only rational, urgent and desirable, but also, that it is economically/politically feasible and doable!!

Contribution
$25.00
Please Support This National Cause

---
About The Author:
Bai M. Gbala, Sr. Is A Former Advisor On Political & Economic Affairs/Government of Liberia
---
What is your take? Please post your comments below: