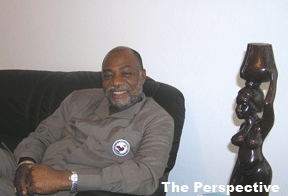 Senator Varney Sherman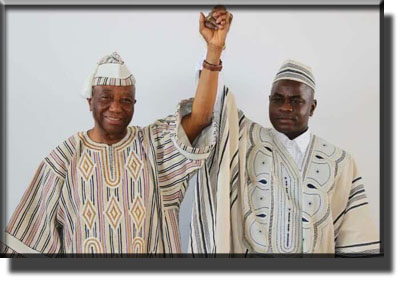 VP Boakai (L) & Speaker Nuquay (R)
Senator Varney has drawn the "Red Line" in the sand telling President Ellen Johnson Sirleaf to literally get lost that the presidential campaign of VP Joseph Nyumah Boakai " does not need her support" means it is going to be a bloody fight to the finish. So be vigilant till the end.

This is what many of us who support Mr. Boakai have been saying the last few years. But the honorable and respected Mr. Boakai will not come out ranging as Senator Sherman. Others must do the dirty work for him and Sherman is quite suited for the fight.

It is one thing for Ellen to dabble in her lip service and lukewarm support for Mr. Boakai, while at the same time, she is still encouraging the exodus of party hierarchies to leave the party. This disdain and contempt for Mr. Boakai by Ellen is so apparent for all to see.

In late August or early September of 2015, Ellen hosted a daylong meeting at her seafront mansion of her ruling party executives to discuss who would succeed her. VP Boakai was among those present including senators, representatives, cabinet ministers, heads of public corporations and virtually anyone who was appointed to a job in her government.

But not a single press release was issued on the outcome of the meeting. A few days later, VP Boakai in early September, went to Gbarnga and at the home of then Bong County Superintendent Selena Mappy-Polson, met with the leadership of the Peoples Unification Party (PUP). According to Mr. Boakai, his meeting with the PUP leadership was intended to "discuss collaboration for the 2017 campaign."

The PUP came into existence and consists of former disgruntled and marginalized members of the Unity Party. Their CREED, according to the founders of the PUP is to "support only native candidates." Could it be one of the reasons Ellen is dishing Mr.Boakai? Who knows?


Ellen's support for Charles Brumskine of the opposition Liberty Party is an open book. She hired Brumskine's party chairman Fonati Koffa as her personal lawyer, as a Deputy Minister of Presidential Affairs and also made Mr. Koffa chief prosecutor in the Sable Minining bribery case going after Ellen's political enemies including her former party chairman, Senator Varney Sherman and former House Speaker Alex Tyler. Reports have it that about $750,000.00 was funneled to the Brumskine campaign through the Fonati-led Presidential Task Force that went after Senator Sherman and others.

At the ruling Unity Party convention in Gbarnga last July, the tense atmosphere for the control of the party saw sparks flying between Ellen and outgoing chairman Sherman. In the end, the Boakai-Sherman-Wilmot Paye faction prevailed and took control of the party, defeating the Ellen sponsored candidates of Medina Wisseh-Len Eugene Nagbe and others.

Then came the Ellen encouragement of party heavyweights to leave her ruling party now firmly under the control of Boakai-Sherman-Paye faction. But while the political prostitutes were defecting from the Unity Party, Ellen allowed some of them to keep their party-led government jobs.

The exodus was led by Musa Bility. Then he was followed by Medina Wisseh who both jumped to Brumskine's Liberty Party. Bility would brag that he had sought Ellen's political blessings to carry his "winning formula" over to Brumskine.

Former Ambassador to the United States Jeremiah Sulunteh resigned to team up with Alex Cummings of the ANC. Former Forestry Development Authority head Harrison Karnwea resigned from the party but was allowed to keep his party government job. Karnwea is since Brumskine's vice presidential running mate.

And once the Supreme Court of Liberia flip-flopped on the Court of Conduct law, declaring it constitutional in previous rulings, the Court somersaulted and said it was unconstitutional when it came to Karnwea, Sulunteh, and then they were all coming out of their hiding foxholes to join the exodus: Julia Duncan Cassell, Len Eugene Nagbe, Ellen's niece Ciatta Bishop, Ciatta Clinton Johnson and many more....while still keeping their party-government jobs.

Now we are told that Ellen has withdrawn her support from Brumskine because she feels Brumskine will not be elected president. Thus, EL-They-Say have it that Ellen's one-time political whipping boy George Mannah Weah of the CDC has won her heart. In the 2005 elections, Team Ellen didn't play with Weah calling him dummy. Indeed, this is how times have changed.

But can Weah, who is supported by former warlord turned-president-turned-prisoner Charles Taylor, captain a team with Taylor, Ellen, Cyril Allen, Jewel Taylor, Robert Sirleaf, John Richardson, Coco Dennis, Milton Gbezongar Findley, militants and Ellen's former jailbirds Mulbah Morlu and Jefferson Koijee all wear the same jersey for the same team? I smell trouble.


Contribution
$25.00
Please Support This National Cause

---
Jerry Wehtee Wion, Journalist and Political Commentator, Washington, DC, USA.
---
What is your take? Please post your comments below: