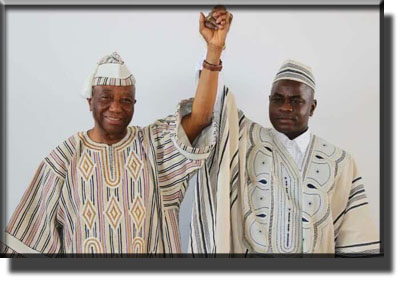 VP Boakai (L) & Speaker Nuquay (R)
Joseph Nyumah Boakai will win the presidential election for two fundamental reasons--honesty and humility. These essential elements of good leadership are very scant in Liberia. Governmental authorities have been characterized by bigotry and arrogance since the founding of Liberia in 1822. It is in this direction that the unassuming nature of Joseph Nyumah Boakai can be clearly distinguished from most of the competitors for Liberia's Presidency.

The birth place of this patriot is the remote village of Worsonga, Lofa County. He struggled to the top by simply being an honest man. Uncle Joe, as he is popularly called, has held several positions in government and the private sector where he exhibited respect for everyone regardless of social status. Both his superiors and subordinates look up to him for guidance on critical issues even though he always insists on being in the back. He has never refused to respond to the needs of family, friends and the nation. This true nationalist is well noted for rejecting praises even when someone else is glorified by his good work.

From 1980 to 1982 Joseph Nyumah Boakai served as Managing Director for the Liberia Produce Marketing Corporation (LPMC). Before he took over LPMC, the entity was mired with bickering and low productivity. Uncle Joe performed the unexpected. In less than three months as head of that entity, he was able to ensure efficiency. Employees' morale on the job improved to the point where senior managers and lower level employees had unhindered access to the new Managing Director. The entity's output increased astronomically and many farmers across the country were justly rewarded for their hard work.

Uncle Joe then moved on to the Ministry of Agriculture, 1983 to 1985. Here, most Liberians saw the boss having lunch with staff and asking them about their dislikes with the system and how it could be improved. Employees felt a sense of inclusiveness and worked extremely hard with the understanding that success is not just about the boss. The same is true about the Liberia Petroleum Refinery Corporation and the Young Men Christian Association (YMCA) where he demonstrated excellent leadership.

The impeccable credential of Joseph Nyumah Boakai is our unbending reliance that he will listen to divergent opinions and reconcile a nation ravaged by many years of conflict and strife. Do not be astounded if his worst critics today are his best friends tomorrow. Do not be surprised if George Weah, Charles Brumskine, Mills Jones, Prince Johnson, Alexander Cummings and others are given unimpeded access to Amb. Boakai after he wins the election. Uncle Joe will reach out to everyone regardless of political affiliation, tribe, religion, gender… He will uphold the principles of democratic pluralism and decentralization. Monrovia will not be Liberia under his leadership. Uncle Joe will spend time in the rural parts of the country ensuring that our people get their fair share of the country's endowment, its natural resources. His passion for leadership and feeling for his people, especially the poor, will drive massive development to rural Liberia and slum communities in Monrovia. Uncle Joe will build Liberia because he will ensure the equitable distribution of the wealth of the country. His selection of J Emmanuel Nuquay as running mate is a mark of honesty to the next generation and yet another attribute of good leadership.

In his book The Audacity of Hope, former American President Barack Obama expounded the view that honesty and humility are some of the core values that engender mutual respect. Have the detractors not seen these virtues in Boakai? Are they not aware that he is one of the few public servants still alive with this degree of patriotism? Have they not spoken to people who worked with him in the past? Better still, are they not aware that this man is the Chief Lieutenant to Africa's first female President who navigated her country out of the dungeon of a failed state and back into the Comity of Nations? Everyone that comes closer to this man leaves with one impression--a very honest character.

The Holy Bible and the Quran in the books of 1 Peter 5:6 and Surah Al-Furqan 25:63 set out the attributes of good leadership. The Almighty God mandated that a leader must exhibit humility. The Holy Books dictate that you will be lifted up if you humble yourself. Boakai did not undermine President Ellen Johnson Sirleaf neither did he fight his colleagues in the Legislature. Uncle Joe is not fighting to become President of Liberia out of greed; Liberians genuinely petitioned him. His victory will be a big lesson to public officials in Africa.

Yes! Joseph Nyumah Boakai will win the election because he has exhibited the highest degree of honesty and humility in a society that is treacherously saturated with greedy politicians, quacks and charlatans.
---
About the Author: Amb Rufus Dio Neufville is a Political Advisor to the Campaign Manager of theUnity Party
---
What is your take? Please post your comments below: