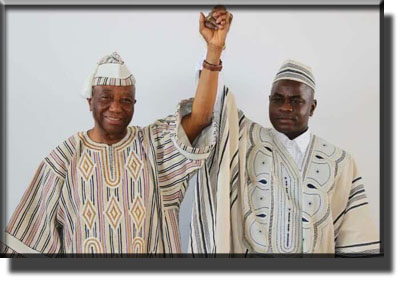 We, editorial board members of "theperspective.org", reflect the country's ethnic diversity, and, considering how crucial the elections will be towards achieving reconciliation and sustainable peace thought it prudent to support the UP's Boakai – Nuquay ticket for the presidency.

Unlike most news organs, ours had never endorsed a political party or any standard bearer, but we view this watershed moment as a public service in helping voters make informed decisions with the aforementioned collective aspirations in mind. Post – war Liberia was already a fractured nation, so when one adds growing class, ethnic, and partisan schisms, there is no doubt that the people deserve a unifier like Joseph N. Boakai (JNB); someone who is unassuming, endearing, mature, responsive, decisive, honest, and wise, attributes necessary in guiding consensus to lead the nation towards unity and progress. And those are the leadership qualities we saw in JNB which make us convinced he should be at the helm to bridge a divided nation.

It would be foolhardy on our part to wish away the efforts of some opposition political groups to make these elections a referendum on the UP – led government, because as a news organ we aren't unmindful of the incontestable truism that "the foundation for any democracy is contained in the rule of law, accountability and transparency, or the fact that corruption and impunity undermine these three cardinal pillars" (Quote from farewell message, John Morlu II).

Admittedly, there were failures, plus a slow start in infrastructural development - hence job creations - was compounded by Ebola and the fall in the prices of Liberia's major exports. On the other hand, we are mindful of the tremendous inroads in foreign relations from whence the nation regained not only its pre – civil war prestige but also benefitted materially as evidenced by new businesses, foreign and local. Most importantly, the peace is still holding in spite of severe tests in the last four years, and for that the populace remains grateful.

For several years, The Perspective fought against those who launched and perpetuated the senseless Liberian civil war that slaughtered over 250,000 hapless Liberians including women and children. So, it does not make sense for The Perspectiveto be complacent when it becomes obvious that those who administered those war crimes against our people are now controlling and manipulating the ensuing elections.

This is why we think that placing the country in untried inexperienced hands just for the purpose of meeting a so-called "generational change" mantra, amid skyrocketing toxic polarization, would be unwise and risky. Team work is foundational to actualizing organizational goals, therefore, without genuine reconciliation and justice, most likely, no political leadership would be able to effectively steer the ship of state through the storms and icebergs ahead.

Liberia needs the experience, wisdom, honesty, compassion, and abiding faith of JNB during these trying times. He is the only candidate in the race for the Executive Mansion with the temperament, capacity, and goodwill to unite all the disparate factions and colliding interests in our tension – filled motherland. If you love country and people, go and vote for the Boakai – Nuquay ticket. Don't say The Perspective didn't inform you!
---
What is your take? Please post your comments below: