We Seek The Truth - The Case Of The 60 Missing Blind

By: James W. Harris

The Perspective
Atlanta, Georgia
July 3, 2002

A couple of days ago, I did an article in my honest attempt to solicit more 'clarified' information, or, at best, further verify the whereabouts of the 60 blind Liberians who were said to have gone missing with the abducted Catholic priest, Father Garry Jenkins, in the Tubmanburg area near Monrovia. This rather unfortunate incident occurred immediately following supposed clashes between forces 'blindly' loyal to the brutal Taylor regime and rebels of the "shadowy" group, Liberians United for Reconciliation and Democracy (LURD).


My concern for the "missing" blind people stemmed mainly from the fact that up until lately, no one, including, Father Jenkins, who is said to have been taking care of the blind for so many years, had come out openly to give the suspecting public first-hand information as to their true plight or fate.


Given the continuous negative human rights record of both the besieged Taylor government and LURD, we had every reason to believe [and rightfully so] that the worst could have happened to them without the culprits perpetrating such heinous crimes against the disabled ever being punished.


But thank God for sparing their lives as an "independent" source has come forward [finally] to report "live" from the area (Tubmanburg) that they (the 60 blind) had been found there safe and unharmed, except that they're in dire need of humanitarian assistance, especially, food and clothing.


Said the source, "independent" photojournalist, James Brabazon, from Tubmanburg in an interview this past Monday (July 2) with the highly credible BBC: "Many of the 60 blind refugees who were reportedly abducted earlier this year are 'live and well'", adding, "A church worker [assigned by Archbishop Michael K. Francis, an outspoken human rights advocate in his own right] is helping them, although [sadly, at least] one elderly man [had been] killed in [recent] fighting [there] last week."


But the most amazing thing about Mr. Brabazon's interview or revelation is that this was the VERY FIRST TIME that anyone, including LURD and the morally bankrupt Taylor government, had come forward to shed more light on the plight or fate of the now-famous "60 missing blind".


And for giving us this most definitive account to date on this whole unfortunate incident, this writer, who has been accused by a seemingly heartless mouthpiece of the failed Taylor regime, of "either not [being] aware of certain developments in the scenario surrounding the abduction, or he may be feigning ignorance", is very grateful to the world-renowned institution, the BBC, for following up on this delicate story that could have otherwise turned out to be a complete human disaster.


Had this 'verification' or 'clarity' not been made "independently", doubts would have obviously been cast on LURD and/or the National Patriotic Party (NPP) government regarding the inevitable fate of these blind folks. But again, could these be the "identical" 60 blind Liberians who were said to have been in Father Jenkins care? Well, only the Father would know absolutely! Being a disciple of Christ, we hope that he [Father Jenkins], who has made so much personal sacrifices for the sake of these poor people would gather the courage one of these fine days to reveal the truth, as ONLY he knows it.


Far from "feigning ignorance" as the ruthless government's paid mouthpiece [who evidently don't know any better] is claiming, all I've ever tried to do as a 'well-trained' professional journalist is to continuously seek the truth and follow up on stories that seem to have questionable endings in the most logical way.


If the NPP government had any credibility or LURD [whose real leadership still remains a hidden secret amongst themselves] had done the correct thing by coming forward and giving us a reasonable and true account of our blind compatriots in the first place – as they should have – there would have been no need to seek further verification regarding their whereabouts. But they didn't!


Could it then be a coincidence that the BBC featured a report on this particular incident right after we had demanded some verification from both the sitting government and LURD as to the fate of the blind? Frankly, whichever way one chooses to answer the preceding question is really not important to me. What is important, though, is that someone has stepped forward and finally given a first-hand account of where the blind really were - still in Tubmanburg. And that's all that really matters!


Certainly, it is not my intention here to try to change the way LURD or the present regime, for that matter, handle their respective businesses. They surely can do whatever they choose to do. But for us, we'll continue to seek the truth despite how any 'bone head' may want to classify me or deliberately distort my earnest efforts in trying to locate our missing blind.


Now that they have all been accounted for, all of us can breathe a sigh of relief while we appeal to the local and international humanitarian agencies to give them [the blind] the utmost consideration in providing their needs, mainly because of their known disability and the ongoing senseless war environment they're presently in.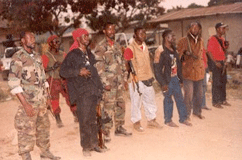 Besides giving a new account about the fate of the blind, Mr. Brabazon's interview did another thing - it also painted a clearer picture of what is actually happening on the ground in Liberia, especially as it relates to claims and counter-claims on the part of the government and LURD.


For example, here's what he had to say about the 'current' situation in Tubmanburg. "Despite [the Liberian] government claims, over 1,000 [LURD] rebel troops are in control of the strategic town [of Tubmanburg] which they are prepared to hold at all costs." Again, this is the very first time since this silly war began that there has been an "independent" confirmation that, indeed, LURD does inhabit and control some real estate (land) in the war-wrecked country, contrary to the Taylor's government's claims that it had earlier retaken Tubmanburg and stabilized it.


In addition to the confirmation that LURD does now control some territory, Mr. Brabazon also said that fighting was continuing in at least two other areas - Foya and Gbarnga (where President Taylor recently led a 'made for publicity' clean-up campaign). In any case, the truth is slowly but surely coming to light, but Liberians have to be very weary and careful about embracing another rebel group that apparently has no clear agenda for the war-ruined nation aside from their declared goal of getting rid of Charles Taylor.


Meanwhile, just as we thought that the dust was settling on the issue of the missing blind, the Taylor regime is faced yet again with another BIG problem - producing the live bodies of the Monrovia-based independent Analyst newspaper editor, Mr. Hassan Bility, as well as two others that were arrested with him on June 24 apparently on trumped up charges of planning to assassinate the President at his "white flower" exceptionally luxurious mansion.


And if it is true that Hassan and the others are now feared dead as reported by the reputable human rights group, Amnesty International (AI), then Liberians MUST do something (preferably peaceful, like, widespread civil disobedience) to let this criminal government in Monrovia and the entire world know that "enough is enough".


But can one have any doubt about the AI's recent findings as regards those that had been arrested and kept incommunicado by one of [if not] THE world's most brutal dictators? I guess not, but we'll just have to see whether or not the government in due course would be able to answer to the writ of habeas corpus (from Medieval Latin, meaning literally, you should have the body) served recently on it by the National Human Rights Centre of Liberia (a coalition of various human rights organizations in the war-ravaged country).


Not surprisingly, the so-called major opposition figures, particularly, those residing abroad (here in the US), have been very mute on these thoroughly distressful and burning national issues, yet, they behave as though they have the God-given right to collectively rule our now 'sick' land. But you can rest assure that we'll follow this one too wherever it leads until the truth - nothing but the truth - and justice prevail.

---
© The Perspective

P.O. Box 450493
Atlanta, GA 31145
Website: www.theperspective.org
E-mail: editor@theperspective.org