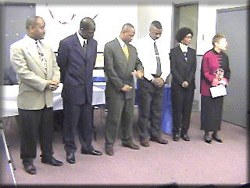 (L-R) Nagbe Sloh, Kpanquoi Jallah,
Moses Sandy, Bent Chea,
Massa Washington
and installing officer
Judi Berstein-Baker
The need for a strong, viable and responsible press has been underscored by the newly installed chairman of the Delaware Valley Chapter of the Association of Liberian Journalists in the Americas (DE-ALJA).
Ms. Massa Amelia-Washington said a responsible press seeks to enhance democracy in any given nation, including Liberia. She said a responsible press is a viable asset to insure that the principles of a democratic society prevail.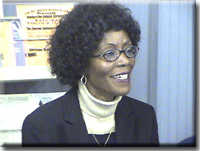 Massa Washington
In her inaugural statement on Saturday, February 1, 2003 at the official installation program of the DE-ALJA elected officers in Philadelphia, Ms. Washington called on Liberian journalists to renew their commitment as much as possible in the discharge of their duty, adding, " we must always be mindful of our social responsibilities."
Other officers installed include Bent Chea as Vice Chairman, Moses Sandy as Secretary General, and Gardea Woodson as Treasurer. Two members to the Chapter's Administrative Board including Messrs Nabge Sloh and J. Kpanquoi Jallah were also installed.


Ms. Washington urged Liberian journalists to go beyond the call of duty, but was quick to remind her colleagues that, " whatever we do, we must display positive attitudes." She said journalists must be able to use their talents in contributing positively to the larger society.


Ms. Washington noted Journalists continue to experience first hand frustration in the line of their duty, adding, " we have been suppressed, alienated and targeted, but we must not allow ourselves to be public relations officers for the power that be. We have to be professional people all the time."


"The burden of proof depends on us as journalists, "Ms Washington emphasized, and added, " when we cease to be responsible people, in the long run, it will definitely backfire." She pointed out that most Liberians, including journalists, are now living in exile because of the " mess in Liberia."


Ms. Washington lauded the Press Union of Liberia (PUL) for its struggle in protecting press freedom in the country. " We know the Press Union of Liberia is working under difficult circumstances, but we need to applaud them for their performance as professional journalists despite the difficult times."


Ms. Washington appealed to the ALJA, DE-ALJA and the Press Union of Liberia PUL) to remain steadfast in their commitment to be professional for the people of Liberia. " Let continue to be professional group of people and entities."


Meanwhile, the DE-ALJA chairman has called on Liberians, especially "those who have experience, skills and goodwill to step forward for Liberia. "It is time to get out of the shadow and make positive contributions for Liberia," she said.

---