Since the 1970s, when young intellectuals launched the quiet political "revolution" on its campus, the university of Liberia has been one of the hotbeds of Liberian politics. Students and faculty created nightmares for every government and challenged every political leader in the past twenty years. The germs sowed in the 1970s survived through the war. And facing a crowd there is tantamount to the biggest political test for anyone.
But for candidate and presidential aspirant Ellen Johnson Sirleaf, it was as if walking into a conquered territory. One of her supporters, a member of the Crusaders For Ellen said that she would win the university by at least 80 percent. Surrounded by some of the former hot heads of the 1980s, Conmany Wesseh and Dusty Wolokollie, both former students leaders and members of MOJA and the Liberian People's Party who defected (temporarily) to support the Unity Party, Ellen Johnson-Sirleaf will wish throughout the campaign to receive the same warm and intense welcome given to her by her supporters at the University of Liberia under the banner of Youth For Ellen. Counselor Jamesetta Howard, secretary General of UP and Cleamanceau Urey, a UP senatorial candidate, both alumni of the university, were also in attendance, along with Dr. Clinton, the Chairman of UP.
UP vice-presidential aspirant, Ambassador Joe Boakai, also accompanied Mrs. Sirleaf to the university, who flew in yesterday from a trip to Nigeria. If so far, many political observers had thought that the race was between Weah and Ellen, the event turned things around and it was an attack on Varney Sherman, the candidate of Liberian Action Party (LAP) the former party of Ellen Johnson-Sirleaf: Mr. Sherman was served blows after blows by Dusty Wolokollie who introduced Ellen to the crowd. "Show me Your Record" could become another campaign theme for UP down the line. Taking swaps at the former colleague of Ellen, Mr. Wolokollie said that Mr. Sherman recently attacked Ellen by saying that "she has a record." He went on to list everything that Ellen stood for – human rights, gender equality, transparency, etc – and at the end of each enumeration, asked the question, echoed by the crowd "Show Me Your records!" by all indications, that the gloves are off between the UP and LAP.
When she took the podium to speak, Ellen was in her best elements and delivered a poignant speech that her audience seemed to understand and relate to. Walking up and down the length of podium, rarely stopping to read her notes, she spoke about education, fairness, and good governance without going into a lecture none attacking any candidate. She sounded like a person poised to win. The verb was there, the stride was there and the speech was delivered on a stomp mode.
The UP candidate said "every platform' offers great promises, well worded projects. 'We are not coming here to promise you things we cannot deliver, what we can deliver is a government that will be accountable to you, a government that would put an end to the imperial president." Continuing in the same mode, she added that the government under her leadership would wage another kind of war, "war on poverty, war to improve health care, war to improve education. We have to move this nation forward so that we can all be proud of what we are and who we are."
Mrs. Sirleaf seemed very upbeat and the audience of students, faculty and university workers responded in kind. They could relate not only to what she was saying but also to her as a person. And it looked like she was enjoying herself tremendously. A colleague journalist who has followed her campaign almost everywhere and heard her speak on several occasions said that he had never seen "the Ol' mom" speak and move like this.
Although she made some campaign promises, Mrs. Sirleaf was quick to say there was no magic wand to remove all the problems the country is facing. "It is going to be difficult and we all will have to work hard to make things happen." Such a candid phrase touched the audience and many in the crowd stood up and cheered, as if to show their readiness for the task.
Many support organizations took part in the ceremony, with names like LIFE (Liberian For Ellen), LIVE (Liberians Vote For Ellen), Crusaders For Ellen. Some students played on her name, coming up with things like ELLEN (Every Liberian Loves Ellen Now) or ExcELLENce… The AFL (Armed Forces of Liberia) brass band was on hand for music. A young group of Liberian rappers launched a new album dedicated to Ellen and containing the theme song of the campaign. A traditional drum quartet had the entire audience, including the candidate and people standing on the porch of Tubman Hall dancing.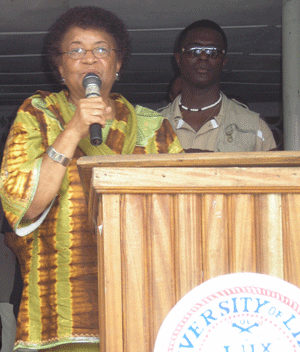 Ellen Johnson-Sirleaf
A member of Crusaders for Ellen who told us earlier that UP would win at least 80 percent of the campus ballots said, "voting for Ellen is not about money or rice. You can give me a cup of rice today but what happens to my future and my children's future? We are not going to make the same mistake people made here in 1997," referring to the first post-war election that brought Charles Taylor to power.
Ellen seems to be on a roll, a fight for the finish. Like every campaign, people in UP are much wary about the possibility of a second round that could be filled with trickeries and other unexpected development. She sounded determined to win it all on October 11. And every word she uttered, every move she made on that podium and every gesture point to that fact.
Can she make it and win it all on the first round? Another member of the Crusaders, who speaks as fast as she moves when dancing, said: "if Liberians have any sense, if they really love this country and want to give a future to us young people and the coming generations, they would vote for Ellen… no matter what party they belong to." Ellen had found a fertile ground for her ideas and passion. If she can carry the same simple, direct and candid message and establish the same connection with the market women, the farmers and other youth groups around the nation, she could be on her way to a great October 11.
The three-hour program did run fast. The university family and the candidate could not seem to have enough of each other.