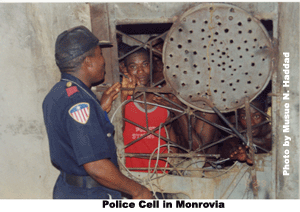 Outside of Liberia, it may appear as if the only persons picked up so far in recent times by the Liberian government are Mohammed Kamara and Ansumana Kamara and journalist Hassan Bility. Absolutely nothing could be far from the truth.


Sources from Monrovia said government security forces are engaged in head counts of private homes and taking away persons who have remained missing without trace.


"It is very scary. During the day, security officers come in combat form asking owners of houses to give description of persons in the house - the identities of men, women and children. Under the cover of darkness, security officers visit these houses and take away people who never come back."


When asked whether persons taken away are in detention or being investigated for crimes, the response is: "No. All of the people taken away are not in police cells, prisons or heard about. The police, Anti Terrorist Unit and other Presidential Guard Security agencies, Armed Forces of Liberia, National Security officers, and all the security institutions work together and approve of what the other is engaged in."


On July 29th, Dixon Psio Gblah of the Liberia Prison Watch was taken away around 1pm by CID officers of the Liberian National Police. The officers said Gblah was linked with Journalist Hassan Bility's plot to assassinate President Charles Taylor.


Early this same week, The Concern Mandingo, a group formed to seek the welfare of the Mandingo Community in Liberia issued a press statement saying scores of their tribal persons have been taken away without warrant and their whereabouts have remained unknown. The statement named few of those whose arrest have been brought to their attention by family members as : Sekou Fofana, Mohammed Dolley, Barngaley Sheriff, Mohammed Kamara among others.


"A lot more crimes has been committed by the Charles Taylor government since its inception about five years ago than the ten years of the late President Doe's rule," a family member of one victim described the prevailing human rights abuses in Liberia.


In September 1997, members of the Liberian National Police executed Aloysius Kieh, a former employee of the Ministry of Lands and Mines. The Police accused Kieh of being an armed robber. However, those who knew Kieh said he opposed government's decision to give exclusive rights to a mining company to explore the nation's natural resources. Kieh's opposition to it is said to have angered President Charles Taylor and members of his inner circle who threatened to teach Kieh "a lesson".


The following year, January 9, 1998, Police again displayed the naked bodies of two men claiming that these men were "armed robbers". One of the victims, Manner Zakay was a former member of the Armed Forces of Liberia. The men wearing only under pants heads were torn with bullets while a single rusty rifle was displayed on each of the bodies. Human rights organization in a report said the men were abducted from their homes in the middle of the night by security officers and killed.


In March 1999, some persons identified by government as "Donzo and others" were arrested in Ganta, Nimba on allegation of being dissidents. Since their arrest, they have not being charged or tried. Up to date, their whereabouts have remained unknown.


As for Nathaniel Koah and a Ghanaian Kwesi Owusu (abused before being released), they were among several detainees at the notorious Gbartala Base in central Liberia, 80 miles north of Liberia. Although Army barracks are created by the Legislature, Gbartala was set up secretly by President Charles Taylor. The base started attracting public attention after information about the gruesome human rights violation carried out by officers of the Anti-Terrorist Unit (ATU) under the command of Chucky Taylor (President Taylor's son) became known.


Nathaniel Koah was taken from his Timber Village home in Lofa County to the Gbartala base on July 27, 1999 by the commander of ATU, Charles Taylor Jr. commonly known as Chucky for allegedly stealing a diamond belonging to his (Chucky's) family. Through the intervention and persistent campaigns by Human Rights organizations who were informed about Koah's detention, Koah was released on October 13th 1999.


Kwesi Owusu had gone on a business expedition in Bong County, only to be arrested by the Anti-Terrorist Unit (ATU) for allegedly being a member of a rebel group.


Both Koah and Kwesi said they were subjected to unimaginable cruelty. They explained that while in detention male captives were coerced to sodomize one another and the ATU officers would ruthlessly carried out the act on detainees as well.


Both Kwesi and Nathaniel Koah disclosed that several persons were held on the base for prolonged periods. Among detainees named as being on the base at that time were: James Y. Tokpa, Mark Tokpa, Mohammed Konneh alias " Lucky Boy", Juliet Laryea, Mohammed Bah, Gabriel, Trawalay among others.


"My behind is swollen because of the multiple sexual act inflicted on me while on the base" Kwesi said. Kwesi and Koah said inmates were forced to drink their urine as water and cigarette nuts as biscuits. They were also kept in holes filled with water and beaten several times a day among other treatment.


According to Kwesi, there were cries by other inmates at night who said some members with of their cell were being taken away and fed to crocodiles that were kept at the part of the base called "Vietnam".


After Kwesi and Nathaniel Koah revealed their ordeals, Defense Minister Daniel Chea and the ATU commander Charles Taylor Jr. denied that the men were held at the military camp.


However, the Director of the Presidential Special Security Services/Unit (SSU) acknowledged that Kwesi was arrested by the ATU soldiers. Although the Special Security Services (SSS) which was established by a legislative act still exists, the ATU and SSU are newly established part of the Presidential Security units. Both the ATU and SSU members were drawn from Taylor's formers rebel National Patriotic Front of Liberia (NPFL).


Director Benjamin Yeaten of the Presidential Security Services summoned Kwesi, accompanied by a Ghanaian Embassy official to his office at the Executive Mansion and gave him $200.00 (Two hundred dollars) to seek medical treatment. Kwesi fled the country after persistent attempts to attack him.


After several attempts to kidnap him, Nathaniel Koah also fled into exile.


The frequent human rights violations are not restricted to Monrovia where the President and his tops officials are situated. Reports from the rural areas are appalling. Rural dwellers in Liberia are subjected to rape, killings and all forms intimidation. In September 2000, persons identified as "soldiers" massacred fleeing civilians in Lofa County, northern Liberia. The women and their children had escaped Voinjama where fighting had intensified and taken refuge in a Larklemene Town where they were massacred. Persons who saw the scene of the massacre described it as "terrifying".


To the outside world, it may appear as if the atrocities by the Liberian government against unarmed civilians are known and perhaps those taken away can be accounted for. That may be the case in other society but not in Taylor's Liberia where the same combatants of the rebel National Patriotic Front of Liberia (NPFL) who committed brutal human rights abuses have been given uniforms and guns as "soldiers, police officers and placed in various security agencies" without being rehabilitated.


The government believes that the longer it delays a situation, people become weary and turn their attention to other situations that affects their lives. This could be the case with the detention of Ansumana Kamara, Mohammed Kamara and Journalist Hassan Bility and other persons whose kidnapping are unreported because of Fear.


It is evident that local human rights organizations, civil society organizations and persons in Liberia have been intimidated or kept pre-occupied by the abrupt, rigorous and unwarranted searches for arms carried out by security agencies wherein some persons are taken away for 'investigation" and have remained unaccounted for. In most cases, witnesses are intimidated or taken away thus an act of violation goes unknown and unreported.