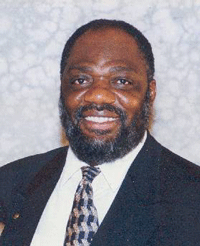 Cllr. Mohamedu F. Jones
Editor's Note: On October 12, 2002, members of the Brewerville Civic Association converged in Atlanta for their Annual Reunion. Cllr. Mohamedu F. Jones served as Guest Speaker for the Annual Reunion Benefit, which was sponsored by the Georgia Chapter of the Brewerville Civic Association. Below is the full text of Cllr. Jones' speech:


Mr. Executive Director, Members of the Board, National Officers, Officers of the Georgia Chapter, and Members of the Brewerville Civic Association, Special Guests, My Brothers- and Sisters-Liberians, Ladies and Gentlemen.

It is a special honor for me to participate in this program and to serve as your guest speaker at this year's Annual Reunion Benefit. I propose to offer you my perspective on matters related to Liberia's past, as well as the current situation we live in our nation's history. I also propose to share with you my thoughts on some of the themes around which we may build national consensuses to find resolutions to our nation's problems. It is important that we Liberians engage in conversations around finding resolutions to the crises that have been going on in our country for nearly 25 years, noting that arguably, the foundation of some of our problems were laid from the beginning of the Liberian Republic.

The theme of your 2002 Benefit is "Where do we go from here?" I believe that you will agree that before one can offer an informed response to this very poignant and pertinent question, "Where do we go from here?" you must first examine two preceding questions: first: "Where have we been?" and second: "Where are we now?"

Where have we been?

The history of Liberia presents a country that is fundamentally flawed. Liberia failed to live in accordance with its declared principles, but instead what we developed was a society of exclusion, where full participation in the civil, political, economic, social and cultural life of the country was denied to the majority of Liberians. It was a system designed with the purpose and the intent to deprive certain Liberians of their declared natural, inherent and inalienable rights, because of their ancestry, and to reserve the benefits of the society to but a few, because of their ancestry. This was wrong and we must not allow it to happen again.
I, for one, apologize for a system, which by virtue of one's birth, denied equal opportunity, excluded participation in the governance of the country, restricted enjoyment of economic benefits, and refused entry into certain social and cultural statuses. This was terribly wrong and we must never let that happen again.
Our history also presents tragic tales of political leadership that showed contempt and disdain for the civil, political, economic, social and cultural well-being of Liberians. During his 27 years in office, President Tubman's primary focus was to maintain himself in power, and therefore, he worked assiduously to dismantle even the rudimentary institutions of democracy that he met when he took office, and set bad examples for his successors. We must never let that happen again.
Liberia's history is filled with political violence: the wars against Liberian citizens, the Kru and Grebo wars, are prime examples of national political violence. Many Liberians were violently persecuted so that President Tubman could stay in power: In the 1950's the Colemans (father S. David and son John) were murdered; Nete Sie-Brownell and S. Raymond Horace were imprisoned; and Didwo Tweh was exiled. In the 1960's, E. K. Sherman, H. Boimah Fahnbulleh, among others, were imprisoned.
On April 14,1979, many Liberians were wrongfully killed in the streets of Monrovia by government forces. On April 12, 1980, members of the Liberian armed forces and their co-conspirators staged a coup d'etat, and announced that they had "liberated" Liberia from a regime that they claimed was "rampantly corrupt" and "oppressive." President Tolbert was cold-bloodedly murdered. On April 23, 1980, 13 Liberian citizens were unlawfully killed in barbaric fashion on a beach of Monrovia. These are crimes from which Liberia has still not yet recovered, even after more than 20 years.
Between 1980 and 1990, thousands of Liberians were murdered, tortured, raped, persecuted, imprisoned, and even buried alive or decapitated by government security forces or their agents, so that President Doe and his collaborators could hold onto power. On the day before Christmas in 1989, war was unleashed upon the people of Liberia for the declared purpose of again "liberating" us, this time from President Doe. In September 1990, President Doe was tortured (on video for the world to see), and eventually murdered, by his fellow Liberians.
In the1990s, our country disintegrated into all-out war - a war in which some of the most egregious crimes against humanity, war crimes, and violations of human rights, in the final decade of the 20th Century occurred. During this war, we saw men in all their vain glory, who would totally destroy the country, if that's what it took for them to take political power. The complete national consequences of our civil war are yet to be determined, as they are still unfolding. Such liberations as we have experienced (in 1980 and then in the 1990s), make some Liberians even wish their erstwhile oppressors were still in power.
This, my fellow Liberians, is a brief portrait of where we have been. However, I submit to you, that considering the immediate pre-1980 national events, and especially when viewed in comparison to other countries and societies, there was no just reason for the 1980 coup, and certainly not for the unending political violence that has continued in the country since then. Our inability to find non-violent resolutions to our national problems has been costly. We Liberians must learn to use non-violent political resolutions for our political problems. Violence as a tool of the political process in Liberia must end.
Where are we now?

Today, life expectancy, literacy, primary education, and access to basic health care are lower in Liberia than they were in the 1970's and1980's, and perhaps then they were even in the 1950's and 1960's. Average infant mortality in Liberia has increased significantly - many Liberian babies are doomed to die. Today, the government fails to advance democratic pluralism, to promote democratic institutions, and to protect the fundamental constitutional rights of the people.
Poverty, unemployment and social disintegration are facts of daily Liberian life, be it urban or rural. The insecurity that many Liberians have about the future - their own and their children's - is intensifying. The gap between the rich, many of them connected in some form or the other to President Taylor, and the poor has increased appreciably in recent years. Liberians are abjectly poor and have very limited access to income, resources, education, and health care. In their daily lives, the overwhelming majority of the Liberian population must cope with the effects of a major economic depression and significant social declination.
The country's monetary system is awry. The agencies of government are dysfunctional, and unable to provide basic services; no sustainable development occurs in the country today. The natural environment of Liberia is at serious risk, as forests are destroyed at a rapid pace. The current government has no plans or programs looking to the future. This is where we are my friends.
And then war goes on in Liberia! The so-called Liberians United for Reconciliation and Democracy (LURD) continues to wage war in Liberia, exacerbating the already dismal situation the country and its people face. One must wonder if these are men, no more than blinded by ambition, only motivated by lust for power, or bent solely on revenge. We must also wonder if they are merely seeking to copy Samuel Kanyon Doe and Charles Ghankay Taylor, and their proven pathways to power. All Liberians of goodwill must condemn war against our people, waged by whomever.
We have resolved nothing with over 20 years of violence. I submit to you my fellow Liberians that we will resolve nothing with further violence. Indeed, the evidence is clear that political violence in Liberian has only worsened the condition of the Liberian people and the country, and there is no reason to believe that continued violence would bring us any relief.
Where do we go from here?

My friends, I wish I had a crystal ball or the powers of prognostication to answer that question. However, I will say that as a nation and people, we would be in the better position if President Taylor were to immediately announce that under no circumstances would he contest for the presidency in 2003. I believe the evidence supports the proposition that after 12 years on the national political stage, and especially taking into account the five years of his presidency, and considering the track record of the president, there can be no conceivable benefit to Liberia for President Taylor to run for another term. A declaration by the president that he would not seek re-election would be a mark of respect for the people of Liberia. History will judge the president more benevolently if he were to be magnanimous and remove himself from next year's presidential elections.
As we engage in national conversations about our future, I propose that we see our current situation as presenting opportunities to finally do what Joseph Jenkins Roberts failed to do, what William V. S. Tubman refused to do, what William Richard Tolbert could not do, what Samuel Kanyon Doe had no idea to do, and what Charles Ghankay Taylor has no interest in doing: build a Liberian nation.
I offer as part of this national conversation ten (10) "principles for the future" of Liberia.
Principle 1

Institute the rule of law in Liberia, so as to enable a stable legal framework, in accordance with our constitution, our laws and legal procedures; promote justice in the country.
Principle 2

Respect all human rights and fundamental freedoms of all persons.
Principle 3

Institute transparent and accountable governance in Liberia, particularly in the use of public resources. Open the budgetary process and the management of public institutions to public scrutiny.
Principle 4

Establish structures, policies, objectives and measurable goals in the design and implementation of economic and social policies. Give priority to providing and improving basic social services.
Principle 5

Focus government's efforts and policies on addressing the root causes of poverty in Liberia and to providing for the basic needs of Liberians.
Principle 6

Take measures to facilitate full participation of all Liberians in all aspects of the political, economic, social and cultural life of our society, and in the economic progress and social development of the country.
Principle 7

Develop the means and capacities for people to participate in the formulation and implementation of social and economic policies and programs for their local communities.
Principle 8

Promote social integration and foster a society that is stable, safe and just, is non-discriminatory, and advocates tolerance, respect for diversity, and equality of opportunity, solidarity, security, nationhood, one that offers opportunities for all Liberians to participate in matters of national affairs.
Principle 9

Recognize and respect cultural, ethnic and religious diversity; promote and protect the rights of persons belonging to the various ethnic and religious groups in the country.
Principle 10

Formulate and strengthen time-bound national strategies for the eradication of illiteracy and universalization of basic education.
I suggest to you my fellow Liberians that it is around principles that the discourse of our national conversations ought to revolve. Liberians must formulate national consensuses regarding the issues that confront our country, and develop these consensuses into actionable programs and plans that are guided by a common interest in the well-being of Liberia's people.
It is incumbent upon us to resolve the issues that are destroying our homeland. We owe a duty to our ancestors; we owe a duty to ourselves; we owe a duty to our children; we owe a duty to generations yet unborn. We, each or us, one to the other, owe a duty to every other Liberian, from the black hills of the Wologisi range in Lofa to the blue-green waters of Lake Shepherd in Maryland; from the winding valley of the St. Paul River to the life-giving forestlands of Grand Gedeh; from the high peaks of Nimba to the coast line of Sinoe. We owe this duty to Liberians from every village, every hamlet, every town, every city, everywhere Liberians live. With God above, we can save Liberia.
God bless you
God bless all Liberians wherever we may be

God bless Liberia

I thank you