"Let Not Your Hearts Be Troubled"

(A Press Release Issued By Friends of Brumskine -USA)

The Perspective
Atlanta, Georgia
February 21, 2003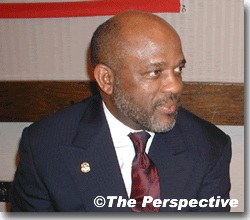 Charles Brumskine

Friends of Charles Brumskine would like to assure all supporters, friends and well wishers that recent court action in Bong County in which Cllr. Brumskine is a named party is frivolous, with no legal or factual merit, and can easily be disposed of in a court of competent jurisdiction. The confusing and illegible "writ" proposes to enjoin Cllr. Brumskine from saying that he is the presidential candidate of the Liberia Unification Party, a statement that has never been made by Cllr. Brumskine or anyone acting on his behalf. The Counsellor's position, made clear in his declaration of intent on February 11, is that he intends to seek the presidency of Liberia under the banner of the Liberia Unification Party of which he is a member. This declaration is no different from that made by other political candidates who wish to seek their party's nomination. It is part and parcel of the political process. The Liberia Unification Party's nominating convention is slated for the end of May. At that time, Cllr. Brumskine's supporters will put his name into nomination for the presidential slot of the party. We are confident that he will be resoundingly nominated.



As for the rest of the "writ", which proposes to overthrow the elected leadership of the Liberia Unification Party by judicial fiat, Chairman Isaac Manneh pointed out in an interview yesterday at party headquarters in Monrovia that the writ was simply a nuisance suit pulled out of the NPP's bag of dirty tricks. The lawyer who filed the writ is one Senator Francis Garlawolo, legal counsel for the NPP, who posted his personal residence as bond for the injunction. The so-called "founders of LUP" he represents have had no known affiliation with the party. The Elections Commission dating as far back as 1997 has recognized the current leadership of the Liberia Unification Party. The current Elections Commission knows and has dealt with only the leadership under Chairman Manneh.



Friends of Charles Brumskine would like to remind supporters and friends of Cllr. Brumskine that this is a minor incident in a series of anti-Brumskine shenanigans that the NPP led regime and its surrogates, both at home and abroad, will attempt to engage in, in order to derail Cllr. Brumskine's legitimate championship of the Liberian people. Ever since his triumphant return to Liberia, the people have become emboldened with hope that there is light at the end of the tunnel. Now the ruling elite and professional politicians would stop at nothing to kill the dream. We must brace ourselves for worse things to come, because after all else fails, they will result to violence. But let not your hearts be troubled.

---