Brumskine's Triumphant Return After Three Years in Exile

By A Correspondent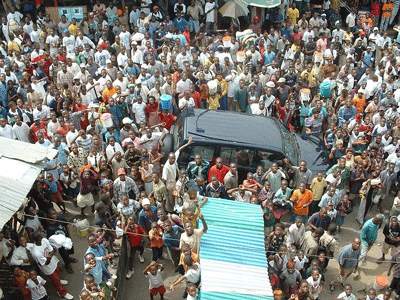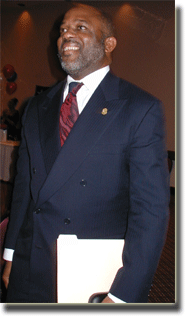 Brumskine finally came to Monrovia yesterday. There was a huge crowd that went out to receive him. Students including those from the University of Liberia left their classes and went on the road to take a look at him. The city was brought to a stand still. His convoy drove through Broad St. with lots of youth and kids chanting "all our money they are stealing, they will pay for it." They were apparently referring to Taylor and company. The message in all of this is that the people are tired and sick of Taylor and are looking for a credible alternative to him. This is why it's important for our people to consider the Kenyan experience very seriously because there is no one party that can take on Taylor and be a winner. If the influential parties like UP, NEW DEAL, LUP, LAP, and LPP form an electoral alliance with the aim of putting forward one presidential candidate, that will be the end of Taylor. In any event, such a move can be a CATCH 22 situation for Taylor. If he does not agree to have the needed security environment for the holding of free and fair elections as I believe he would not, fearing that he will definitely lose, the alliance can then be an alternative to the Taylor NPP which would eventually lack legitimacy.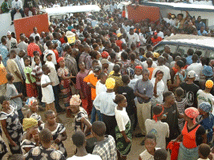 Benson Street
Outside the Church
In spite of Taylor's threat of going back to the bush if people "force" him out of power, Liberians are not afraid of such threat. Nobody, besides LURD, wants to force him out of power. However, under a conducive atmosphere of free, fair, and transparent elections, Taylor can squarely be beaten. His five years of mis-rule and abuse of the rights of the Liberian people speak for themselves. This can be seen in the way that market women in the Nancy B. Doe Market ground were pouring rice on Brumskine in welcoming him back home. The marketeers were about 100% for Taylor during the 1997 elections. The reality has now changed. They see Taylor as a simple liar with no remorse.
Taylor's cronies are now arguing that elections are not possible in the absence of a census. The fact of the matter is that all along Taylor knew that elections were scheduled for October 2003. He presides over the resources of the country single handily. If he and those who are now arguing that census should be done before elections had put money in the process at the beginning of last year, or the year before, we would have had census. The choice for the NPP government had always been to buy more weapons in contravention of the UN embargo and expensive cars than to think about census. In short, the government does not believe in the electoral process, having failed the people of Liberia by refusing to give them a drop of water to drink in more than five years in power. Where are the proceeds from the logs from OTC and the Maritime going? In education?-No; In Health?-No; In Training?-No; To feed displaced people?-No.


I believe those who are now advancing the argument of census should be talking about a stabilization force coming in to ensure that the electoral process will be free of intimidation and beating of opponents by Taylor's militia who are spread all over the country. In the absence of a census, the UN and other organizations that have the expertise in electioneering matters can provide a workable formula to deal with the issue of a census. This is not time to attempt to play games with the lives of the Liberian people who have been so depressed by this NPP government.

---