As US hammers finishing nails on the plan for a peacekeeping mission in Liberia, Liberians throughout the country and in the Diaspora are celebrating because they are convinced that the days of the "monster" who terrorized their beloved country and the West African sub-region are numbered. On Thursday, CNN quoted Liberian government source as saying that the Bush administration had given Mr. Taylor 48 hours to leave Liberia. On Friday Mr. Taylor said that he would step down. Reuters later reported that Mr. Taylor has accepted the safe haven offer from the Nigerian government.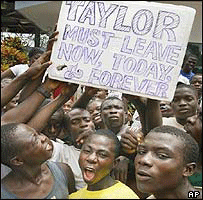 Demonstrators Demand Taylor's departure from Liberia
To many Liberians President Bush's demand that Mr. Taylor must step down and leave Liberia within 48 hours was the best US Independence Day's gift they have ever received. "Free at last," one said. For years, Liberians have been calling on the United States to come to Liberia's aid. In Monrovia, where people live in fear - hundreds of people have been demonstrating, calling for Mr. Taylor resignation and departure from the country. Though this will leave them without a president atleast for now, some opine that it does not make any difference because Liberia is now at a standstill.
Since the last assault on Monrovia launched by the LURD rebels, businesses and government offices are closed. Government officials, at least the few who are still in the country, have not gone to work since the recent fighting that left about 300 people dead. Cab drivers trying to cash in on the plight of the Liberian people tripled fares. Many people have no other choice but to walk.


The Liberia Central Bank is said to be one of the places looted. According to sources, Mr. Taylor ordered his surrogates to loot the bank when he heard that LURD forces were in Vaitown and were poised to take control of central Monrovia.


But amid the looting and chaos in Monrovia, one good thing happened: according to a credible source, Human Rights Defender Aloysius Toe is a freeman. It is said that in a bid to find reinforcement, government fighters broke into Liberia prison and released all prisoners during the LURD attacks on Monrovia. Some of the prisoners joined the fight in favor of the government, while others fled. Family members could not be reached to verify the claims made by the source and to comment on Mr. Toe's whereabouts.


In Another development, Nigerian President Obassanjo is to visit Liberia today. Some believe that his trip is a last minute effort to fetch Mr. Taylor out of the country in order to beat Mr. Bush 48 hour deadline. Many here, however, feel that Mr. Obbassanjo needs to come with a bigger plane because there are several terrorists and corrupt individuals here who must leave the country too. They name individuals like Chucky Taylor, Coocoo Dennis, Benjamin Yeaten, Saa Gbollie, Police Director Mulbah, Urey, Isaac Musa, just to name a few.