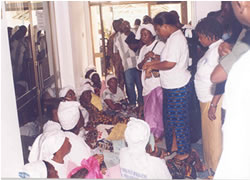 Liberian women queued as they barricaded the main entrance of the conference hall
It was a moment of sadness when dozens of Liberian women Tuesday barricaded the conference hall, physically preventing representatives of the warring parties as well as other Liberian stakeholders from leaving the hall. The delegates were due to have gone for their lunch break but the women prevented them leaving.
Representatives of warring and political parties as well as civil society groups had gathered Tuesday to deliberate on their observations on the draft comprehensive peace deal for Liberia.
Dressed in white T-shirts with placards in their hands, the women queued and blocked the main entrance of the conference center in protest of the latest carnage that is reportedly claiming the lives of hundreds of Liberians in Monrovia.

They had initially refused to remain disengaged in their quest until delegates, at that moment, reach a positive decision or find a common ground aimed at quelling the terror in the city.

Amid wailing, the women recounted the whirlwind of carnage and bloodletting as a result of five days of gunfire and bombardment in the capital. Moreover, it was a melancholy object to see elderly women who continuously cried as they named their children, relatives and grandchildren that they possibly might not meet when return to Liberia.

Additionally, a CNN news clipping which showed bodies of innocent civilians and injured people coupled with photographs of civilians running halter-shelter are but few reasons giving rise to the women's action Tuesday.

The Liberian women, through their spokesperson, Ms. Leymah Gbowee, demanded the conferees remain in the hall and not have their lunch until a final deal was reached.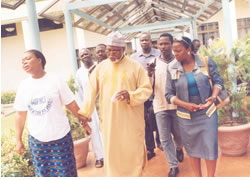 Gen. Abdusalmini Abubakar pleading with the women spokesperson Leymah Gbowee as she sets out in tears
Efforts by former Nigerian President and Mediator of the Liberian peace talks Gen. Abdulsalmini Abubakar to allow the women rescind their decision initially failed as they shouted in a chorus, "we not will allow them to come outside until they give us peace…"
Apparently out of frustration, others said, "they should not eat…let them know that it pains to go without food too."
The women accused the delegates of lobbying for jobs and doing nothing to reach a comprehensive agreement. They allegedly quoting some rebel representatives as saying that they will continue shelling Monrovia, and no matter the death toll or collateral damage, they would procreate when they shall have taken over the city.
However, the Liberian women later disengaged their blockade of the main entrance following constant pleas from Gen. Abdulsalmini Abubakar to do so.
Purported efforts by the rebels Liberians United for Reconciliation and Democracy (LURD) to quicken the exit of President Charles Taylor and respond to an alleged military pestering have resulted into an indescribable humanitarian catastrophe in Monrovia. Consequently, scores of residents including innocent women and children and the elderly are dying by the bundles from shelling and bullet wounds as mortar fire rained down the city all day..
Similarly, thousands of residents are wandering in the capital and have scattered like lost sheep in search of safe heavens. There is hardly food and medication to treat those wounded by the fighting, as the humanitarian and political situations have reached an all time high.
Already, 17 of Liberia's 18 political parties attending the talks in Ghana have deprecated the latest onslaught by both LURD and Government forces on innocent civilians.
In a release issued Tuesday, they reminded both parties that they would be held accountable, at the appropriate time, for the carnage and mayhem that is being perpetrated against unarmed Liberians since the signing of a truce on June 17 this year.
The Liberian political parties said such ostentatious display of military arrogance was unlawful, noting that any attempt to install a military junta will be resisted by the people without comprise.