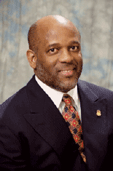 Editor's Note: A corporate lawyer and professor of law at the University of Liberia, Mr. Charles W. Brumskine entered the murky scene of Liberian politics in 1997, as Senator from Grand Bassa County and member of Charles Taylor's National Patriotic Party (NPP) and became President Pro-Tempore of the Liberian senate. He was one of the NPP's stalwarts who opposed to the implementation of the plank of the Abuja Accord that calls for the restructuring of the Liberian security apparatus, arguing that the constitution took precedence once Taylor was elected into office. His tenure did not last long and soon, he joined the ranks of all those who dared opposed Mr. Taylor in exile. It now seems that he sees the need for the presence of the same international security agents who were to train the Liberian security under the Abuja Accord come 2003. We spoke with him at his office in Washington, D.C., about his views of the political process in Liberia.


Abdoulaye W. Dukule: There has been lot of talk about you being a presidential candidate for the 2003 elections, what's the real story, Mr. Brumskine?


Charles W. Brumskine: The truth is that we are looking towards 2003, what we are doing now however is conducting exploratory meetings in the US. We hope to soon take our efforts to Africa, to West African countries where Liberians are and eventually when the situation permits, into Liberia itself.


Why the presidency? Why not something else? The last time Liberians saw you, you were in the NPP government, one of the leaders of that government and now you reappear in the opposition, against the same man you were running with...


Why not now? I have been blessed to work with one of the worst governments our country has ever experienced. And because of the opportunity to have worked with that government, I was exposed to the problems that our people are faced with. I came out of that government with a sense of direction, a vision for our country, the need to not restore Liberia, but to create a new Liberia for all of our people


You touch on a crucial issue. When did you come to learn that Taylor was bad? His character and personality were well known to almost everyone. When did you come to learn what you now profess to know?


Let me say this. Unlike most politicians, my vision about Liberia will not be about Mr. Taylor. It will be about our country and the future of our people. There was never an illusion in my mind as to Mr. Taylor's dispositions or character. I was only one of 75% of voters of our country who thought that it was in the best interest of the country to have Mr. Taylor at that time as president with the hope that this would have given rise to peace, stability and the end to the suffering of Liberian people. Again, unlike most of the politicians, I was not of the making of Taylor, I came on the scene at the time when I thought we could make the transition from war to stability. That didn't work so we must look ahead and move forward, in spite of Mr. Taylor.


What was your role in helping the NPP government to find a legal exit from the Abuja Accord?


I don't know if there was any meeting or deliberate attempt on the part of the government to go against or violate provisions of the Abuja Accord. I served as leader of the Liberian Senate and our government is structured just as the US government as three distinct branches of government. I would therefore not know how decisions were made in the Executive unless it required legislative oversight. Having said that, if you have a specific disposition of the accord that you would like to discuss, we can talk about that - You know that I was never associated with the NPFL or any of the groups that negotiated this Accord.


The question concerns the security issue. The NPP government said that because the legislature was seated, the constitution took over and therefore the government did not need to go back to any accord that preceded that event...


Again, your question is general. The point here is that when we were elected, and we were seated, it did not take a rocket scientist to know that the constitution, the organic law of the land, would supersede any status, treaty, agreement that stands in stark contravention of the constitution.


How do you see the political landscape of Liberia now?


Politically, the country is close to a state of chaos. The Taylor government has shown its inability to lead the people of Liberia. We have the war going on in the Northwest of the country. We are a year from the elections. There is lot of work to be done to move our country forward.


What steps need to be taken to reach to the 2003 elections?


We need to meet as leaders of our people. ECOWAS has on its agenda a proposed meeting of Liberians that should include the Taylor government, LURD, exiled politicians and political leaders as well as politicians who are on the ground. There has also been an announcement by Secretary Perry as to what the US position is regarding Liberia, something we believe is in our best interest and will help create an environment for holding free and fair elections. We do share the position statement of the United States government as regard to coming together as leaders of our country and talking about security for opposition politicians going back home. That must be number one on the agenda. We have to ensure that we all have access to a free press. That means the press must not be molested and harassed again. Those licenses that were revoked must be reinstated. It means there must be freedom for all political prisoners, those who are in jail must be freed unconditionally. It would mean Mr. Taylor should sit down with LURD to end the war and the list goes on. A meeting to lay the basic ground rules will be a good first step.


Dr. Sawyer recently said that a meeting with Mr. Taylor would not lead us anywhere? What is your view?


My fear is the alternative. What is the alternative to sitting with Mr. Taylor and with the help of the international community to create an environment for the holding of free and fair elections? Liberians, especially those who are back home and who are bearing the brunt of Mr. Taylor's excesses want him out. I believe we must find a way that will minimize and not exacerbate the suffering of our people to get rid of Mr. Taylor. The only way I can think of now is to have free and fair elections. I believe that with certain minimum things put in place, Liberians will exercise their free choice and we will have a popular government in place that would be able to carry out the mandate for, in the interest and on behalf of the Liberian people.


Would you recommend the presence of an international police or para-military force along with the AFL and ATU, etc to maintain security?


Yes. I do agree that there will be a need for security for opposition politicians if they are to effectively participate in these elections. Now security can take many forms. Some politicians may have the means to hire their own security. The government may want to provide guards. I think the optimum situation would be to have some foreign VIP protection, whether it is ECOMOG or another group. Some may argue against this because Liberia has an elected government. But Liberia is in an exceptional situation today. Because we have a war and just the other day, the BBC said displaced people were 20 miles away from Monrovia at Klay Junction. Therefore we have an exceptional situation that we need to deal with in an exceptional way. Mr. Taylor will have to come to realize that it is not only in his best interest, but also in the interest of all Liberians that every step should be taken to have free and fair elections in 2003.


LURD claims that they have reached the outskirts of the capital, what effect do you think this new development has on the peace process?


Whether LURD is at the outskirts of the capital or not, giving the facts that there is a war in Liberia and our people continue to languish in a state of despair, my position remains unchanged - the government of Liberia, LURD, and opposition politicians should meet in an attempt to resolve our differences. If we can find no patriotic reason to engage each other, let's do it for the simple reason of alleviating the suffering of our people. It is in the interest of ECOWAS and the international community to facilitate such a peace conference because until there is peace in Liberia the sub-region will remain volatile, and there is not likely to be peace in Liberia until we have free, fair, and democratic elections. It has been determined by unequivocal evidence that Liberia is the source of the conflict in Sierra Leone, so let's treat the root cause of problem, and not rely on cosmetic surgery.


Let's talk about party affiliation. Do you have any at this time?


I am a Liberian, and a humble person of the people. I have no political party at this time. I say that my lawyers are currently negotiating with several parties to see if our vision for the country would be incorporated in their platform and we would sit and discuss our desire for the future.


About inviting LURD to the table - don't you think that other groups may pop up with arms if they don't like the results of those talks just like during the IGNU era, we had ULIMO, LPC, Lofa Defense Force, etc?


It is necessary to bring LURD at the table. There is no way out. One would have to end the war going on in Liberia now and to end the war we must address the concerns of those fighting the war. I don't think it can be done without bringing them to the table for us to create an environment for free and fair elections. Now, the reason why there were new warring factions in the 1990s was because there was interim and transitional governments that did not represent the will of the people. What I am proposing is that we all meet, there might be 100 of us out there who have presidential ambitions, set the ground rules, have these elections so that we will have a government that will enjoy the trust of the people and will have a popular mandate. Democracy is not the perfect form of government but it's been said that it is the best we have. So, let's have the will of the people, to see whom they want to lead them, I believe honestly you will not have another warring faction after we've had elections.


Talking about this national conference... In Monrovia you could have everyone, from NGOs to religious groups to unions but in Abuja, you will have to select a few. How do you go about deciding who should attend such a meeting or who could not go?


Again, it is something that we can agree to disagree on. I should say here that Mrs. Sirleaf had a meeting in Abidjan with political leaders and I think she came out with a fairly good representation of the political leadership. Her listing included political leaders, ...standard bearers in 1997 elections, high elected officials of government, like former Vice-President among others - With a few changes here and there, let's say take party leaders instead of former standard bearers - that was in 1997 - and now the parties don't have standard bearers and bring them. We can sit together and agree as a people on how we are represented.


The government has imposed a stage of emergency. What is your reaction and how does this affect the prospect of election?


The Taylor government has indicated for quite a while now that it intended declaring a state of emergency and ultimately abort the electoral process, so that was no surprise. Obviously, the only reason why President Taylor declared the state of emergency is to prevent opposition candidates from preparing for elections, which are due next year. It is no secret what the reaction of the Liberian people was to my radio talk show via telephone, which was broadcast live in Liberia a month ago. Mr. Taylor could not afford for me to have another talk with the people of Liberia, which was due shortly. Hence, his state of emergency. LURD and government forces have been battling it on and off now for about two years, so the President cannot reasonably use a threat or outbreak of war as the reason for the state of emergency, and there does not appear to be any civil unrest affecting the existence, security or well-being of the Republic amounting to a clear and present danger. Indeed, the "state of emergency" that exists in our country is with regard to the suffering of the people at the hand of Mr. Taylor, which has been exacerbated by the military intervention of LURD.


In any case, Mr. Taylor should inform the people of Liberia what rights, freedoms and constitutional guarantees will be suspended or otherwise affected under the state of emergency. Of course, Mr. Taylor should be advised that he cannot suspend, amend, or abrogate the Constitution, and the writ of habeas corpus is to remain available and exercisable at all times, and shall not be suspended on account of his state of emergency.


Certainly, there can be no election under a state of emergency. We must therefore continue to work along with ECOWAS and the international community under the leadership of the United States to facilitate a conference of Liberian, not only to ensure the holding of free and fair elections, but primarily to end the war and the suffering of our people. Remembering that there can be no substitute to free, fair, and democratic elections that will empower the people to put in place a popularly elected government with the mandate to tackle Liberia's many problems.


What do you think about the sanctions?


I don't think any Liberian would support any sanction that hurts the people. I think Mr. Taylor has to be blamed for the sanctions because it was his actions that gave rise to condemnation and imposition of sanctions by the international community. We should say, however, that we are grateful that the sanctions are selective and not meant to affect the people directly. How be it, the information I get from home is that the people are feeling the pinch, not directly but indirectly - and [it] may be psychological impact. Even with the sanctions, if the government were to use its limited resources for the interest of the people, the results would be different from what they are today. The reasons for these sanctions were Mr. Taylor's involvement in the war in Sierra Leone. In 1999, February, even before the international community took on the task of investigating the Liberian government, as leader of the Senate, I established committees to investigate the allegations against the Taylor government. For me, it was a means of vindicating the good name of my country. But since then Taylor's involvement in the war in Sierra Leone has been proven, and as a result our people are suffering. We need to do what we can in the shortest possible time so that elections are held, that the actions of Mr. Taylor be reviewed by the Liberian people to render their verdict against him by means of the ballot box so that our country can move forward.


Now that the war is over in Sierra Leone, would you advocate for the lifting of sanctions?


The sanctions, or the imposition of sanctions against Taylor and his government has nothing to do with Liberians or Liberia. I understand that the war is over in Sierra Leone, but the fact remains that Mr. Taylor has the propensity and the wherewithal to cause trouble in Sierra Leone and that is another matter. I believe a system should be provided by the international community to alleviate any hardship Liberians are experiencing from these sanctions. But Mr. Taylor should not be left off the hook until we are assured of peace in the entire West African sub-region.


What role do you expect the international community to play in our current situation?


From all indications, Mr. Taylor has left no doubt in our mind that as long as he remains president of Liberia there will be no stability in the West African sub-region. The international community must realize that the peace, the cessation of hostilities in Sierra Leone is cosmetic until the Liberian situation is dealt with. Now, how do you deal with the Liberian situation without creating more hardship for our people? The answer: empower our people to select a leader for themselves in 2003. How do we get to create that environment? We need security for those of us going home to contest the elections, and even for those who are on the ground for them to travel around the country. We need resources for voters' registration, re-demarcation of constituencies. We need again to ensure that we have radio stations that reach outside of Monrovia besides Taylor's stations. That would mean bringing Star Radio back [to] Liberia and giving radio Veritas their license to shortwave broadcasting, to reach people in the villages. Although you have the print media, it is self-censured because it has to survive. And 60 - 70% [of the Liberian people] do not read. So the air media becomes crucial to reach our people.


Let's talk about the opposition, unity or everybody going their separate ways?


I believe there should be unity among opposition politicians. But let's not confuse unity [with] conformity. Liberians, both here and home have said that the opposition should come up with one candidate to oppose Mr. Taylor. If we go again with 13 candidates, Mr. Taylor might win. I propose therefore a sort of informal primaries. We can design a simple system, throughout the country on how we can [select] a candidate. I would be opposed to a system where ten or fifteen people get in a room and decide who would run and later on, we run into confusion like in 1997. If that system is adapted, I will fully submit to it and will support the candidate. In the new Liberia, we must see ourselves above and beyond the caucus syndrome. This informal primary could take place in July and while elections take place in October.


People say that our presidency is strong and so centralized and that's what makes it so attractive...


In Liberia it is the socio-cultural effect that needs to be changed. The presidency over the years has grown to become too powerful. There are certain things in the law that need to be changed. The main thing is to elect someone who has the integrity to make a difference. Someone who has been tested and not found wanting. I worked for the worst government in the history of our country, but look at my record. There are things that must be changed. For example, the Liberian president has sole authority with regards to public expenditure and that must be changed. The financial warrant of the 1847 is still in our constitution, and it says that all money to be spent from the public coffers must be approved by the legislature but the president must sign the voucher that releases the money. So if an individual renders services to the state, the president can refuse to pay that person for whatever reason. That makes the president all too powerful and must be deleted. That provision was the reason why our commerce sector is in the hands of foreigners because they are not a threat to the power. One of the bills that I put forward was the public service act that would have allowed Liberians to sell goods and services to the country. There is also the issue of customary or statutory laws, two parallel systems in the country. People who live under the customary law consider the president head of the judiciary, head of the legislature and head of executive. If they have a case, it goes from the village to the Ministry of Internal Affairs and to the President and it stops there. While for those living under statutory law, the process is different. This must be changed. It would take a great president to wreak the presidency of all these and other extra constitutional powers [it] has accumulated over the years.


A footnote to that issue, the President appoints superintendents and that gives him added power. Would you favor changing that?


That is something I would like to see people involved in before changing it, in terms of public hearing and discussion. Because if we decide that the superintendents be elected, we must also create a controlling body at the level of the county to which the superintendent is answerable to. It would take a constitutional amendment. I do agree that there must be a system to check the superintendent other than the president. That body may not need to be very elaborate. But we must remember that no amount of laws would make any difference as long as we don't have dedicated people in office.


Let's suppose that Mr. Taylor is indicted - but not arrested - as co-conspirator by the War Crimes Tribunal in Sierra, what do we do?


What should be done is that the legislature would want to impeach him. If he were an honorable gentleman, he would resign, but none of that is likely. So we might have an indicted person sitting as president of our country and the walls will continue to close in on our people.


What would be the 3 major priorities for a Brumskine government?


I don't want to send the wrong signals here but for the sake of the interview, I would say that priority number one would be security. This entails addressing the needs of our children who have been used or victimized by the war, either they fought or not and it makes no difference who they fought for. We need to address this. The second issue would be stimulating the economy, by increasing consumer spending. We need therefore to moneytize the civil servant wage bill. People have not been paid for so many months and there is a need to get money in their hands so they can spend that money and that would stimulate the economy. If we behave responsibly and show that we believe in the rule of law, respect for freedom, we will avail ourselves of resources [from] the international community. The third issue would be education and basic healthcare service in the most remote place. This will not take all the money of the world. I am talking about medical vans going from village to village, dispensing basic health service…Security, economy, health care and education, I think are to be our priorities.


Our society has always been marked and deeply so by the socio-economic divide "Country"/"Congo". How would you deal with this issue?


It really is not as big a problem as people would like to make it seem. As a government, we can ensure that resources are adequately distributed, that means providing every child with the best opportunity to make the best out of life, health services, education and that would break the ethnic divide. We need to integrate the two legal systems I talked about. We must be under one system. Nothing is wrong with discussing ethnicity for the purpose of showing how we can progress as one people. With the proper leadership and a sense of direction, our people can live together as one great nation. We can put an end to that ethnic divide and this is something I would wholeheartedly work towards accomplishing. The new Liberia must be led by people who are prepared to work 12 to 18 hours a day and not people who are after making a quick buck and look down on others.


Counselor Mohammedu Jones, a constitutional lawyer, said that we were not ready for elections because we did not have elections laws on the book, because those written in 1984 are now obsolete...


I can't comment directly on what he said but what I know is that we have elections laws on the book. If you read specifically the laws of 1984, you may say we don't have laws but if you look at the constitution in its entirety, you'd see that the laws are in there. Article 95 of the constitution says that although the 1847 laws were abrogated, any law, coming into effect at the enforcement of the 1986 constitution becomes law. I am not a constitutional expert but I do know we have laws regulating elections.


You spoke about going home to talk to the people. When are you planning to make this trip?


Sooner than later, much sooner than later, I think. We are hoping that we can have this conference with Mr. Taylor with the facilitation of ECOWAS and other NGOs in the USA so that arriving at Roberts International airport will not be like falling into a death trap.


Don't you think that any peace initiative should grow among Liberians and that international NGOs sole interest is to create an atmosphere for elections and then leave?


I wouldn't say that the Carter Center or the NDI would deliberately create an atmosphere just for them to monitor elections and get out. Having said that, it will be incumbent on Liberians to ensure that the facilitation and participation of these NGOs will be used to create the conditions to hold these elections because amongst ourselves, we don't have the means to do this.


What are your final thoughts on these issues, elections, Taylor?


My concerns are security, the ending of the war in Lofa, freeing the political prisoners, re-demarcation of constituencies, access to the media and registration of the voters. And I should add here that my vision of Liberia would not be about retaliation or retribution or revenge. It's rehab, enlightment, and peaceful coexistence... Taylor is concerned about his post-elections security - to create an environment that ensures that if he is defeated in the elections, he would be accorded his rights under the rule of law, just as we are concerned about our pre-election security... We are so obsessed with the evils of Charles Taylor's administration that we hate him so much that we ourselves are becoming as bad as this guy. I see Liberia moving along a different path where we'll put the past behind us, and where we are more concerned about tomorrow than yesterday. There might be a need to revisit the ills of the past for the purpose of ensuring that they might not be repeated. There might a need for people to be prosecuted, but we must commit ourselves that there will be no persecution of people based on their former association... The sooner we realize that as a people [that] we have all gone astray, that none of us can assume the high moral grounds, the better it would be for our people who live on daily basis with Mr. Taylor. It is their interest that needs to be addressed, not ours, it is their national dream that needs to be fulfilled, not ours. It is their welfare we need to seek. Therefore, every action we take must be taken with their plight in mind. We must bear in mind, that the death of another Liberian would be one death too many. I look forward to the day when we can all sit and witness the fulfillment of a promise of the realization of a national dream.


Thank you.

---