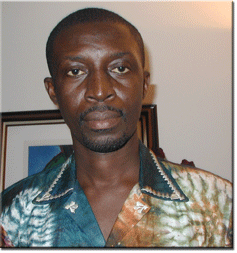 Cllr Tiawan S. Gongloe
"Liberia stands in great need of deliverance from a reign of terror and wickedness to a period of peace and love, from a reign of death and destruction to a period of respect for life and reconstruction of basic infrastructure and from a reign of extreme poverty, ignorance and disease to a period of sustained economic growth, prosperity, good health programs and the building of a just and humane social order. Liberia needs your help!"
The words of human rights lawyer, Tiawan Saye Gongloe, encapsulated a reality that was not lost on leaders and members of the African Refugees Community who gathered at the Grace Orthodox Church in Philadelphia recently. The forum, "Preparing America for African Refugees and Preparing African Refugees for America" was organized by Grace Orthodox Presbyterian Church (Philadelphia) and the Boston based Universal Human Rights International as part of a series of awareness campaign on the plights of African refugees.

Speaking on the theme, "Struggling to Establish a Culture of Respect for Human Rights in Liberia- A Christian Challenge for the People of Liberia," Gongloe said he was grateful for prayers and efforts by individuals and organizations to seek his release but could not celebrate his release.


"I am grateful for your prayers, [during my detention], and under normal circumstances, I should be beaming with smile in expression of my joy, I cannot do so because as I speak to you, Hassan Bility, a journalist, Sheikh Sackor, a human rights advocate and many innocent Liberians are languishing in police cells and other government detention centers in Liberia for no legally justifiable reason," he said.


Tiawan Gongloe was detained in Monrovia by police officers on April 24, 2002 without warrant or charge in Monrovia. He is presently undergoing medical treatment in the U.S.A for injuries he sustained as a result of beatings during the night in police cell.


Gongloe said the Liberian Judiciary which should serve as the avenue for relief from the gross abuse of human rights has been made powerless by the Government of Liberia's continuous failure to obey court orders for the release of innocent persons.


"Let us pray that those who govern Liberia today will change from their wicked ways and begin to respect the rights of the Liberian people to live a normal, useful and prosperous life," Gongloe said to the audience.


He said the importance of the issue of human rights to Liberia was based on the dream that freed American slaves re-settled in Liberia during the abolition of slavery in the early 1800s could enjoy their full rights as human beings.


Since Liberia's independence, 155 years ago, the dream upon which it was founded remains illusive, Gongloe said.


Liberia's history is full of incredible accounts of denials of basic human rights and responsibility for the abuse of human rights in that country has principally been carried out by the government," the human rights lawyer said, adding, "It is against this background that some of us have dedicated our lives to the promotion of human rights as a manifestation of our commitment."


He said human rights cuts across all backgrounds and beholds those of religious beliefs to manifest their commitment by living according to the teachings of their faith on how to treat other human beings.


"It is a contradiction that, in spite of the clear teachings of the Bible regarding how Christians should treat other human beings, Liberia, whose president, Chief Justice, Speaker of the House, and Cabinet ministers particularly its ministers of Justice, Defense and National Security are all Christians is currently listed amongst the countries in the world with the worst human rights records," he said.


Gongloe said contrary to its promise to respect human rights, in its five years, the government of Charles Taylor has created a record that shows greater violations of human rights than all previous governments forcing thousands of Liberians to flee into exile-failing to make the Liberian dream, a land of liberty a reality.


Torli H. Krua of Universal Human Rights International, suggested that in addition to working to promote human rights in Africa and immigrants' rights in the United States of America, African refugees must begin to campaigns against those responsible for the woes of the African people who have also sought to settle in the United States.


Speaking on the topic, "Deterrent for human rights abusers- Breaking the cycle of violence in Liberia," Krua said he is disappointed that despite their achievements, Africans in exile have neither been able to make significant contributions to development and democracy in Africa nor build a strong community in the United States that positively impact on the life of Africans at home and abroad.


He proposed that in order to end the human rights excesses of government and rebels and break the cycle of violence that produce casualties and refugees, African and particularly Liberians in exile must begin to work with other human rights organizations to create a database of human rights abusers who live in or visit the U.S. in order to hold them accountable, expose their role in human rights abuses, deprive them of their assets, and help empower survivors and their communities.


"Africans particularly Liberian warlords and former government officials, who tortured, killed and maimed innocent people during the ongoing Liberian war and who reside in the USA have all been granted political asylum, refugee status, green card and even citizenship in the USA. Almost all of these individuals are still actively fundraising, traveling freely in and out of the USA, and still carrying out violent acts against innocent civilians, using the comfort and safety of America," Krua said


He said statistics indicate that the Liberian refugee population has risen to about 400% over the period of about 11 years. During the same period almost all former soldiers, rebel leaders, warlords and those who tortured, raped and killed Liberians civilians or commanded others to torture, rape and kill civilians and later sought refuge in the USA have been granted asylum, refugee status and even citizenship.


The perpetrators of human rights abuses and their families enjoy the benefits provided by taxpayers, such as Financial Aid, Student Loan, public housing while Liberian victims with TPS work, pay taxes but are banned from the benefits, Krua said.


He said, "The USA has become a safe haven for some of the worst Liberian human rights abusers while most Liberian victims have been denied access to the USA. In the case where the Liberians victims were allowed in the USA, they have resided here largely without asylum, refugee status and permanent residence status. The status of such victims has been fluid and they have been subjected to the annual psychologically dehumanizing threat of deportation."


Krua urged African in exile to contribute to the democracy process in their countries, adding, "Refugees can and must begin to work for social change in Africa from their new home in the United States. We must build strategic partnerships with diverse interest groups while making sure others know we too have our strategic local and continental interests"