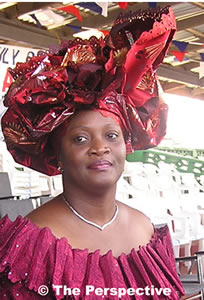 Jewel Howard-Taylor

It appears that recent directive given by the National Transitional government of Liberia (NTGL) Chairman Charles Gyude Bryant, to Justice Minister Kabineh Ja'neh, to effect the freezing order of Taylor and his close associates' assets seems to be crash-landing as Jewel Howard-Taylor is reportedly selling their property suspected to be targeted by the UN.
Our source disclosed that Mrs. Taylor few days ago reportedly sold two caterpillar-engine generators at former President Charles Taylor's White Flower residence to one Lebanese businessman (name withheld), who owns a fishing company on Bushrod Island.
According to our source, the two generators – one with the capacity of 300 KVA and 160 KVA respectively, were sold for US$38,000 through the businessman's lawyer.
The source further indicated that the Lebanese businessman had earlier promised to pay in check but Mrs. Taylor refused on grounds that she is in need of cash to settle her obligations to other people.
The source is said to have quoted Mrs. Taylor as saying that she will sell most of the items at her husband's former residence to take care of her domestic problems and manage their farm at Maleke, Bong County, where the people are presently said to be working for two United States dollars per person per day.
When Mrs. Taylor was contacted via cell phone, only her elder sister, Sandara P. Kendor responded and said the former first lady was not in the position to talk as she was not feeling well.
When The FORUM contacted the Justice Minister on the update of the Chairman's mandate to him (Justice Minister), Minister Ja'neh responded "Our men are moving on them one by one." When quizzed regarding the methodology being used to identify Taylor and associates' assets, the minister said, he does not foresee any difficulty other than invisible assets but all visible assets will be identified and the UN mandate will be implemented to the letter.
Sometimes ago, the United Nations Secretary-General Special Representative, Jacques Paul Klein, expressed his displeasure over the lack of cooperation by the Bryant-led Transitional Government to effect travel ban and the seizure of Taylor and his associates' assets in accordance with the UN Security Council Resolution 1521 of 2003.
UN Security Council released the names of former President Charles Taylor's family members, including his close associates as those being affected by the UN travel ban.
Accordingly, those listed are his wife, Jewel Howard , his son Chulcky, Benoni Urey, then Maritime Commissioner, Randolph Cooper, former Roberts International Airport boss (RIA); Emmanuel Shaw, former Economic Advisor to Taylor; Cyril A. Allen, former Chairman of the National Patriotic Party (NPP). Others on the list include Myrthe Gibson, former Senator of Sinoe County, who is also accused of demolishing the Barclay Training Center (BTC) and squandering of the funds earmarked for the construction of the Children Village; Edwin Snowe, LPRC Managing director, and former son-in-law of Mr. Taylor, among others.
Observers have begun to question the rationale behind the former first lady's decision to sell assets placed under UN seizure.
---
© 2004: This article is copyrighted by the Forum newspaper (Monrovia, Liberia) and distributed by The Perspective (Atlanta, Georgia). All rights reserved.