Chairman Gyude Bryant's Third Address to the Nation
On November 1, 2003, Liberia's Interim Chairman Gyude Bryant delivered his third Address To The Nation since his selection to lead the war ravaged nation. Below is the speech in which Mr. Bryant, among other things, called for the reductions in the price of rice and gasoline:
Willie Belleh Must Resign from Interim Government
The recent revelation by The Perspective magazine that Willie Belleh, Director of the Cabinet and the Chief of Staff to Liberian Interim Leader Charles Gyude Bryant, and the other officers at the Central Bank of Liberia (CBL) lucratively rewarded themselves in the midst of the abject poverty in Liberia is appalling and unconscionable.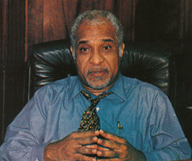 Elie E. Saleeby, Chairman
Corruption at the Central Bank of Liberia
As Liberians, it is incumbent on all of us to assist you in achieving the goals associated with your job responsibilities. In this light, we solicit your attention to a few problems that need immediate consideration. The resolution of these issues will ensure that such practices are abolished immediately, never repeated, and yield good governance.

New members of Liberian Government must be corruption-free, UN emphasizes (UN)
With Liberia currently in the process of selecting members of its transitional government and legislative assembly, the United Nations today underscored the need to choose honest and qualified professionals.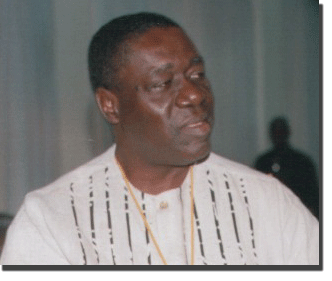 Gyude Bryant
Induction Address By His Excellency C. Gyude Bryant, Chairman, National Transitional Government Of Liberia (The Inquirer)
His Excellency Joachim Chissano, President of the Republic of Mozambique & Chairman of the African Union; His Excellency John A. Kufour, President of the Republic of Ghana and Chairman of the Economic Community of West African States (ECOWAS); His Excellency Olusegun Obasanjo, President of the Federal Republic of Nigeria; His Excellency Moses Z. Blah, Former President of the Republic of Liberia; His Excellency Jacques Klein, Special Representative of the Secretary General of the United Nations to Liberia; Heads of Ad Hoc Missions Accredited to these Ceremonies;

Charles Taylor

Liberia: The Fall of A Tyrant
He was called various names during his rein of terror in Liberia: The NPFL Rebel Leader, The Papay, Ghanky, Chucky, Taylor, Charlie, Dahkpannah, etc. Each of these names was used to depict his mood of operation.
---
Bringing Sustainable Peace and Functional Democracy to Liberia
The efforts by the international community and fair-minded Liberians to restore peace to their once peaceful nation will be severely undermined or challenged if certain section of the country's constitution is not amended to encourage broad participation in the political process. I believe that the constitution should be amended to reduce the years of the presidential term to four years from six years.

Bryant Appoints Former "Diplomat" Accused of Selling Liberian Diplomatic Passports
I have the honor to gently draw your Excellency's attention to the appointment of Mr Bass-Golokeh as Adviser on International Affairs as a very grave and serious error of judgement. For starters, the burden of carrying out the mandate with which you are entrusted depends to a large extent on the level of cooperation you will receive from the international community. That cooperation and support will be a function of their perception of the seriousness with which you attach to the overwhelming task before you.

The Peace Agreement
Peace Agreement Between The Government Of Liberia (GOL), The Liberians United For Reconciliation And Democracy (LURD), The Movement For Democracy In Liberia (MODEL) And The Political Parties Accra, Ghana, 18th August 2003. We, The Government Of The Republic Of Liberia, The Liberians United For Reconciliation And Democracy (LURD), The Movement For Democracy In Liberia (MODEL) And The Political Parties.

"Liberia has an image problem" - Says JWI
After having received information from our sources in Liberia that a Washington based public relations firm, Jefferson Waterman International (JWI), has signed a PR contract with the government of President Charles Taylor, we contacted JWI. Here is excerpt from the discussion between George H. Nubo of The Perspective and Ken Yates of JWI.

PR Firm Hired To Fix Taylor's "Image Problem"
Public Relations has become one of the fastest growing and lucrative fields in recent years, as firms from the West have found a goldmine of clients in Third World countries engulfed in crisis. Dubbed PR firms, their goal is two-fold:

US$300,000 Per Year PR Contract Signed With US Firm
A US$300,000 per year "plus reasonable expenses" PR contract "for an undefined period," has been signed between a Washington firm, Jefferson Waterman International, and a Liberian-based mining company, AmLib United Minerals. But our Liberian Government sources say AmLib United Minerals is a conduit for President Charles Taylor.

Let Justice be Blind, For the Children of Sierra Leone
The unanimous decision of the United Nations Security Council to prosecute members of Sierra Leone rebel Revolutionary United Front (RUF), sponsored by Liberia's President Charles Taylor, is a landmark decision in honour of the thousands of innocent children left today without limbs and scared forever.

Troubled Indicators, Needed Remedies
Once again, all signs indicate that Liberia is headed towards the path of self-destruction. Renewed fighting in the country, after seven years of crude struggle for power that saw a tenth of the population killed, points to disaster despite the many promises of peace, stability and development.

When the Means to an End are Convenient and then Feared
The end may justify the means as in the case of Liberia where fear and horrendous atrocities determined the outcome of the presidential elections in 1997.

Liberians Denounce War, Want Peaceful Means to Remove Taylor
The umbrella organization of Liberians living in the Diaspora, the Union of Liberian Associations in the Americas (ULAA), has denounced the ongoing war in the country, calling instead for peaceful means to replace President Charles who, the organization maintains, has failed to uphold democratic values, thus plunging the country in chaos and international disrepute.

Taylor's Sierra Leone Peace Plan: "Thanks, but No Deal"
"Thanks, but no deal", can best describe Liberia's President Charles Taylor's response to American and British threats of sanctions for backing Sierra Revolutionary United Front (RUF) rebels.

Liberian Troops Ambushed in Lofa
A spokesman for Liberian resistance group fighting Government troops says they have killed a number of soldiers, many of them from Burkina Faso, and captured arms, ammunition along with food supplies.

The Right Kind of Fear
We all are driven by fear, all kinds of fear: Fear of losing, fear of hurting, fear of disappointing, fear of failing, fear of being abused, fear of being perceived as weak, etc. But we strive for joy and pride as we manage these fears.

Charles Taylor Rejects UN Deployment and Sankoh's Trial

The Urgent Need for Impeachment Proceedings

Taylor's Resignation Or Impeachment Will Save Liberia

Liberia's Persecuted and Rising Voices of Dissent

Mercenaries Allegedly Land in Liberia

Crackdown on Opponents Looms in Liberia

"All Calm in Voinjama," Dissidents Say

Confusion Spreads in Liberia as Fighting Intensifies

Ellen Johnson-Sirleaf Wants Taylor Answer Charges Before Tribunal

Liberians Need Sober Reflection - Says Ellen Johnson-Sirleaf

Liberian Troops Invade University, Arrest Student Leaders

The Challenge of Our National Purpose and Agenda...

Will Taylor Join Sankoh Before the Tribunal?

Liberia's University Students Decry Pariah Status and Extravagance:

Liberia's University Student Union's Press Statement

Liberia Bans Independent Reports of Fighting

Star Radio and the Erosion of Press Freedom

Blinded by Free Trade and Comparative Advantage Dogma

Democracy VS. Dictatorship: The Quest for Freedom and Justice in Africa's Oldest Republic:

What's the Case for Self-Sufficiency in Rice Production?

The New Democrat Halts Operations

Liberia: In Search of Enemies and Allies

Dutch Human Rights Groups Want Liberia Covered by Diamond Sanctions:

Corruption Should Not Be An Acceptable Practice Anywhere!

Freedom Gold's Secret Operations Liberia

Let the Pretense of a Democracy Stop!

IPI Condemns Intimidation and harassment of Journalists of The New Democrat:

Diamonds, War and State Collapse in Liberia and Sierra Leone

US Convinced Of Liberia's Negative Role In Sierra Leone

Confusion Over Weapons Claims and Diamond Links?

Liberia: The Politics of Brute Force

Liberian Journalists' Lives in Imminent Danger

Taylor Woos Old Enemies to Fight New Ones Amidst Dissidents Victory Claims:

Liberia's Illusive Dream of Democracy

Charles Taylor Makes A Desperate Vice Presidential Choice

The Congressional Black Cousins

What Liberians Didn't Know About "Chucky Did it"?

Liberia Threatens War with Guinea

Charles Taylor Pays Gadaffi for War Efforts

The OAU's Hypocritical Reparations (Special Editorial)

A Liberian Embassy and a Cult of Illicit Car Dealers - The Polish Scenario:

Piracy and Anarchy in West Africa: The Ivory Coast's Turn

Rwanda: The Preventable Genocide

Liberia's Politics, Plunder and the Environment

Meaningless UN Sanctions As Liberia is Pardoned

"I'll keep them Busy in Sierra Leone"Says Charles Taylor

Liberian Politicians Have A History of Making Costly Mistakes

Charles Taylor's Threat of "Ferocity" Over Veep Dogolea's Death

The Rice Import Liberalization Agenda in Liberia: Some Critical Policy Issues

Poverty's Triumph over Democracy in Liberia

Fourteen Allegedly Executed in Liberia?

Liberia's V.P. Dogolea's Mysterious Death: God's Hands or a Familiar Pattern? "

Demonstration For Peace, Justice and Democracy
In Sierra Leone and Liberia

Liberia: Secret Police to Clear Passport Applicants

Liberia: Plots, Denials and Just Punishment for a Pariah State

Liberia Reportedly Arming Guerrillas

Crime, Treachery and West Africa's Destabilization

Liberian Refugees On Hunger Strike in Senegal

The True Face of Rev. Jackson's Liberian Heroes

Sierra Leone's Johnny Paul Koroma Says No Peace Without Taylor

ECOWAS' Blunder: Another Prescription For Sierra Leone's Horrors

Liberian Political Group Condemns Taylor for Sierra Leone Conflict

RUF fighters rape women and children in Makeni and other towns

Peace Never Had A Chance In Sierra Leone Under the Lome Agreement

Maskita Admits Training Rebels In Liberia (Concord Times)

Pitfalls of Sankoh's Isolation

Liberia Is Being P.U.S.H.ed by Rev. Jesse Jackson

Games The International Community Play When It Concerns Africans!

ONCE JUBILANT LAND NOW LACKS A SMILE ( Chicago Tribune)

The Racist Implications of President Clinton's African Policy

Can Clinton Administration "Africa Guru", Rev. Jackson, Help Sierra Leone As He Links Sankoh to Mandela?

The World's Insensitivity and West Africa's Impending Horrors

Shifting Alliances in Liberia's Theft and Plunder
Liberian President Charles Taylor Planned To Visit Morehouse College During U.S. Trip
A Joint Statement In Opposition To President Taylor's Visit To The U. S.
No Red Carpet Treatment For Charles Taylor
Why President Taylor Should Not Be Granted Honorary Degree
The Conspiracy of Silence and Inaction
We Know Them Well! -Press & Public Affairs Department Executive Mansion
The Liberian Democratic Future Responds to the Executive Mansion
Where Terror Rules, No One Is Left
NSA Chief Says International Community Resents President Taylor
Who Should Dispose Of Arms?
Of Promises And Reality: Putting The Chicago Conference In Perspective, One Year After
Lofa, Money Grabbers and Jesus Christ
An Opposition of Carpetbaggers & Inner-Circle Acolytes
Liberians to Remain in the Dark, As President Taylor Declares Electricity A "Luxury"
If Kosovo, why not Sierra Leone?
Trial Verdict Undermines Peace, Stability and Reconciliation - Says Ellen Johnson-Sirleaf
The Liberian Democratic Future Condemns And Rejects The Treason Trial Verdict
Liberia: Back to Square One
Theory Of Conspiracies
Issues In Perspective: The New Liberian Elite And Political Class
The Treason Trial: A Mockery Of Justice!
Liberian Ambassador Homeless?
In Taylor's Liberia, Thieves are Thriving & so is Corruption
Grand Kru Senator Refuses To Answer Political Questions
An Eyewitness Account Of The September 18 Massacre
A Look At Relations With Neighboring States And The U.S.
Liberia: ECOWAS Dilemma
Where Is Our Moral Outrage?
A Call For New Alternative
Decentralization: A Question Of Democracy And Governance
The Liberian Democratic Future Condemns the Massacre Of over 300 Innocent Liberians
A New Liberia: From The Ashes Of Civil War
The Liberian People Have Spoken
Attack On Human Rights And Civil Liberties Must Stop
Police Director Tate Muzzles The Press
President Taylor: Which Way Liberia
President Pro-Tempore Addresses Surreptitious Liberian International Trade Confereence
Fear, Illiteracy & Ignorance Propelled Taylor To Victory
Old Wine In New Bottle: $1.2 Million Dollars For Taylor & Urey
Healing Wounds By Confronting The Nation's Past
The Chicago Conference On Reconciliation: Public Relations Ploy or Reality?
The Country And Congo Palaver: Who's The Problem?
CHALLENGES OF THE MILLENNIUM
Lest We Forget: Trial Of The Century
Reconciliation: A Call For Justice
Liberia's Ugly Past: Re-writing Liberian History