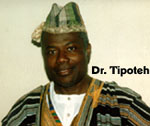 While it comes as no surprise that the Liberian government continues its assault on political and civic leaders, we must not allow the continuous flagrant violation of the Liberian Constitution and civil liberties of the people to go un-addressed. Contrary to its persistent and egregious abuse of the rights of Liberians at home, the government is noted for inviting opposition political figures to return home, assuring them of their protection under the law, and freedom from persecution. Never mind the fact that human rights activists, lawyers, and journalists are being frequently arrested and tortured, now the government has raided the home of Dr. Togba Nah Tipoteh, one of the principal opposition politicians living in Liberia.


Dr. Tipoteh, who inspires so many of the opposition figures by remaining at home to be a principal voice and who continues to work with his exiled colleagues to highlight the collapse of Liberia as a nation-state, is now the latest victim of what one prominent journalist calls President Taylor's Tonton Macoutes. It is appalling that on Friday, July 19, 2002, about a dozen members of President Taylor's Anti Terrorist Unit (ATU) raided the home of Dr. Tipoteh without a search warrant or court order and, of course, without an invitation from Dr. Tipoteh or any member of his family. The purported reason for the search was for weapons. Apparently, the government is now building its case to accuse Dr. Tipoteh of being an unlawful combatant.


In its search of Dr. Tipoteh's home, none of the constitutional safeguards and liberties, which the President declared would be respected during his State of Emergency, was observed. Indeed, the forceful and unlawful entry into the home of Dr. Tipoteh, for the purpose of conducting an illegal search, is unconstitutional, and the perpetrators should be punished. Unfortunately, we cannot count on the prosecution of those men because we believe that they acted upon the direct order of President Taylor, as the courts and the Justice Ministry were unaware of the break-in of Dr. Tipoteh's home.


We are, however, much relieved that neither Dr. Tipoteh nor his wife was home at the time of the break-in, hence none of them suffered any personal harm.


This unfortunate incident highlights the fact that Liberia, under the watch of President Taylor, has become a virtual prison, as the people remain under siege. Liberians are victimized and killed almost daily by President Taylor or some member of his government. Given the government's action toward a leading opposition figure like Dr. Tipoteh, one can readily surmise the fate of other Liberians whose names and faces remain anonymous.


Such action on the part of the Taylor government and with the current war in Liberia, reinforce the position of the majority of Liberians and some members of the international community, as to the urgent need for the deployment of an international stabilization force in Liberia.