Apparently out of frustration over her relationship and in despair, Ms. Aimee Adogli walked in the offices of The INQUIRER over the weekend, to expose the ugly and con deeds of her fiancé, Willie B. Danway, 48, of Washington, USA.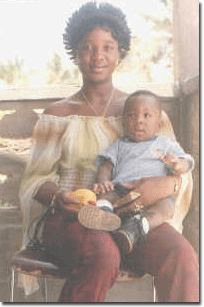 Aimee Adogli
According to Aimee, her relationship with Willie started sometime in 2000, when the latter had just returned to the country on a visit, and she was then only 19 and a 11th Grader of the William Booth High School. Aimee explained that based on Willie's request and promise to subsequently take her along to the United States, their relationship was traditionally solemnized with some of their respective relatives present at the occasion.
Continuing her story, the young lady said to satisfy her fiancé's wish, she bore him a boy child whom he affectionately named as Willie Bayoh Danway, Jr. "Being so pleased with the boy, he proposed that we construct a real estate in the form of several buildings for our future", Aimee revealed.


To make the construction proposal a reality, according to Aimee, her fiancé who had then gone back to the USA began to send various sums of monies through the Western Union Money Transfer scheme, which she received and without any third party involvement, began to execute the construction project of four buildings on the Monrovia-Robertsfield highway.


Meanwhile, Ms. Aimee recounted how her fiancé, Willie Danway had left his two American children, Leon Danway, 12 and Keith Danway, !3, in her absolute care in Liberia since 2000. She explained how she had since then been taking good care of the children, "they were even enrolled in the same school with me", she stressed.


Concerning the strain in their relationship, Aimee explained in tears that it all began on September 2, 2002, when Willie Danway who had then come on vacation, convened a meeting of her family to only tell them that he had indeed fooled her and in fact, has no intention to take her to the USA as he had earlier promised, following which he returned to his base in the USA.


Ms. Aimee Adogli explained that Willie Danway abruptly stopped remitting financial support for her to take care of herself and the children. "Even when I telephoned him to send some money so I could buy some goodies for the baby, he bluntly refused by saying till the baby could speak directly to him for such, he would be crazy to send a cent to them!"Aimee reiterated.


According to Aimee, while she is feeling abandoned and dejected over the strained relationship, Willie has allegedly commissioned a senior officer of the Armed Forces of Liberia, Col. Eric Sway, to forcibly take possession of all of their properties including the buildings, undeveloped parcel of land, and even his two American children. "On one occasion, Mr. Danway via the telephone, threatened to pay people to get at me if I do not turn all the properties over to him", she lamented.


Ms. Aimee Adogli disclosed that apparently based upon the instructions given by his fiancé, the AFL officer, Col. Sway has continued to harass her for the properties. She explained that Col. Sway on May 2nd this year, forcibly carried away Willie's two children to the Justice of Peace Court on the Old Road, which subsequently turned them over without proper proceedings and representation of Defendant Aimee, to his (Sway's) care.


Meanwhile, Ms. Aimee Adogli has revealed that she has lately discovered several alleged unwholesome deeds of her fiancé, Mr. Willie Bayoh Danway.


She said Wille Danway who claims to be a pilot for US President George W. Bush, as evidenced by photographs she showed to this paper, on several occasions and under false pretence, duped several persons in Liberia that he could give them visas for their travel to the United States.


According to Aimee, her fiancé used that scam to dupe one Lewis J. Clinton, of a parcel of land, US$2,500 from a woman identified as Mary Williams, and also under the same visa '419' scam, received an unspecified amount from one Greene Annie Yousay of the Faith Baptist Church.


Also, Aimee disclosed that as part of his '419' scam, Danway received US$780.00 from one Richard S. Kawolo with the promise that he was going to send him (Kawolo) a Toyota pick-up when he gets to the States, something which is yet to come to fruition.


Meeting The 1st Family
Displaying several of Danway's photographs allegedly taken with President Bush and as a US Airforce pilot, Ms. Adogli said he used such photos to convince unsuspecting persons about his strong contact with the American first family and society. Accordingly, Danway is alleged to have received US$2,500 from one Zackie Pyne to take his Daughter to the USA.
All efforts to contact Mr. Danway by the address given by Ms. Aimee Adogli was futile. However, we still hope to get him for his side of the story, as our investigations continue.

---
© 2003: This article is copyrighted by The Inquirer newspaper (Monrovia, Liberia) and distributed by The Perspective (Atlanta, Georgia). All rights reserved.