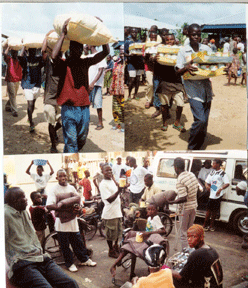 IDPs Receive Relief Supplies from CCC/Dorcas
Several vulnerable groups including women, children and old folks were, over the weekend, proud recipients of a huge consignment of relief items distributed by the Concerned Christian Community (CCC) and Dorcas-AID.
According to statistics obtained during the distribution exercise, a total of 3,000 vulnerable persons were beneficiaries. The recipients include CCC's beneficiaries presently undergoing social counseling, sexually abused women and children as well as women who have lost their husbands.
The nine IDPs centers the exercise extended to include the Perry Town Camp, Wilson Town IDP Center, Jahtondo Town IDP Center, Samuel K. Doe Sports Complex IDP Center.
Among items distributed were 120 bags of used clothes; 460 cartons of mixed clothes; 2,800 tins of beans and several assorted toys.
The Perry Town IDP center received 20 bags of clothes, 11 cartons of mixed clothes, 550 tins beans and one bag of assorted toys.
Wilson Town IDP center received 17 bags of clothes, 9 cartons of mixed clothes, 350 tins of beans and one bag of assorted toys, while Jahtondo Town IDP Camp got 25 bags of clothes, 13 cartons of mixed clothes, 550 tins of beans and two bags soft toys.
Speaking at a brief ceremony marking the distribution exercise at one of the IDPs centers in Brewersville, Mr. Robert. M. Johnson, CCC's Relief & Shelters supervisor, said the donations included food and non-food items.
According to Mr. Johnson, the latest exercise is one of the series of distributions the CCC in collaboration with Dorcas -AID has undertaken in recent time to respond to the most urgent humanitarian needs of the IDPs.
Apart from the Montserrado area, Mr Johnson told journalists that the CCC/Dorcas AID has carried out similar food and non food distribution exercise outside the capital.
In separate responses, the spokespersons of the beneficiaries lauded the CCC and Dorcas AID for identifying with them, saying that this is not the first time of receiving such assistance from CCC/Dorcas AID.
Dorcas AID is a Netherlands based humanitarian organization, while the CCC is a local outstanding relief, humanitarian and non-governmental organization. The CCC has won dozens of awards owing to its successful performance over the years relative to the nation's pressing humanitarian needs.
---
© 2003: This article is copyrighted by The Inquirer newspaper (Monrovia, Liberia) and distributed by The Perspective (Atlanta, Georgia). All rights reserved.