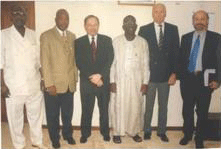 Delegation of the International Contact Group on Liberia
It has been disclosed that the Government of Liberia (GOL) has agreed for the coming into the country of an Intervention Force to separate the fighting forces.
Addressing a news conference yesterday in Monrovia, Ghana's Ambassador to Liberia, Kwame E.A Amoa-Awua said the Liberian government made this known during the International Contact Group's delegation recent visit to the country.


Ambassador Amoa-Awua who is also the co-Chair of the local ICGL, said the only thing needed now is funding to help support the process of bringing in the troops and logistics.


Flanked by other members of the local ICGL, the Ghanaian diplomat refuted reports that the pending Accra Peace Talks will be held on May 11.


He said the report is misleading and wondered who might be behind the spreading of such rumor.


However, throwing more light on the Liberian peace process and the coming in of the intervention force, the Ghanaian diplomat said the foremost need now is funding before the holding of the Accra meeting, adding " ECOWAS does not have the resources".


He said behind the scene discussion was ongoing in a bid to get the process in place so as to bring peace to Liberia.


Ambassador Amoa-Awua disclosed that on May 3, 2003, an assessment team from the United Nations (UN), the African Union (AU) and the Economic Community of West African States (ECOWAS) will come to Liberia to begin discussion with stakeholders and the Government of Liberia.


He also disclosed that the Special Representative of the ECOWAS Chairman, former Nigerian Leader Abdusalami Abubakar will arrive in the country next week to begin consultations with Government and stakeholders.


He said the International Contact Group on Liberia (ICGL) will meet in Brussels on May 12 of this year, at which time the assessment team will be presenting their report.


He said at the Brussels meeting, the ICGL will be deliberating on the assessment mission's report and the difficulties in the way for the smooth beginning of the peace process.


Ambassador Amoa-Awua said it is after the Brussels Meeting that a date will be set for the Accra Talks.


On the slow pace of the process, the Ghanaian diplomat appealed to all Liberians including the civil society, the GOL and combatants to give the political process a chance.


The news conference was attended by United States Ambassador to Liberia, John Blaney III, Mr. Geoffrey Rudd, the head of the European Union Mission in Liberia, Ambassador Abou Moussa, the UN Secretary General's Special Representative to Liberia, among others.